Headroom Total Airhead Headphone Amp and Gigabag Review
Headroom Total Airhead Headphone Amp and Gigabag Review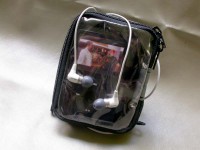 It's not enough to test a new set of headphones. To really make things challenging the intrepid reviewer should always change several things at once to make sure no opinion is immune to dissent. At least one of these items doesn't affect sonics at all, and that's the Gigabag. This delightful little ditty, a product of the inimitable Headroom, is a welcome accessory. Designed to hold an iPod or other personal portable and an AirHead headphone amplifier, the Gigabag even has a clear top cover to allow an easy view of the menu or screen on your device. The Gigabag is nicely built, but just a bit clunky for the streamlined jet-setter. Look for an in-depth review in our next installment.
The AirHead isn't a new product, but the Total Airhead is a refinement of the original design – a product I owned more than five years ago. According to the Headroom web site, "The Total AirHead is a true miniature power amplifier for headphones. It isolates your player from the complex load of the headphones (which make the player even sound better), and it drives them with the authority and finesse of quality power amplification. The result? Exquisite audio right between your ears." And for once in my life I'm pleased to say that advertising copy isn't entirely fiction.
The Total AirHead runs on four AAA batteries which are said to last 40 hours. They do. Almost exactly 40 hours, in fact. And that's not very long when you forget to turn the thing off, which I often did as it was buried in the Gigabag. The Total Airhead doesn't make your cans play louder but it might make them play sweeter. My iPod can't drive my Sennheiser HD600's for a darn, and my first generation Sennheiser noise-cancelling phones are even worse. The Total AirHead made both of these products a worthwhile match with my portable player.
The Total AirHead didn't do too much for the Shure E4c/iPod combination. There was a very slight increase in bass impact and control but this was only noticeable when I was sitting quietly in a very quiet environment. While walking or moving the difference was completely swamped by "body noise." Body noise is the self induced noise of footsteps, breathing, chewing, etc… One unwelcome feature of ear canal headphones is the tighter coupling of the normally isolated hearing physiology from the self-induced noise of the rest of the body. Stick your fingers tightly in your ears when you are walking or drinking coffee and you'll immediately know what I mean. Ear canal phones are wonderful at shutting out the outside world at the cost of increasing the volume of the inside world. This is something the Total AirHead can't affect.
The Total AirHead/Shure E4c combination may have exhibited just slightly improved detail retrieval, but this is a subtle effect. The Shure phones are efficient enough that the additional current delivery of the Total AirHead didn't make a big difference. It was about on par with the difference you might experience in putting your loudspeakers on quality spiked inert stands versus sitting them on top of un-spiked, light-weight stands… very subtle indeed. With other headphones the difference wasn't subtle at all.
A final feature of the Total AirHead is the proprietary crosstalk circuitry that Headroom developed. From the web site; "In the process, so to speak, we also include a special circuit you can switch on/off called "crossfeed" that makes headphones more natural sounding by improving soundstage imaging on headphones." There is much to be said about this feature, it's based on good science. We'll explore this in the full review coming up in our next installment. In the interim, the Total AirHead is also on sale – and worth every penny of its $99.99 asking price.
NPR All Songs Considered
No review of audio or video gear can be completed in a vacuum. The gear itself is worthless if not for the content we enjoy. I currently subscribe to 32 podcasts and that number is growing. Go to the iTunes sight and explore what they have to offer, you'll be amazed at the variety. NPR's All Songs Considered is one of the very best.
Each week host Bob Boilen delivers an eclectic mix of interesting and sometimes challenging music by emerging artists and breakout bands. This is a web-only presentation and the production quality is superb. It's not quite as transparent or dynamic as the best of compact discs, but this podcast certainly gives satellite radio a run for its money. And with the Tivo-like flexibility afforded by RSS content (RSS stands for Really Simple Syndication and is a bit of computer code that allows your iTunes program or other aggregator to automatically download and store new additions or episodes) you'll find that you never have a time when you are lacking for something interesting into which you can tune your imagination.
A great example of the quality of programming you'll enjoy from NPR's All Songs Considered is the March 16th South By Southwest review. This show features a special roundtable discussion on SXSW, plus a sampler of some of the standout acts. SXSW is one of the world's most lauded showcases for groundbreaking artists in Austin, TX. You'll get a real feel for the excitement, the energy and the variety of music you can experience in Austin every March. If you're looking for a good vacation idea that will take you to a scenic wonderland and allow you to indulge your monkey-bone in some of the hottest live rock, country and alternative music performances, maybe you should mark your 2008 calendars now!
NPR's All Songs Considered is a great meal for your iPod or MP3 player, and it will feed your head at the same time. Published weekly, there isn't a focus on any particular artist or genre. As I write this the newest installment is featuring music from The White Stripes, the Battles, a reissue from Emerson, Lake & Palmer, music from Tunng, pop tunes from Rufus Wainwright and a few unreleased rarities from Elliott Smith. Now that is an example of eclectic! Don't delay, sign up today. It's free, and there's precious damn little that you can say is free and valuable in today's world. Get it now before they decide you need to pay a membership or subscription…
Paste Magazine
A magazine recommendation in an audio product review? What foolishness is this? Paste Magazine is one of the fastest growing independently published entertainment magazines in the country, recently named "Magazine of the Year" at the 2006 PLUG Independent Music Awards. Paste is cool. Paste has their finger on the pulse of the entertainment industry. And best of all, Paste included a free CD in every issue. You won't be stuck in one rut, Paste covers it all from hip-hop to country and everything in between. There is a theme, of a sort, for each issue. If you love music you'll find yourself craving just a bit more every time the postman brings a copy.
I've subscribed for more than three years and I've never regretted the cost for even a second. Each and every disc is a keeper. You'll find music by groups you've never heard of, and artists with instantly recognizable names. I first heard John Hiatt's Master of Disaster on a Paste sampler! Production quality is superb as these are full resolution releases from the studios. And best of all, your iTunes program will fill in the track names and artists from the on-line CDDB data base. This is a no-brainer. Get Paste!
Confused about what AV Gear to buy or how to set it up? Join our Exclusive Audioholics E-Book Membership Program!
Recent Forum Posts:
Adam posts on July 21, 2007 22:06
jdnewk posts on July 21, 2007 21:54
Where is the Shure E4C earphone discount available??

Where is the discount available for the Shure E4C earphones that Henry Gadadabout refers to in his review? I want them!!
Post Reply