SOL Republic Tracks Full Review, Listening Tests & Conclusion
SOL Republic Tracks Full Review, Listening Tests & Conclusion
As with any new company, a little background is in order. The SOL Republic Tracks headphones were the brainchild of Kevin Lee, son of Monster Cable founder Noel Lee. He started the company, with blessings from Monster Cable, with consumer electronics executives Scott Hix and Seth Combs. The new in-ear and on-ear headphones are sold in several flavors and levels (stock and "HD" models) as well as multiple color choices. The new phones are currently sold at Best Buy and Apple stores.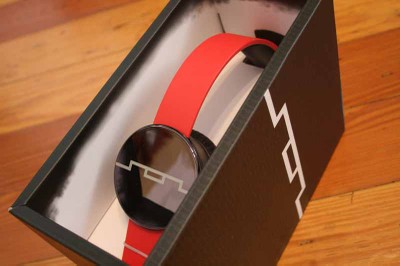 Build Quality & Design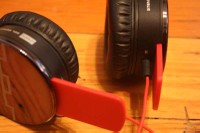 These are some of the simplest headphones we've ever encountered. "Simple" isn't a word I use lightly. They are given that title because they have an almost austere design that eschews any overcomplicated design in favor of a reductionist form factor that really has just three distinct parts. It's artistic, really. There are two fully-removable earcups that glide overtop a single colored band that features a padded headrest at the top for comfort. In this way, the headphones seem almost modular - and in fact, SOL is billing the Tracks as the first "interchangeable" on-ear headphones. The cups slide easily, but with enough resistance that there's no thought of them accidentally falling off the ends, and the headband was comfortable to wear, though after a couple hours of listening the earcups got a tad uncomfortable - likely due to the exerted pressure from the unibody headband.
Our Tracks came in red, with black reflective earcups that have pleather pads. The finish on the ear pieces was plastic, but it looked like polished gunmetal steel. The SOL Republic headband was a matte red, with the logo prominently written across the top in silver. The headband is supposedly made with a new polymer SOL Republic dubs "FlexTech" and they claim the material is virtually indestructible.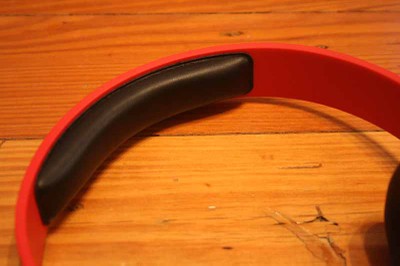 The other component is the cable, which is unique in that it connects to both headphone cups via 1/16" mini connectors. This is why you can completely remove the earcups and mix and match them (in theory) with any color headband. The cable also comes with iPhone or mobile phone controls for volume and call answer. When connected to a Mac laptop, the volume controls will activate your computers volume and correctly raise and lower the volume as desired. On an iPhone, you tap the center and can make or receive a phone call with the embedded mic, and switch modes to navigate your playlist tracks. The mic will also work on just about any cell phone.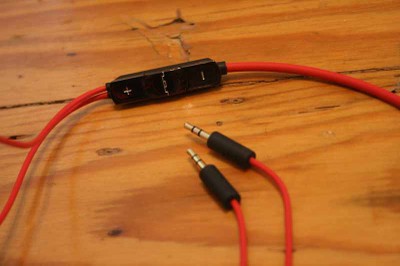 The overall look of the headphones will be hit or miss for many. They certainly come across as artistic and fun, but "manly" wouldn't be in my short list of descriptive terms. In fact, since my head is small, the excess band that sticks through the headphone cups create a really odd look that reminded me of the Cybermen villains from the Dr. Who BBC series.
Listening Tests
The SOL Republic Tracks have a distinct sound. They produce some of the lowest, most profoundly deep bass I've ever heard in a headphone. So tracks like Yello's "Junior B" from their The Eye album sound absolutely amazing. I don't recall ever hearing bass this tactile from a headphone before, but my ears were literally experiencing bass I had thought only possible from a subwoofer. At high volume, it traveled down my head via my spine.
We queued up a ton more bass-heavy tracks and artists, like Seal's "Crazy" and DC Talk's "Jesus Is Alright" remix. Track after track just ate up the bass. These headphones really have the low end packed away. Midrange, however, was another story. This is harder to capture well and we'd have to say that the SOL Republic Tracks fell sort of flat here - literally, there weren't a lot of dynamics. Here, the "V8 Sound Engine" performed almost like the name would imply: lots of power and heft, but 'cornering' the highs were a tad more difficult than these headphones seem to be able to handle. Highs were present, mind you, just not airy. The good news is that they also weren't artificially "crisp" as some products are want to do to compensate for a lack of true resolution. Quite possibly the HD model's upgraded driver would address some of these issues (we don't have those in for review, so we can't really say much more).
Conclusion
The SOL Republic Tracks are a truly innovative headphone for just $99. I think Kevin Lee and crew have certainly managed to break into a market with a highly sellable product that should do well, simply because it's unique and has some aesthetic appeal to people who want to "think different" about what headphones should look like.
Overall, we'd have to say the sound quality is going to really appeal to DJs or those primarily into bass-heavy music. You really have to hear the bass to believe it. But, if you're more into dynamic music with finesse, you may want to give the Tracks HD a listen and also experiment with other products on the market to see if you might be happier sacrificing some bass and aesthetics for better midrange and more detailed highs.
The Score Card
The scoring below is based on each piece of equipment doing the duty it is designed for. The numbers are weighed heavily with respect to the individual cost of each unit, thus giving a rating roughly equal to:
Performance × Price Factor/Value = Rating
Audioholics.com note: The ratings indicated below are based on subjective listening and objective testing of the product in question. The rating scale is based on performance/value ratio. If you notice better performing products in future reviews that have lower numbers in certain areas, be aware that the value factor is most likely the culprit. Other Audioholics reviewers may rate products solely based on performance, and each reviewer has his/her own system for ratings.
Audioholics Rating Scale
— Excellent
— Very Good
— Good
— Fair
— Poor
| Metric | Rating |
| --- | --- |
| Build Quality | |
| Appearance | |
| Treble Extension | |
| Treble Smoothness | |
| Midrange Accuracy | |
| Bass Extension | |
| Bass Accuracy | |
| Imaging | |
| Soundstage | |
| Dynamic Range | |
| Fit and Finish | |
| Performance | |
| Value | |
Confused about what AV Gear to buy or how to set it up? Join our Exclusive Audioholics E-Book Membership Program!
Recent Forum Posts:
riptaape posts on March 23, 2012 02:09
rip60 workout
rip 60
The rip 60 healthy eating plan was simple for me to follow and I have an overabundance energy coming from eating healthy. Although My partner and i still have some bad habits (off-road dew anyone) ., Therefore you know what. its fine to allow yourself some things,, I simply quit which makes it a daily regimen.
rip60 reviews
rip 60 fitness
about rip60
about rip 60
rip 60 workout
This human body weighted suspension-style means of training is made up of hundreds of equally off and on-strap movements in addition to relies upon the users very own body weight intended for resistance! which makes it an optimum tool for any and all health and fitness levels to attain many different fitness goals,
rip60
Boombotix posts on December 22, 2011 20:15
JohnA, post: 838717
Why on earth would I dish out $100 for headphones that don't deliver on sound:
Muted highs
Muddied mids

and a Hit or miss design
I've actually heard pretty good reviews of the Sol Republic headphones.
JohnA posts on October 31, 2011 11:00
Why on earth would I dish out $100 for headphones that don't deliver on sound:
Muted highs
Muddied mids

and a Hit or miss design
Post Reply