Koss STRIVA MyKoss Wi-Fi Streaming – Tips and Tricks
Koss STRIVA MyKoss Wi-Fi Streaming – Tips and Tricks
MyKoss is the web-interface that lets you preset your channels and musical preferences. It's not required to control navigation of your music streams, but your MyKoss account is always there to point your headphones to the stream so it can connect directly to the radio station you're listening to.
This is the real reason to use your STRIVA headphones.
At first it's easy to just use the CAP to stream songs from your MP3 player or computer for a familiar wireless experience not unlike Bluetooth or a set of RF wireless headphones. But once you begin to understand the convenience and sheer quantity of music available via wi-fi, soon it becomes the day-to-day option of choice every time you pick up the headphones.
Many of us live in a fully wired household nowadays. Easy access to high-speed internet is a given, wi-fi is always on, Internet radio or streaming television is barely a second thought. That's the reality at the Robson house to be sure. What's missing for headphone-philes like myself – is a system like STRIVA.
Let's say you get home after a day at the office and have a few chores to do... You put on these snug-fitting headphones and power them on and, presto, you're connected to a world of Internet radio options. You don't have to look at a screen to navigate an endless array of choices. You can walk through your house with your hands free to work and your head free of wires and never lose your connection to wi-fi.
How it Works
When you receive your headphones you'll be required to setup access to available wi-fi networks then music channels and streams through your free account on MyKoss.com. MyKoss uses Java heavily, so make sure your browser is up to date.  Most difficulties you encounter on MyKoss will be the result of not having the latest version. Here you'll enter the name and passwords of any wi-fi networks you'll encounter and your headphones are ready to connect to the Internet.
There are two "denominations" of music on the STRIVA system.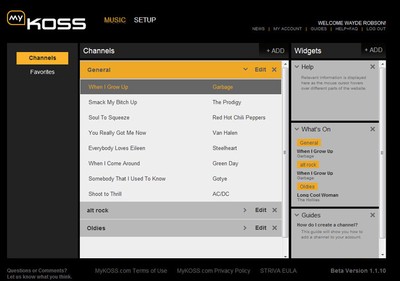 1. Channels
Create a channel by clicking the "+Add" button in the MyKoss, Music screen. When adding a channel you'll select musical preferences. You can create as many channels as you like – one for every mood.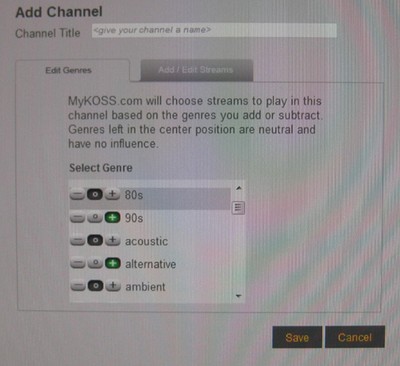 2. Streams
Streams are individual Internet radio stations that the MyKoss algorithm has determined fits the current channel's selection(s). This is all based on MyKoss sniffing Internet radio stations meta-data and finding the best match. MyKoss, thankfully, has built-in standards such as reliability of the stream and of course stream quality dictated by bit-rate. Michael Koss stated in our interview that it will always try not to use anything lower than a 128-bit stream.
Now you can advance, forward or back, through streams with a flick of the toggle switch over the right earcup. You can switch Channels by holding the toggle switch forward or backward. The system is deceptively simple with an Apple-like elegance it grants access to a world of Internet radio streams, easily with a single toggle switch and voice prompts so you don't get lost.
Wander your house, do the dishes, homework or even write an article for Audioholics with your headphones on and easily surf your custom streams. The experience has an addictive quality, you'll want to hear what's over the next station.
Internet Radio Audio Quality
Because it's compressed, Internet radio sacrifices top-end frequency response. This is somewhat artificially brought under control by the design of the STRIVA Pro design. I can't tell if they're using any kind of DSP to make it sound more full-range, but as a closed headphone design it controls bass very well so it will never lack in punch.
This lends the headphones to being very good at reproducing music in the low end such as ambient, techno, power metal. Because of its ability to isolate and depending on how clean your available stream, other forms of music such as jazz, traditional or classic rock carries a pleasing, rich tone. It should go without saying that you won't find a truly polished and revealing audiophile experience over Internet radio.  It's about variety and instant gratification with access to all the music in the world and it sounds very good.
CAP

The other way you can listen to music over the STRIVA system is via the Content Access Point (or CAP). The CAP is an analog-to-digital converter and wireless streamer in a tiny box. Use the included USB to 3.5mm cable to any analog music source and the CAP will stream to your headphones.
Once connected the CAP stream will allow for a higher bit-rate than Internet radio and provides superior sound.
The STRIVA system includes fasteners for your CAP that connects it to most iPods or cell phones. This provides the wireless experience on the go as long as you keep your MP3 player within about 300 feet of the headphones. That beats the heck out of Bluetooth and its 8-10 foot range.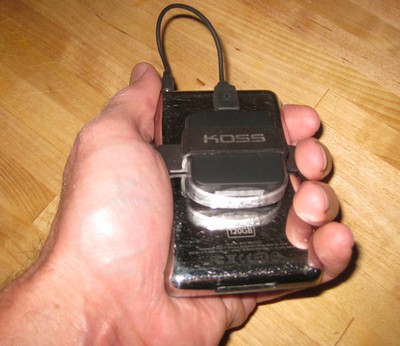 Be warned, there is about a 1.5 second delay between the analog out of your source and the headphones reproducing the sound. This delay isn't really noticed for normal music listening purposes but is annoying if there is a video component such as watching streaming video via CAP or gaming – it's simply not meant for video.
Wi-Fi Interference
One common problem with wi-fi is stability. I've experienced frustrating cutouts and disconnects from the network and stream intermittently – but especially when I walk a distance from the wi-fi router.
I live in a city and in a neighborhood with a lot of wireless traffic. From my bedroom I can see more than three wi-fi networks available and my own isn't even the strongest. It's possible that the tiny size and efficiency of the wi-fi chip relies on a stronger signal. But generally, I've experienced intermittent cutouts from other wi-fi devices. I'd recommend a good strong wi-fi router if you're in an area with lots of potential interference. 
Extra STRIVA Features
Manually Add Stations
You can add your favorite Internet radio stations that have an active.pls URL. MyKoss specifies that it must be a Shoutcast URL, but you can try any URL at your own risk. My personal favorite Internet radio is the wide family of Soma FM stations. Each Soma FM station has a .pls URL that let me easily create a Soma FM Channel. I went to Soma FM on the web and found their alternate stream URLs that ended in .pls and added several Soma FM stations, like Groove Salad, cool ambient beats served fresh, as streams to my created Soma FM channel.
Now all my favorite Soma FM stations are an easy slide of the toggle switch away.
You won't find this in the manual
Here's a bit of an exclusive step you can perform with your CAP. Officially this isn't supported by Koss with the STRIVA but it's theoretically possible and in the future might be fully supported in a practical manner.
As mentioned before, MyKoss divides music selections into containers called channels and individual selections called streams, each stream is a randomly picked radio station.
You can actually turn your CAP, as it streams music from your own collection, into a Channel on your MyKoss account. That means if you leave your CAP on at home streaming your favorite Playlist you can go anywhere else that has a wi-fi and connect your headphones and pick up your CAP's channel streaming your own collection.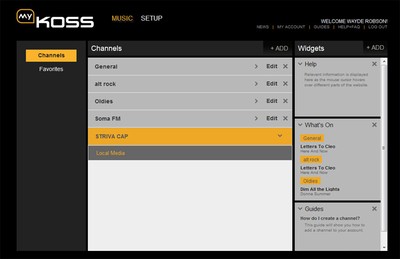 It's a neat trick but admittedly not the most practical. It's so much easier just to take your CAP with you attached to your MP3 player and stream directly where you have control over your music.
The CAP uses port 80 and where that port is associated with your local IP, you may need to configure port forwarding on your router in to accomplish this. But in the end, you simply stream music from your computer through the CAP, using any analogue output. Then, login to MyKoss.com and check to see if your CAP appears the channel list. If so – you've created your own personal Internet radio station.
Confused about what AV Gear to buy or how to set it up? Join our Exclusive Audioholics E-Book Membership Program!
Recent Forum Posts:
Wayde Robson posts on July 12, 2012 07:07
corey, post: 893453
Re: your statement "Overall I applaud Koss on this step in the right direction for headphone technology."

I don't see this as the "right" direction for headphone technology, as cheep local storage makes having a massive amount of high bit rate music in your pocket very affordable. 16 GB micro SDHC cards are under $10.
The best thing about the STRIVA system is surfing Internet radio. The randomness, you get a thin layer of choice in genre but then you're surfing through thousands of stations. It's that randomness that has an fun and addictive quality. You want to check out more stations, you want to hear what's next after hearing a song you hadn't heard in a long time or discovered a brand new song.
As for comparing it to storage…
There are two vehicles for mobile infotainment -
brought in
or
beamed in
. This is a beamed in solution. You may prefer
brought in
, but it's just a different vehicle. It's like… a pickup truck isn't a good option when what you want is a motorcycle.
corey posts on July 05, 2012 04:25
Re: your statement "Overall I applaud Koss on this step in the right direction for headphone technology."

I don't see this as the "right" direction for headphone technology, as cheep local storage makes having a massive amount of high bit rate music in your pocket very affordable. 16 GB micro SDHC cards are under $10.
Post Reply