Bluetake i-Phono BT420EX Full Review
Bluetake i-Phono BT420EX Full Review
When I think of wireless headphones several words come to mind: Convenience. Comfort. Hands-free (and care-free) operation. These are the things a wireless set of headphones must achieve to satisfy those who would consider replacing their hard-wired counterparts. Let's face it, wires work, so to replace a traditional format with a wireless one means that the new technology has to integrate in a way that results in a step up - a greater user experience. Then again, we are talking no wires, and that alone might be cool enough to make anyone consider jumping ship to the world of cordless musical goodness.
The Style Factor
OK, so Bluetake entered the wireless market early and brought out a product that set the stage for all of the other wireless Bluetooth headphone companies to follow. The real question at this point is, how well did they implement this technology? Well, that depends upon your perspective and what you place the most value on. For now, let's talk about the general style of the i-Phono BT420EX system. The headphones are marked by egg-shaped, rather large earpieces, each of which contain the electronics and drivers that make up the Bluetooth headphone and reception system. To be blunt, the phones are rather large - unless you like the Princess Leia look, in which case these may be one of the hottest fashion statements of the new millennium. In addition, the rear-facing neck band that connects them is somewhat oversized, standing off the back of my small head by over an inch and a half. What I would love to see is a smaller version of the actual headphones portion, perhaps with some of the electronics stored within a redesigned neck band, head band or casing. There's truly a lot to store in there, but I can't help but think that a revision would benefit from a complete reworking of the layout. The size of the headphones is not as prohibitive as the layout of the unit, which just doesn't quite look "cool" when worn in my opinion.
Editor's Note: Bluetooth Technology
Bluetooth is an RF standard developed by Ericsson and others that connects anything - from cell phones, to peripheral devices like keyboards and printers, to portable electronics - you name it. Bluetooth works at a frequency range of around 2.45GHz and, for the most part, works in a manner that is automatic. Devices connect to each other without the need for complicated setup or configuration. Bluetooth gets its name from Harald Bluetooth, King of Denmark in the late 10th century. He was known for uniting Denmark and Norway into a single kingdom and introducing Christianity into Denmark. Bluetooth was named in this manner to recognize the importance of companies from the Baltic region with respect to the communications industry.

Bluetooth has an effective range of 10 meters in open air, though many devices do not reach quite this far in practical use. The limitation is due to a low signal strength of 1 milliwatt - designed this way to reduce interference with other systems. To avoid interference, Bluetooth employs spread-spectrum frequency hopping which essentially has a Bluetooth device changing frequencies 1600 times per second! Bluetooth connections can happen automatically, simple when devices are within proximity of one another. In addition, devices can be programmed to accept or deny this kind of "instant" connectivity. For more information n Bluetooth, please visit: www.bluetooth.com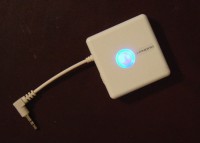 The egg-shaped dual bodies arrive in standard white, but also come with orange, lime green, dark blue and red (all metallic) replacement color plates - giving you the opportunity to add your own flair to the i-Phono headphones. I really thought that the red blended the best with the white underbody and grey neck band and I've used it for most of the pictures in this review.
The audio dongle is slick, occupying only two cubic inches - relatively small for what it does. The central location of the Pairing button and indicator LED is perfect and the flashing blue (and sometimes red) LEDs just looked cool on both units.
I found that locating this dongle in an area with little interference from monitors or electronics yielded best perofrmance.

Using the i-Phono BT420 EX System
Don't think that because I criticized the i-Phono for some cosmetics that I don't think it's a cool system. Within the parameters of its intended use (5-10 meters in open space) the BT420 EX functioned beautifully, and its setup was about as simple as it gets.
To get the system going you'll need to connect the audio dongle to your output device (receiver, iPod, walkman, etc) and "pair" it to the headphones. To do this, ensure both units have been turned on. Then, simply press the pairing button on either the headphone or audio dongle for about 2-3 seconds. The LED on the corresponding unit will start to alternately flash blue and red. Assuming the devices are within pairing range (5-10 meters) the lights on both units should change to flashing only blue every few seconds. This process only takes about 3-5 seconds altogether and works flawlessly.
Audio Quality and Performance
Once paired, the audio dongle sends signal via a 2.4-2.483GHz Bluetooth Class II connection to the headphones. Audio quality was excellent for an over-the-ear system. Obviously, this is not a closed ear system so ambient noise will play a factor in how well the headphones sound. I felt that for casual use, jogging, exercising, or just relaxing with music, the Bluetake system was a great sounding headphone. I played a series of CDs through the headphones to get a feel for the dynamic range and frequency response. I ran a sweep generator on the headphones and they have a practical frequency response of around 40Hz to the limits of most mortals hearing abilities. They did a good job of compensating for the lack of punch associated with headphone playback by adding a gentle bump from the lower frequencies through 500Hz. In addition, I believe the gentle roll off in the highs helped them to not be fatiguing or bright, even during extended listening periods.
Recharging and Battery Life
Bluetake did an excellent job on developing a product that will run seemingly forever on a single charge. The unit I reviewed ran for at least 5.5 to 6 hours between charges. To conserve battery and playback time, both the headphones and audio dongle can be switched off when not in use. Charging the unit was an equally satisfying experience as Bluetake provided multiple charging options, including USB and an external AC adapter. Both methods can make use of a dual 5VDC splitter which allows you to charge both the headphone and audio dongle simultaneously. When charging, the LED charging indicator is red on both the headphones and audio dongle. The LED turns green after the battery is fully charged at which point the power can be removed and the units can be "re-paired" if necessary.
The Long Term Opinion
First impressions and brief usage reports are one thing, but after using the i-Phono headphones for several weeks I came up with some additional feedback. While the sound of the headphones never became fatiguing, the fit of the system did. The soft rubber arches that provide the bulk of support for the BT420 EX headphones began to hurt my ears after an hour or so of use. Generally, this was remedied by removing and repositioning the headphones, but I can't help but think that traditional headphone support was invented for a reason - to take the weight off of the more sensitive ears, and place it on the top of the head. The other thing that wore on me was my desire not to be seen wearing these headphones. Nearly everyone I met commented on how bizarre they looked on my head - a most unnatural and, as I mentioned earlier, un-cool look. With the performance of these headphones and the obviously intelligent design that went into their creation, this setback is unfortunate to say the least.
Conclusion
Aesthetic grudges aside, I was very pleased with the performance of the i-Phono BT420 EX headphone system. Battery life was excellent and the options provided for recharging are nothing short of brilliant - I only wish other companies took their lead from this kind of foresight and engineering. Offering multiple color choices is a nice touch and the system overall seemed durable and ready for heavy indoor or outdoor use. I never once felt as if the headphones would come off of my head, even when engaging in some active outdoor activities. While not the most inexpensive set of headphones in the market, the ability to eliminate wires will be a strong pull for many and is sure to grab the more adventurous consumers regardless of the price.
i-Phono BT420EX Bluetooth Hi-Fi Sports Headphone
About Bluetake Technology Co, Ltd.
Established in Taipei, Taiwan in 2001, BLUETAKE Technology Co., Ltd. is the principal marketing-oriented provider that aims at developing and manufacturing the highest quality end user products utilizing Bluetooth® wireless technology which is an ideal cable replacement technology for boosting effortless communication among diverse peripherals. With the accumulation of global marketing experience and product development abilities, BLUETAKE is known for supplying a broad range of Bluetooth® based product lines to satisfy the customers' needs under its own brand name.
The Score Card
The scoring below is based on each piece of equipment doing the duty it is designed for. The numbers are weighed heavily with respect to the individual cost of each unit, thus giving a rating roughly equal to:
Performance × Price Factor/Value = Rating
Audioholics.com note: The ratings indicated below are based on subjective listening and objective testing of the product in question. The rating scale is based on performance/value ratio. If you notice better performing products in future reviews that have lower numbers in certain areas, be aware that the value factor is most likely the culprit. Other Audioholics reviewers may rate products solely based on performance, and each reviewer has his/her own system for ratings.
Audioholics Rating Scale
— Excellent
— Very Good
— Good
— Fair
— Poor
| Metric | Rating |
| --- | --- |
| Build Quality | |
| Appearance | |
| Treble Extension | |
| Treble Smoothness | |
| Midrange Accuracy | |
| Bass Extension | |
| Bass Accuracy | |
| Dynamic Range | |
| Performance | |
| Value | |
Confused about what AV Gear to buy or how to set it up? Join our Exclusive Audioholics E-Book Membership Program!