LVM-42w2 Features & Build Quality
LVM-42w2 Features & Build Quality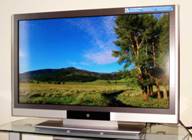 I
want
a 1080p display - I
need
a 1080p display. After seeing the technology at CES this year that was my mantra. Suddenly, the lesser important things like eating, sleeping and personal hygiene seemed to get pushed aside in my quest for more densely-packed pixels and the ultimate high definition experience. 1080p is what we call an emerging technology - especially since your sources are limited, at present, to a few select upconverting DVD players and WMV HD sources via PC. Most of the new 1080p displays on the market simply upconvert 480i/480p/720p/1080i input signals internally to 1080p (and sometimes even those aren't truly 1080p). A select few, including the new Westinghouse LVM-42w2, actually take 1080p input via component, HDMI and its dual DVI-D inputs. This is a true 1080p display that is slightly ahead of its time - but definitely ready for the future - at least until some uptight MPAA associate demands a new DRM scheme that renders all hardware obsolete and forces us back to using slide projectors and reel to reel tape.
Features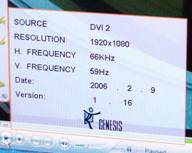 The Westinghouse LVM-42w2 has the claim of being one of the first true 1080p displays in the world - and they've earned it. This LCD display is among the most aggressive units on the market in terms of its pricing point and specifications. Here is what you get:
True 1080p panel resolution (1920x1080)
1080p INPUT support via component and DVI-D (one input)

Easy access to inputs via side-mounted connections for audio, video and power
Only 4.5" deep and minimal "wasted" space around the LCD panel
Built-in 10W "subwoofer"
Delivery and Build Quality
My delivery guys are on a first-name basis with me and I believe it was Ryan who helped me lift this particular box into the living room. Packaging was adequate and to be honest I think just about everyone has figured out that having your products fall apart in shipment is "a bad thing". Consequently I'm almost to the point of simply commenting on extremely good or extremely poor product packaging (which makes packaging engineers either very happy or very nervous).
My wife and I were able to lift the 42-inch LCD TV out of the box and quickly get it into position for connections to be made. The first thing I noticed was the very accessible side-access connections in lieu of the almost obligatory "behind-the-set" inputs I am used to. For the first time I was able to connect the display without going under the display stand and crawling on my hands and knees (an act which I typically reserve for my wife after I've done something stupid). The second thing that jumped out at me was the ample amount of connections available on this set. Instead of a single digital input and redundant composite and s-video (*cough, useless, *cough) inputs, there was an HDMI input and two (count 'em) DVI-D inputs. There were also two component video inputs - now this is a digital display with some flexibility! Take a look at the inputs which are split and placed on either side of the LVM-42w2:

On the left we have a DVI-D input (1080p), 2 component inputs (1080p), and an HD15 (VGA) input


The right side features HDMI (1080p), a second DVI-D (1080p), and the standard definition inputs in addition to audio outputs.
Input Configuration and Using the Television
The Westinghouse display correctly allows for independent video adjustments for each input. We just wish there were more adjustments to be made accessible in the rather dearth Picture Parameters menu (more on this later). Input selection is via the remote control's five (YPbPr, VGA, DVI, S-Video, and AV) hard buttons, an on-screen input menu, or via the Input button on the right side of the display (and also located on the remote control). I would prefer direct-input buttons (the YPbPr and DVI inputs toggle) so as to make selecting the right input with universal remote controls and macros easier, but this remote is pretty close.
Available Inputs:
VGA

DVI 1

DVI 2

AV

S VIDEO

YPbPr 1

YPbPr 2

HDMI
As I mentioned above, I was surprised to find that the component (YPbPr) inputs accepted 1080p inputs in addition to the DVI-D and HDMI inputs. This is undocumented (the component inputs) and truly makes the Westinghouse LVM-42w2 one of the most versatile and advanced displays available today.
VGA through SXGA (1280x1024) is supported at the HD15 input of the LVM-42w2, but 1080p mode threw off the color (likely the fault of the NeuNeo Helios HVD2085 DVD player I was using which does not specify 1080 via the HD15 output.) While this particular mode didn't work, I was pleasantly surprised at the ability of the Westinghouse display to automatically adjust to whatever input resolution it encountered.
Confused about what AV Gear to buy or how to set it up? Join our Exclusive Audioholics E-Book Membership Program!