Sony XBR10 LED LCD Television First Look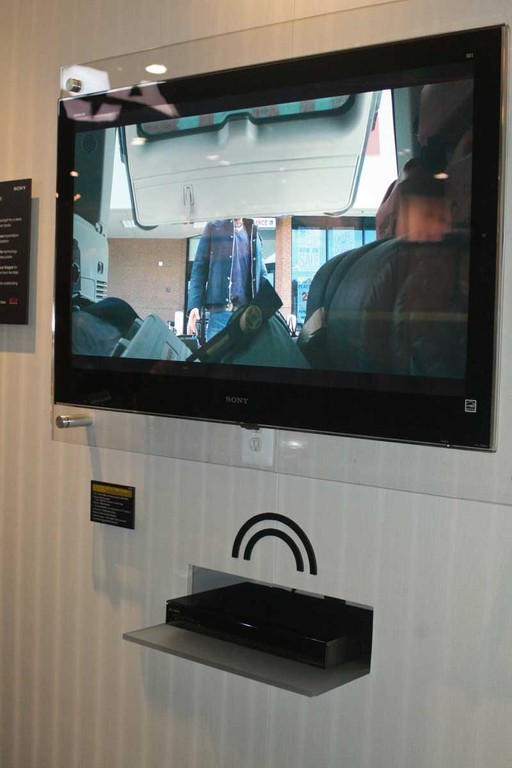 Sony XBR10 LED Backlit LCD
Summary
Video Signal : 480/60i, 480/60p, 720/60p, 1080/60i, 1080/60p (HDMI™ / Component), 1080/24p (HDMI™ only)
Auto Photo Mode : Yes (DLNA, USB)
Auto Picture Setting w/ HDMI™ : Game, Graphics, Photo, Cinema
BRAVIA® Sync™ : Yes
BRAVIA® Sync™ Menu Button : Yes (on Remote Control)
Channel Block (with password) : Yes
Channel Labels : Yes
Control for HDMI™ (HDMI™ CEC) : Yes
Favorite Channel : Yes
ID-1 Detection : Yes
Info Banner : TV Guide on Screen, PSIP, XDS
Input Skip : Automatic
Internet Radio : Yes
Label Inputs : Yes
Multiple Language Display : English, French, Spanish
New Theatre Mode with surround : Yes
On-Screen Clock : Yes
On-Screen Display for External Input : Yes
On-Screen Operating Instructions : Yes
Picture Adjustments Lock : Yes
Program Block : Yes
Scene Select : Cinema, Sports, Photo, Music, Game, Graphics, General, Auto
Show/Hide Channels : Yes
Sleep Timer : Yes
TV Guide On-Screen : Yes(Gemstar ver.10)
USB Application(s) : Music Player (mp3), Photo Viewer (jpeg), Video Player (mpeg2 TS)
White Balance : RGB Gain/Bias

Video


24p True Cinema™ Technology : Yes
3D Comb Filter : Yes
4:3 Default : Yes
Advanced Contrast Enhancer (ACE) : Yes
Auto Wide : Yes
CineMotion® Reverse 3:2 Pulldown Technology : Yes
Deep Color : Yes
Game Mode : Yes
MPEG Noise Reduction : Yes
Motionflow™ Technology : 240Hz
PhotoTV HD : Yes (HDMI™ / Component)
Picture Mode : Vivid, Standard, Custom, Cinema, Sports, Game, Graphics, Photo-Vivid, Photo-Standard, Photo-Original, Photo-Custom
Video Processing : BRAVIA Engine 3™ Technology
Wide Mode : Wide Zoom, Normal, Full (Full1-2 for PC), H Stretch, Zoom

Audio


5.1 Channel Audio Out : Yes
5.1ch Through Out (Handycam) : Yes
Alternate Audio (Digital) : Yes
Audio Out : Variable/Fixed
Auto Mute (on no signal) : Yes
Dolby® : Dolby® Digital
SteadySound® Automatic Volume Control : Yes

Network

BRAVIA® Internet Video : Yes
BRAVIA® Internet Widgets : Yes
DLNA : Client (Photo), Client (Music), Client (Video), Renderer (Photo), Renderer (Music), Renderer (Video)
Executive Overview
Sony showed off its new ultra-thin BRAVIA LCD HDTV. This new edge-lit LED display comes with two flavors and sizes. Sony claims an exceptional contrast ratio of over 1,000,000:1. But here's where it gets interesting. The XBR10 is really thin - largely because it receives full 1080p via wireless transmission from a separate media box. The receiver is embedded in the TV. This means that you can mount the TV out of the way, over a fireplace for example, and not have to run anything but power to it. That's a pretty compelling product, even if the price is a bit astronomical for flat panel technology.  
Not content to just send video to the TV, the media box also accepts Ethernet, allowing users to directly access Sony BRAVIA Internet Video content. The network offers Amazon Video on Demand, YouTube, Slacker Internet Radio, and is scheduled to access Netflix later this year. Since the Bravia uses Internet Widgets powered by the Yahoo! Widget Engine, the possibilities for plug-ins are almost limitless - and they don't require firmware updates for the most part.
The display features Sony's 240Hz Motionflow technology, which we have yet to fully sign on to with Sony's competitors (we'll hold judgement on Sony's implementation until we see it). Motionflow supposedly goes beyond 120Hz technology by quadrupling the frame rate and interpolating three new frames. In Sony's demo of this technology last year we noticed tons of artifacting, especially with fast horizontally scrolling objects. 
The two new XBR10 models are Digital Living Network Alliance (DLNA) compliant, so they can access digital photos, music, and video stored on a PC or other DLNA server using the XMB interface and the TV's remote control. They also offer a USB input for displaying digital photos or playing digital video and music files from a USB storage device.
Other notable features include:
BRAVIA Engine 3
24p True Cinema
xross media bar (XMB) with enhanced 3D favorites Menu
Internet powered TV Guide Onscreen
BRAVIA Sync
4 HDMI inputs
RS232C
Single PC, component, composite and component/composite selectable inputs
For those whp care, the new XBR10 models exceed Energy Star 3.0 guidelines for energy efficiency, so even those die hard California politicans won't be able to pry this one out of your hands. Part of this comes from the use of Sony's Light Sensor technology which adjusts backlight intensity based on ambient room light.
The KDL-52XBR10 and KDL-46XBR10 models will be available this October at Sony Style retail stores, www.sonystyle.com and at and at similar authorized Sony retail outlets across the country, for about $5,000 and $4,500, respectively.

Confused about what AV Gear to buy or how to set it up? Join our Exclusive Audioholics E-Book Membership Program!
Recent Forum Posts:
audiohonic65 posts on October 08, 2009 12:39
This looks good, thanks for sharing this info. I am anyways a big Sony fan, another reason for me to keep them as my favourite.
bandphan posts on September 14, 2009 12:12
Let's hope the specs than the previous Gen XBR
finishers posts on September 14, 2009 06:46
Nice review. The device looks stunning and cool. The reviews are pretty good all over. Engadget has also rated this thing very high. Well i prefer Sony over other brands whenever i purchase display devices
Post Reply