CEDIA Amazing Displays- Sony VPL-W5000ES and X900C, Vizio RS120-B3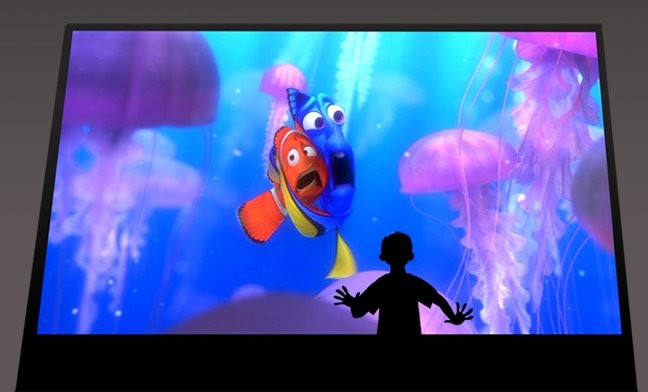 Summary
Product Name:

VPL-W5000ES, RS120-B3, X900C

Manufacturer:

Sony, Vizio, Sony

Review Date:

October 28, 2015 08:00

MSRP: $60,000, $130,000, $4,000
First Impression:

Pretty Cool
Executive Overview
As CEDIA is primarily an installer show the displays options were a little sparse, but we still had a chance to view some amazing displays and companies were eager to show us what they had to offer. Since CEDIA was held in Dallas, Texas this year we could say that the theme of standout displays was Everything is bigger in Texas and usually that comes with a price tag to match. So without further ado here are the top three amazing displays at CEDIA 2015.
Sony Electronics Ultimate 4K Home Theater Projector, The VPL-VW5000ES

The VPL-W5000ES, a 4K SXRD laser light source projector. Sonys new reference-quality unit is designed specifically for home cinema use and features 4K resolution powered by a laser light engine that provides 5,000 lumens of brightness, is compatible with High Dynamic Range (HDR), emulates the new BT.2020 color gamut, and covers the full DCI color space.
"The VPL-VW5000ES projector is truly the ultimate home cinema display. The VPL-VW5000ES joins an impressive lineup of Sony home theater projectors specifically designed for the installer market. These 4K resolution projectors offer a truly immersive viewing experience with high brightness and high contrast bringing the home theater experience to the next level."

Yamato TankTanikawa, Director, Home Entertainment & Sound, Sony Electronics.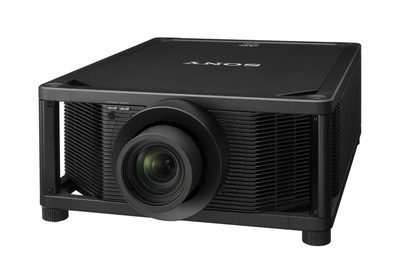 Sony VPL-VW5000ES Laser Light Projector
The VPL-VW5000ES covers the full DCI-P3 color gamut. By taking advantage of its professional calibration tools the VPL-VW5000ES allows the user to choose to emulate the BT.2020 color space, as well. This ensures compatibility with upcoming home video formats. And by bringing together high brightness, infinite dynamic contrast and the latest signal processing technology, the VPL-VW5000ES provides compatibility with High Dynamic Range (HDR), enabling the viewer to see wider ranges of contrast and colors than ever before. Sony's Advanced Motionflow feature reduces blur and maintains brightness and VPL-VW5000ES extremely fast imagers allow viewing of fast action content – especially sporting events – with great smoothness, even with 4K signals. Along with HDR and BT.2020 capabilities, the VPL-VW5000ES also includes an HDMI input that is HDCP 2.2 compatible. That same input has enough bandwidth to accept 4K 60p signals up to YCbCr 4:4:4 8bit or YCbCr 4:2:2 12bit, thus helping to ensure that the VPL-VW5000ES is prepared to handle all types of video content now and in the future. The VPL-VW5000ES can be tilted as much as 30 degrees, allowing for flexible installations that take advantage of mirrors to place larger screens in smaller spaces, such as rear projection. Thanks to a newly developed liquid cooling system with low noise operation, the projector can also be located near viewers without impacting the enjoyment of a programs audio.
The unit ships with a standard powered lens with a zoom ratio from 1.27 to 2.73:1 and lens shift capability of +/- 80% vertical and +/- 31% horizontal. Benefits of the VPL-VW5000ES laser light engine include fast on/off times with no waiting for the projector to cool down – which means you can immediately turn it back on to resume binge-watching your favorite show. The light engine delivers a long operational life with a linear decrease in brightness, so the color shifts seen with traditional lamp wear are not expected. But if the color settings do shift over time, the VPL-VW5000ES includes a built-in re-calibration function that can be used to test how much the projector has drifted from its original factory calibration and reset it. The VPL-VW5000ES is available for pre-order now and is expected to ship in Spring 2016 at a suggested retail price of $60,000.
VIZIO RS120-B3 120" Reference Series 4K Ultra HD Smart TV 

People couldn't help but stare at Vizio's 120" 4K Ultra HD smart TV today at CEDIA.  I had to admit that the visual quality of the TV was stunning standing within one foot of the behemoth display.  The Reference Series is packed with innovations such as Ultra Color Spectrum, an800-nit, Full-Array LED backlight and 384 Active LED Zones. Direct IR inputs and a database of discrete IR codes can help custom installers integrate the Reference Series with a customers home automation system. To help ensure a premium experience, VIZIO has worked with PowerHouse Alliance to train its installer community on specifications necessary for consumer and commercial spaces.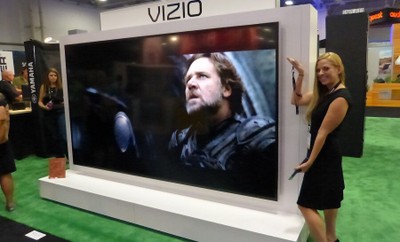 Vizio RS120-B3 120" 4K Ultra HD Smart TV 
"The Reference Series is a premium, state-of-the-art product that warrants professional installation to maximize the consumer experience. VIZIO is excited to be working with PowerHouse Alliance to bring the collection to the custom installation market. As the first-ever 4K Ultra HD High Dynamic Range TV that offers a complete, end-to-end solution with Dolby Vision, the Reference Series truly raises the bar for cinephiles who expect nothing but the very best out of their technology. High Dynamic Range combined with Ultra Color Spectrum are enabled through proprietary custom panel technologies creating a television that redefines home theater and challenges preexisting contrast ratio and color gamut standards"

Matt McRae, Chief Technology Officer, VIZIO
Additional Reference Series Collection Features Include: Custom Installation-friendly features like direct, rear-panel IR input with discrete IR commands that are available on request Blazing fast 802.11ac dual-band WiFi for a fast, efficient streaming experience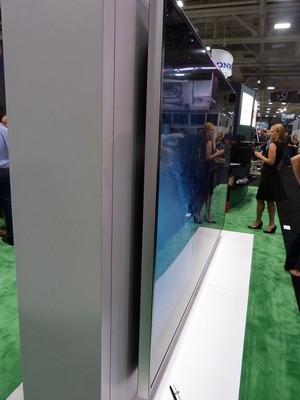 Vizio RS120-B3 120" 4K Ultra HD Smart TV (Side View)
Future-ready HDMI ports will help ensure usability of next generation cable and satellite receivers, Blu-ray players and game consoles. A Custom designed wall mount is included with the 120-inch model.
VIZIO 120" Reference Series 4K Ultra HD Smart TV (RS120-B3)  $129,999.99 (MSRP)
Sony X900C 65" 4K Ultra HDTV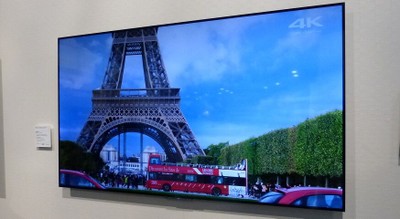 Sony X900C 65" Ultra HD TV
Going from "Bigger in Texas" to "Thinner in Texas", our next "Best of Display" goes to Sony's thinnest LED yet. Talk about THIN! Sony's 65" X900C. The X900C combines 4K clarity and brilliant color with an incredibly thin design. The top half of the display is just under 0.2 inches thin! This makes the X900C model thinner than most smartphones. The ultra-thin profile is virtually frameless and mounts flush to your wall, leaving only a stunning 4K picture and an amazing viewing experience. Even though it's thin, Sony's X1 processor engine controls contrast, color and clarity in both HD and 4K content at an amazing level.  The X-Reality PRO Picture Engine upscales all existing HD content to super clear 4K quality, and the colors were amazing too thanks to TRILUMINOS display technology.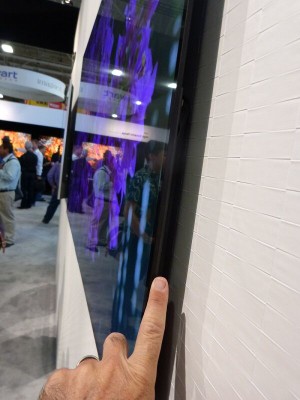 Sony X900C 65" Ultra HD TV (Side View)

With a MSRP of around $4,000 if you're looking for clean neat looks and design along with a great picture the Sony X900C 65" Ultra HDTV might be for you.
Which One is For You?
So there you have it.  Three amazing HD displays (one being a projector) at some pretty lavish prices.  The smaller X900C Sony has a lot of appeal for us mortals not just because of it's more attainable pricing, but also because it's more easily accommodating in the average living room.  If you're a Videoholic as much as you are an Audioholic, you'll probably opt for the killer Sony VPL-VW5000ES laser projector or giant 120" Vizio display.  Or, if you're Dr. Evil, you're going to have to settle for the Sony projector with lasers until his henchmen figure out a way to mount them to sharks heads.  Let us know in our forums which display you want or lust for.
Unless otherwise indicated, this is a preview article for the featured product. A formal review may or may not follow in the future.