Sharp 108 inch LCD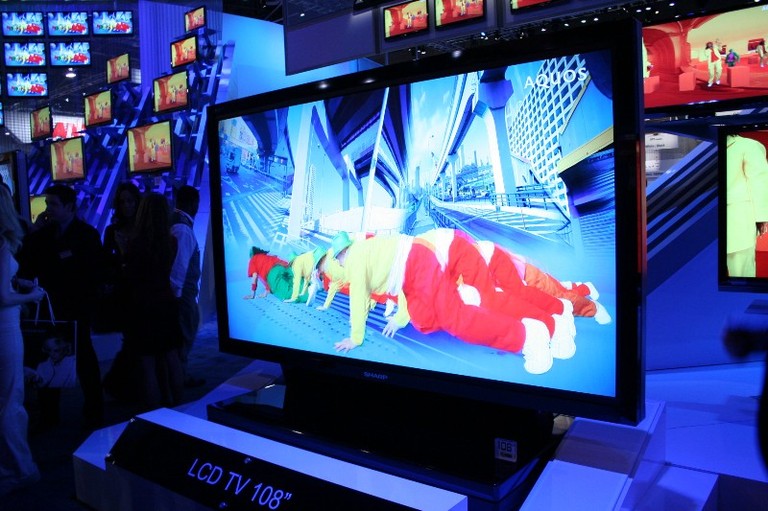 Summary
Screen size: 108-inch (52.9-inches high by 93.9-inches wide; 107.8 inches on the diagonal)
Drive system: TFT (thin-film transistor) active-matrix drive
Number of pixels: 2.07 million pixels (1,920 x 1,080 pixels)
Sharp showcased its 108-inch LCD today at CES in Las Vegas. This HUGE display measures 52.9-inches high by 93.9-inches wide, and features a Black Advanced Super View Full-Spec HD LCD panel manufactured at Sharp's Kameyama Plant No. 2, the first plant in the world to use 8th generation glass substrates. With this development, Sharp has demonstrated that it is possible to produce LCD TVs in sizes ranging from 13-inches to super-large sizes like the 108-inch, and that LCD is the predominant display device in the flat-panel television market, which is forecast to grow dramatically in the future.

Sharp is working to further the evolution of LCD TVs based on the success of developing the 108-inch model, and as the world's leading manufacturer of LCD TVs, will continue to develop state-of-the-art products.

For more information on Sharp's full line of Liquid Crystal Televisions, contact Sharp Electronics Corporation, Sharp Plaza, Mahwah, N.J. 07430, or call 800-BE-SHARP. For online product information, visit Sharp's Web site at sharpusa.com.





Unless otherwise indicated, this is a preview article for the featured product. A formal review may or may not follow in the future.