Samsung Smart TV Review with the LED 8000 Series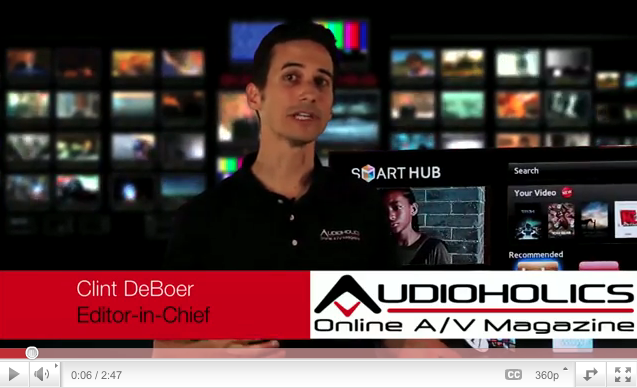 Samsung Smart TVs Video Review
Summary
Features

Smart TV with Samsung Apps
2D & 3D in Full HD 1080p
AllShare DLNA Networking
Wide Color Enhancer Plus
Ultra Clear Panel
ConnectShare Movie
Skype Enabled
Anynet+ (HDMI-CEC)
Auto Channel Search
Auto Power Off
Auto Volume Leveler
Clock & On/Off Timer
Closed Captioning
HDTV Tuner Built-in (ATSC/Clear QAM)
Sleep Timer
V-Chip
Micro Dimming Plus

Audio

SRS TheaterSound
SRS TruSurround XT provides 3D sound
10 Watts x 2 Audio Channels
Built-in Bottom Speakers

Wireless Connectivity

Video


LED backlighting
45.9" Screen Measured Diagonally
1,920 x 1,080 Resolution
25,000,000:1 Dynamic Contrast Ratio
Real 240Hz Refresh Rate
16:9 Aspect Ratio

Inputs & Outputs

4 HDMI Inputs
1 Component Inputs
1 PC (D-sub 15 Pin)
1 PC Audio Input (Mini Jack)
1 Ethernet Port
3 USB 2.0 Ports
1 Digital Audio (Optical)
1 Audio Output (Mini Jack)

Dimensions & Weight

41.0" (W) x 23.6" (H) x 1.2" (D) Without Stand
41.0" (W) x 26.7" (H) x 10.9" (D) With stand
27.3 lbs. Without Stand
31.5 lbs. With Stand
Executive Overview
Samsung has been making TVs for quite some time, but now they've released a new line of televisions they are dubbing: Smart TVs. You know, aside from the transition from standard definition CRT monitors to high-definition flat panels, TVs haven't really changed much over the past several years. They still bring you the same programming from cable or satellite you've been watching since you learned how to point a remote control at the screen and click. But TVs need to change. I mean, I don't know about you, but most of what I watch these days comes from the Internet or a cloud-based source for movies. We're talking about Netflix, Hulu Plus and VUDU, among other sources. But how do you get that content to that expensive flat panel you purchased for Christmas last year? Well you can do what many of us do and connect your laptop to your TV with a dangling cable... Or... and this is cool... you can look for manufacturers who really seem to "get" emerging media and the new content marketplace. Samsung's SmartTV platform is positioned squarely in line with this kind of idea - and it's represented in full by their LED 8000 series televisions.
What's a Smart TV? Well it's a smarter way to consolidate into one place all the things you can, and in my opinion should, be doing with a TV. It makes it easy to get around, find content, and do what you want, when you want. Let's take Samsung, for example, their Smart Hub (show the button) gives you instant access to streaming music, videos or movies from the Internet. It also lets you access web apps for viewing pay or free content online. You can get news, sports scores, weather, stock quotes, view your photos or even play games. The beauty of it is, you can customize it to show the things you want so your TV can get to the apps you use more quickly.
"How do you get streaming content to that expensive flat panel you purchased for Christmas last year? Look for manufacturers who really seem to "get" emerging media and the new content marketplace. Samsung's SmartTV platform is positioned squarely in line with this kind of idea."
So what's it look like - how does it work... Well, the key is having everything in one place and making it easy to access. Samsung includes a recommendation engine that it calls "Your Video" which pushes content recommendations to you based on your previous interests. Hmmm... I guess in this sense your TV is watching YOU. The other thing Samsung did was add Search. Now effective search is something that really opens up the potential of your TV and makes it easier to find what you want, when you want it. I like to think of it as the natural evolution of TV. If you're old enough to remember analogue tape, this is akin to the instant access CDs offered consumers in comparison to having to fast forward and rewind cassette tapes. With search, you jump right to the content you want.
So, let's say I want to search for the ubiquitous term "House". If I use the Search All bar at the top, I will get results from the movies, YouTube, Facebook... just not Netflix. Samsung has some more development to do in this area, but it's still a step in teh right direction. I can scan these results, and pick the content I was looking for. In the process I get additional information, the ability to share my movie watching experience on Facebook or even rate it.
So... what about the stuff I already own, like music and photos. Well, the AllShare system lets you pull all sorts of media from virtually any device in your house. That means that if you just captured some cool video on your Android phone, or have tunes on your new laptop computer - you can now stream that media to your TV. Incidentally, you can also see when a call comes in or if you just received a text message. That is pretty cool. Other systems can pull in media, but Samsung really integrates their system fully with mobile technology in a way we've never seen before - I mean, it's intuitive enough that you'll actually WANT to use it - a lot.
Samsung also has apps. Right now there are around 200. It's not as prolific as iTunes or Android Marketplace, but it's definitely a player. The Apps are divided into 5 categories if you count What's New - which presents you with the latest offerings. The others are Video, Sports, Game, and Lifestyle. Suffice it to say, it's pretty likely you'll be able to find something that's of interest to you.
Build Quality
Samsung has always made beautiful TVs, but when we first laid eyes on the new 8000 series, it redefined how cool a flat panel TV could look. The first thing you notice is the ultra slim bezel - it's like 1/4" thin and makes it look as if the picture goes right to the edge of the frame. It's stunning, and when combined with a TV that's just over an inch thick, you really get something that's a work of art. We also like the Ultra Clear Panel they used for the screen. One of the problems with flat screen TVs is glare - and Samsung has done a lot of reduce that and make this TV easy to watch - even in brightly lit rooms.
There's even a new remote for Smart TVs - complete with QWERTY keyboard and a single line LCD display so you can see what you're typing without looking at the screen. If you hunt and peck, this is a great feature for you. The reason for the fancy remote? This is a SmartTV, remember?! You can search, browse media content, and even use the Internet on some models. The advanced controller can even switch modes and act like a traditional mouse with cursor movement.
Conclusion
With these types of features - and we didn't even get into the Micro Dimming system that enhances the contrast of on-screen images... or the Real 240Hz processing which makes you TV look more like you're on the set of a show, rather than watching a prerecorded episode. With these types of features, Samsung is leaping forward into answering the question: "" In our minds, that makes Samsung - AND their TVs... pretty Smart.
Want more Samsung TV info? Check out the company's new Facebook Page.

Unless otherwise indicated, this is a preview article for the featured product. A formal review may or may not follow in the future.