PDP-42A3HD Plasma Features & Build Quality
PDP-42A3HD Plasma Features & Build Quality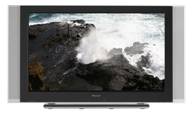 After our visit to the Consumer Electronics Show this year I was anxious to get my hands on a Pioneer Plasma. Their displays really did outshine a lot of what we saw at the 2006 CES and I wanted to see how their budget oriented plasmas stacked up against the competition. We already know their top of the line models are great performers (and we'll test some of those as well) but Pioneer's entry level products were an unknown to us - until now.
Features
The Pioneer PDP-42A3HD is a reduced feature set sixth-generation HD 42" plasma display panel with a 1024x768 pixel resolution. It is also marketed in some retail locations as the PDP-4214HD. This plasma display comes in at a lower retail price point due to some reduced features that enabled Pioneer to provide a more budget-conscious product. Here are some items not found in the PDP-42A3HD which are present on the newest PureVision 43" models:
Advanced Pure Cinema 3:3 pull-down (operates at 72Hz)
Advanced Continuous Emission (ACE) IV for improved grayscale rendering
Expanded noise reduction features
PureDrive II 10-bit digital video processing
Delivery and Build Quality
I once again bribed the local delivery person to help me carry this display up the stairs to Reference System 3 where it would reside for the duration of this review (come to think of it I have some very nice and accommodating delivery people). There was no question that, once unboxed, the Pioneer PDP-42A3HD is meant to impress. The aesthetics of this unit, from the darkened glass trim which surrounds the picture, to the sleek silver speakers which peek out from behind the face of the unit, this television makes for an attractive addition to any living room. The display comes with a built-in, removable, stand and is only 4.7" deep should you want to mount it to the wall (and who wouldn't).
The inputs can be accessed from the rear of the television, with a single isolated side input for composite and s-video connections (with corresponding analogue audio inputs). As is typical with many displays these days, the rear connections are a bit difficult to get to - and there is no room for a DVI-to-HDMI adapter on the back panel, so make sure you have the correct cables if you are going digital (and you should be). The difficulty of the input connections is such that the plasma can be more easily wall-mounted. Giving up a bit of convenience for flexible mounting options is a good compromise in my opinion, so you won't hear me complaining.
There are definitely enough discrete inputs on the Pioneer PDP-42A3HD to satisfy most users
Confused about what AV Gear to buy or how to set it up? Join our Exclusive Audioholics E-Book Membership Program!