NuVision NVU40FX5LS Build Quality
NuVision NVU40FX5LS Build Quality
NuVision U.S. Inc. recently announced the introduction of three new super slim LED edge-lit LCD TV models for the consumer market, namely the Lucidium NVU40FX5LS (40-inch), the NVU46FX5LS (46-inch) and the NVU55FX5LS (55-inch). All three models come in a standard brushed aluminum black enclosure that has an almost industrial look to it. The 55-inch model is also available in a limited edition featuring a silver frame (NVU55FX5LSX). All three models utilize NuVision's powerful FX5 120Hz video processing, which eliminates the need for corrective mathematical algorithms when viewing 24 frame 1080p content by displaying each film frame five times on the display, creating an effective rate of 120 frames per second. We'll go into more on this processing method later.
NuVision's line of LED TVs produce vibrant, accurate whites when calibrated and colors look well-balanced and accurate - meaning they are true to what the colorist intended. NuVision claims their LED backlight allows for more accurate color, but the bottom line is that hitting the mark is all that count. Additional saturation or color simply diverges from the gold standard (at least until they change the standard!) The video processing also includes 10 bit color depth and the edge-lit LEDs enable the television to fit all of its inputs and functionality into a frame that is only 1.5" deep. The new light weight NVU40FX5LS requires 40% less power to operate than a comparable CCFL (florescent backlit) set and they are also free of any Mercury, which is significant if "environmentally-friendly" is a moniker you are looking for in your television. 
Build Quality
In terms of its design, the NuVision 40" Slim LED-backlit TV features a recessed side and rear input panel that puts the connections parallel with the thin profile of the television. We've seen other TVs that have inputs mounted on the back where the cable would stick straight out - so much for your thin TV being anywhere near the wall! The folks at NuVision were at least putting their thinking caps on when they oriented the connections. Speaking of connections, the TV has its inputs almost arbitrarily split between side and bottom. The bottom contains the single component video input, VGA connection, and NuControl while the side handles everything else, including all digital video inputs and the single digital audio output.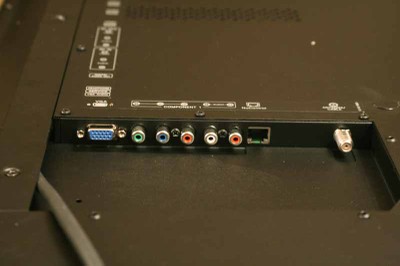 The NVU40FX5LS features a removable side panel cover that is designed to route HDMI and other cables downward so that they don't stick out of the TV. This is good in that it keeps cables form being visible out the side where they are connected into the television, but you won't be able to use thick or stiff HDMI cables due to the requirement of a rather tight turning radius. There's only about 1-3/4" clearance for your cables so plan accordingly. One other thing we noted was that NuVision opted to go with a coax digital audio output over TOSlink. While they are usually audibly identical in terms of quality, to-date we have seen most televisions opt for the fiber optic digital output. We were glad to see that the television also recessed the IEC power connection point and even included a hard power cutoff - a nice feature that we don't see too often in consumer sets. The FX5 series displays are also sold without stands - which we felt was absolutely perfect since we think all flat panel TVs should be mounted to the wall regardless. Whether the stands cost consumers $100 or $10, it's a cost that we feel could be saved on most sets. In the case of NuVisions Lucidium FX5 series, a stand will run you $199 extra.
NuControl Protocol
NuControl is NuVision's move towards meeting the needs of custom integrators. Every NuVision set includes their exclusive NuControl port which offers bi-directional RS232 protocol, in addition to IR pass-thru to control other devices, and even IR input to control the TV. That means that installers placing a NuVision into a customer's location can bypass IR emitters and receivers, they can plug into NuControl with a compatible NuWire IR distribution accessory and create an instant IR control network. NuControl doesn't require a power supply and there are no wires to cut.
Bezel Away!
For a "mere" $1,499 premium, NuVision will create any colored bezel you want in a gloss car-style finish. Since the NuVision is already targeting the high-end custom market, this is a perfect fit. If a client has a room that is designed around a certain color theme, any of the new FX5LS TVs can be custom made to order. For the contemporary crowd, this really hits the nail on the head. All you need is a Pantone color, paint sample, or fabric swatch. All dealers need to do is send the sample, order the TV, and 14 days later the new set is available with the custom bezel.
Confused about what AV Gear to buy or how to set it up? Join our Exclusive Audioholics E-Book Membership Program!
Recent Forum Posts:
BoredSysAdmin posts on June 22, 2010 16:44
Not even for $1500 optional custom finish? To color match your Ferrari
Shock posts on June 22, 2010 16:41
gene, post: 727885
and $7500 cables
I wish there was an endless thread about people who believe these make a difference. I would never leave this website.
gene posts on June 22, 2010 14:42
and $7500 cables
Shock posts on June 22, 2010 14:01
its phillip, post: 727871
You could probably say the same thing about plenty of speakers, Shock
Oh I do
And 7500 dollar preamps……
its phillip posts on June 22, 2010 13:50
You could probably say the same thing about plenty of speakers, Shock

It is a nice looking display, and I do like how the inputs on the back panel are sideways, instead of straight out…but I do agree with Shock. Too much money for whatever few gains.
Post Reply