Dolby PRM-4200 Professional Reference Monitor Preview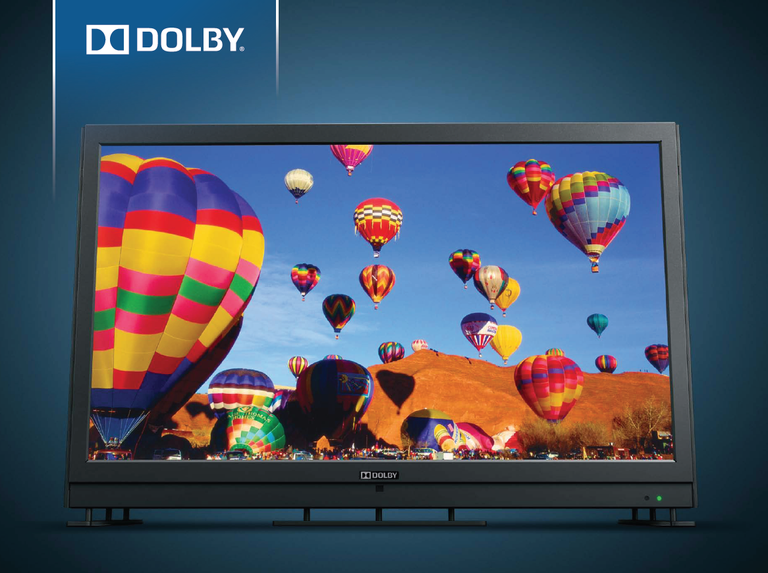 PRM-4200 Professional Reference Monitor
Summary
Digital Video Inputs: Two input connectors, with support for 1.5G and 3G SDI, single and dual link
Digital Video Interfaces: SMPTE 295M, SMPTE 294M, SMPTE 292M, SMPTE 372M, SMPTE 424M, SMPTE 425M
Video Scanning Formats: ITU-R BT.601, SMPTE 293M, ITU-R BT.1358, SMPTE 274M, SMPTE RP211
Video Outputs: Two output connectors, with support for 1.5G and 3G SDI, single and dual link
Audio Sync Output: 75Ω BNC, active high TTL-level output
Primaries/Gamut: Rec. 709, SMPTE C, EBU, P3, Custom
Operation Modes: CRT Reference, DYN Reference, LCD Emulation, PDP Emulation, Custom 1 Emulation, Custom 2 Emulation
White Point: D54, D65, D93, Digital Cinema, Custom
Gamma: 2.2, 2.4, 2.6, Custom
Power Consumption: 1,000 VA maximum
Line Voltage Compatibility: 85–260 VAC, 50–60 Hz
Operating Temperature: 0°C–35°C
Optimum: 20°C ±5°C
Storage Temperature: –20°C to 70°C
Humidity: 30%–90% relative humidity, non-condensing
Main Body Dimensions: 991 x 660 x 381 mm (39 x 26 x 15 inches)
Remote Controller Dimensions: 2-U rackmount or tabletop use
Weight: 68 kg (150 lb)
Executive Overview
Wanna buy a $40,000 42" LCD display? Dolby's got one for you with their PRM-4200 Professional Reference Monitor. Now before you get all bent out of shape and assume Dolby just designed a TV with monstrous markups, realize that this is a super-accurate monitor designed for use in reference video houses across the country... not your living room. Dolby uses a patented dual-modulation display technology to produce images of the highest quality possible on this flat-panel monitor. They are so confident in its abilities, in fact, that they are dubbing it as "the first flat panel to surpass the CRT". Dolby is hoping that its Professional Reference Monitor is destined to become the industry-standard reference monitor. Given the lack of competition, it probably will, though there won't be a whole lot of them out on the market.
The Dolby Professional Reference Monitor enables the creative process for colorists and cinematographers by ensuring that the final image will reflect exactly what they see on the monitor. It renders full-bandwidth, clipping-free black-level performance, with true blacks, highly accurate dark detail, and precise linearity maintained across the entire gray scale and accurately displays DCI P3, all high-definition formats over HD-SDI, and 2K video content. The flat panel will display the full dynamic range that the latest advanced digital cameras can capture and it can pproximate the full gamut of film, making digital intermediate color grading possible without using a digital projector.

The Dolby Professional Reference Monitor integrates well into just about any environment because it supports all of the current and emerging formats that filmmakers are using... provided they are 1080p (this display isn't 4K-compatible). What it does support, however, is 1D and 3D LUTs, allowing calibration to perfectly match digital screening environments and to emulate the response of film-print stocks during the digital intermediate color-correction process. The PRM-4200 can not only support today's 10-bit video formats, but also emerging 12-bit formats without dithering or downscaling the color gamut. That's impressive and Dolby worked directly with colorists and cinematographers to perfect the Professional Reference Monitor.

The Dolby Professional Reference Monitor has a 42-inch (diagonal) LCD flat-panel display with a resolution of 1920 by 1080 pixels and a refresh rate of 120 Hz. It also delivers a spacious wide-angle viewing area of 90 degrees horizontal (45 degrees on either side of the center point). The monitor includes an external remote controller that handles all functions, giving you off-screen, intuitive access to all features, functions, and parameters through simple, easy-to-use menus. The remote controller can be rackmounted or used on the desktop.
Professional Reference Monitor Remote Controller
For added ease of use, Dolby partnered with Harris to build the PRM‑AUDIOSYNC AES Audio Synchronizer, which automatically matches the audio delay to the monitor's video delay, removing the need for manual changes to audio delay when switching modes or formats. In addition, the monitor ensures color stability for color grading and color correction because the 1,500 RGB Backlight LEDs are burned and tested prior to assembly. R, G, and B gain controls allow manual fine-tuning of the color balance to fit your viewing conditions.
Make no mistake, you don't want this monitor in your living room. It's ridiculously over-featured for consumers, but with devices like this, you can be sure the mastering studios will keep putting out reference material for our Blu-ray discs... Now if only Hollywood would start to come up with some better scripts.

Unless otherwise indicated, this is a preview article for the featured product. A formal review may or may not follow in the future.