Sony BRAVIA KDL-55EX500 55" LCD HDTV Preview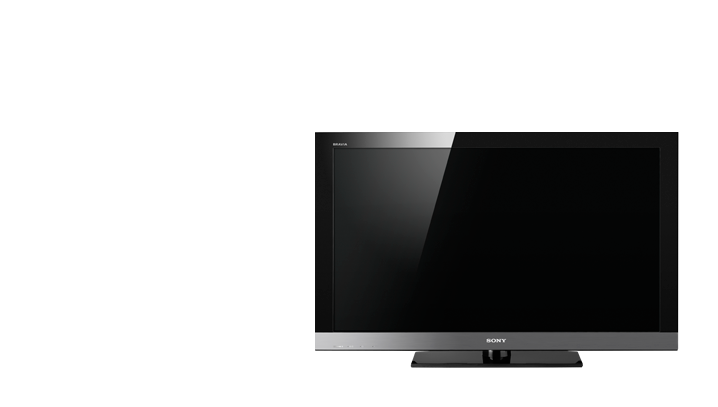 Sony 55" Bravia KDL-55EX500
Summary
Model #: Sony Bravia KDL-55EX500
•Video Signal : 1080/60p (HDMI / COMPONENT), 1080/60i, 1080/24p (HDMIONLY), 720/60p, 480/60p, 480/60i
•Power Consumption (in Operation) max. : 315W Max
•Power Consumption (in Standby) : Less than 0.23W (AC120V), Less than 0.4W (AC240V)
•Power Requirements (frequency) : 60Hz
•Power Requirements (voltage) : AC 120V
•Audio Power Output : 20W (10W x 2)
•Speaker Configuration : 2
•Speakers (Total) : 2
•Ambient Sensor : Yes
•Auto Photo Mode : via USB
•Auto Picture Setting w/ HDMI : Cinema, Photo, Graphics, Game
•Auto Shut-off : Yes
•BRAVIA Sync : Yes
•BRAVIA Sync Menu Button : Yes (on Remote Control)
•Channel Block (with password) : Yes
•Channel Jump : Yes
•Channel Labels : Yes
•Channel Surf : Yes
•Edit Channel Labels : Yes
•Favorites (Simple UI) : Yes
•ID-1 Detection : Yes
•Info Banner : PSIP, XDS
•Input Skip : Manual
•Label Inputs : Yes
•Multiple Language Display : English, French, Spanish
•On-Screen Display for External Input : Yes
•PIP (Picture in Picture) : PC Input(HD15/HDMI) & TV Channel/CVBS/(HDMI)/(Component)
•Parental Control : Yes
•Picture Adjustments Lock : Yes
•Picture Frame Mode : Yes
•Program Block : Yes
•Scene Select : Auto, Cinema, Sports, Photo, Music, Game, Graphics, General
•Short Banner : Yes
•Show/Hide Channels : Yes
•Sleep Timer : Yes
•Stand Swivel : Yes
•Stand Swivel Range : Left 20°/Right 20°
•Start Up Sony Logo Display : Yes
•Theatre Mode (Theatre Button) : Yes
•USB Application(s) : Photo Viewer (jpeg), Music Player (mp3), Video Player (mpeg1), Video Player (mpeg2 TS)
•USB Player : Yes
•White Balance : RGB Gain/Bias
•Backlight Type : CCFL
•Display Device : LCD
•Channel Coverage : VHF: 2-13ch UHF: 14-69ch CATV (analog): 1-135ch CATV (digital) : 1-135ch
•Color System : NTSC
•Number of Tuners (Analog) : 1(Hybrid)
•Number of Tuners (Digital) : 1(Hybrid)
•TV System (Analog) : M
•TV System (Digital) : ATSC
•Tuner (Cable) : QAM
•Tuner (Terrestrial) : ATSC / NTSC
•Dimensions (Approx.) : 52 1/4 x 32 7/8 x 13 7/8" (1324 x 832 x 350mm) with pedestal; 52 1/4 x 31 3/8 x 4 1/8" (1324 x 795 x 105mm) without pedestal
•Weight (Approx.) : 67.7 lbs. (30.7kg) with pedestal; 58.9 lbs. (26.7kg) without pedestal
•24p True Cinema Technology : Yes
•3D Comb Filter : Yes
•4:3 Default : Yes
•Advanced Contrast Enhancer (ACE) : Yes
•Auto Wide : Yes
•CineMotion Reverse 3:2 Pulldown Technology : Yes
•Cinema Mode : Yes
•Live Color Technology : Yes
•MPEG Noise Reduction : Yes
•Motionflow Technology : 120Hz
•Picture Mode : Vivid, Standard, Cinema
•Video Processing : BRAVIA Engine 2 Technology
•Wide Mode : Normal, Zoom, Wide Zoom, Full (Full1-2 for PC)
•Limited Warranty Term : 1 Year Labor / 1 Year Parts
•VESA Hole Pitch : 400x300 (55")
•VESA Hole Spacing Compatible : Yes
•AC Power Input : 1 (Rear) AC Socket
•Analog Audio Input(s) (Total) : 4 (1 Side / 3 Rear)
•Audio Out : 1(Rear)
•Component Video (Y/Pb/Pr) Input(s) : 2 (Rear) (1 fixed/1 selectable)
•Composite Video Input(s) : 2 (1 Side/1 Rear)
•Digital Audio Output(s) : Optical Digital Output - 1 (Rear)
•HDMI Connection(s) (Total) : 4 (2 Side/2 Rear)
•HDMI PC Input : Yes
•PC In (D-Sub) + Audio In (Stereo Mini) : 1 (Rear)
•RF Connection Input(s) : 1 (Rear)
•USB 2.0 : 1(Side)
•5.1 Channel Audio Out : Yes
•5.1ch Through Out (Handycam) : Yes
•Alternate Audio (Digital) : yes
•Audio Out : Fixed
•Auto Mute (on no signal) : Yes
•Auto SAP : 20FM/10AM
•Clear Voice : Yes
•Dolby : Dolby Digital
•Invisible Speaker (w/Sound Elevation) : Yes
•Sound Mode : Dynamic, Standard, Clear Voice, Custom
•SteadySound Automatic Volume Control : Yes
•Stereo System : MTS
•Surround Effect : Cinema, Music, Live Sports, Game
•Backlight Off Mode : Yes
•Dynamic Backlight Control : Yes
•Eco Settings : Yes
•Estimated Annual Energy Consumption (kWh) : 305.0 kWh
•Idle TV Standby : Yes
•Power Consumption (On Mode) for Energy Star : 166.0W
•Power Consumption (Standby Mode) for Energy Star : 0.23W
•Power Saving Modes : Yes
•Aspect Ratio : 16:9
•Display Resolution : Full HD 1080(1920x1080)
•Dynamic Contrast Ratio : 150,000:1
•Screen Size (measured diagonally) : 54.6"
•Viewing Angle (Right/Left) : 178(89/89)
•Viewing Angle (Up/Down) : 178(89/89)
•Closed Captions (CC) : Analog, Digital
•Finish (Surface Color) : Piano Black
•HDMI InstaPort : Yes
Executive Overview
The Sony BRAVIA KDL-55EX500 is one of five CCFL backlit LCD HDTVs announced in 2010 as part of the KDL-EX500 Series. Although priced the same as KDL-EX600 models, the KDL-55EX500 and its peers differ in that they utilize Motionflow 120Hz Technology, allowing for smoother transitions and onscreen movement. As one of the larger units in the series, the 55" KDL-55EX500 offers full 1080p HD resolution at an ultra-fast frame-rate. Included also is a plethora of connectivity options, including HDMI, HDMI Component, HDMI PC, and USB. Plus, the unit is powered by the BRAVIA ENGINE 3 and offers 100% single-remote compliance with any BRAVIA device.

Audioholics hasn't yet done a formal review of this product, but we wanted to get as much information as possible to our readers in order to help them make the best possible purchasing decisions. If possible, we will provide additional info or even a product review at a later date.

For more information, please visit: www.sonystyle.com

Confused about what AV Gear to buy or how to set it up? Join our Exclusive Audioholics E-Book Membership Program!