Detailed Review and Conclusion
Detailed Review and Conclusion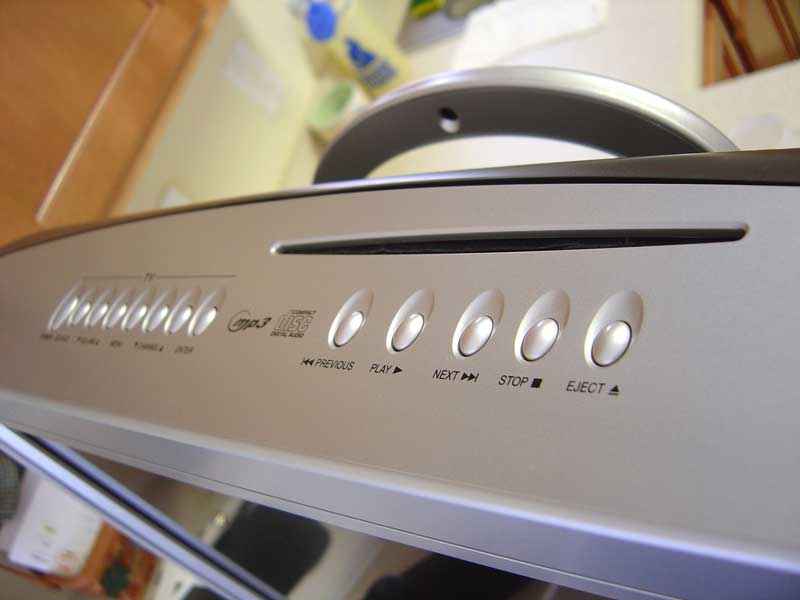 Remember those cheesy 50's television shows & commercials that depicted the household of the future? You know, the ones with bubble TVs, bubble sofas, and bubble cars (if you're having trouble picturing this, just visit an Ikea store.) Even the Jetsons didn't present such a hokey picture of the 21st century. While you have these picturesque visions of the future in mind, let's think about a more realistic - and truly contemporary - version of what a television could be. The AXN-7200, with its top-side slot-loading DVD player and curved display stand, presents what I feel is a forward-thinking "next stage" design for televisions - without reaching too far ahead or appearing completely out of place. This next-generation design is only compromised by a rather disappointing level of performance (both functionally as well as visually) that we hope Axion will eventually remedy.
Packaging and Installation

The 20" Axion LCD TV with DVD player comes very well packaged. In fact, you simply lift it out of the shipping carton, remove the protective plastic & styrofoam, and plug it in. Nothing could be simpler. Included in the box is a remote control, DC power cable with adapter, and batteries. It took us only about 5 minutes to have the TV setup and running, including putting batteries in the remote control!
Calibration and Performance
Off the shelf, the AXN-7200 needs some tweaking to look its best (which to be honest, is never very good due to its low resolution display). We calibrated both the Cable TV input using a Sencore VP400 Video Pro and the DVD picture with the Video Essentials DVD. Overall, the Axion comes overly saturated and with pretty high white and black levels - just like every other mass market television in this class. They are all set up to impress on a show floor under fluorescent lighting. A well-calibrated set in those conditions would likely look "dull" to the uneducated consumer. What's more important, in our opinion, is whether a set can be calibrated to gain satisfactory results within the setting in which it is being used. While the Axion TV could net be calibrated to where we would like, the AXN7200 produced an acceptable picture for a standard definition set, and the results were suitable for use in a secondary viewing environment.
Adjustments for the set include the ability to raise and lower Color, Contrast, Brightness, Sharpness and Tint. There are no individual Red, Green or Blue Controls accessible in the user menus. We also noticed what appeared to be a permanent edge enhancement feature that could not be disabled via the user menus. Once we adjusted the picture quality using these controls the set lost some of its initial oversaturation. There was noticeable detail previously hidden in darker scene areas. One big thing to point out is that the picture controls affect all inputs simultaneously, so adjusting the DVD source input will affect all other inputs as well as the tuner.
Connections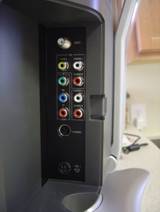 Rear inputs include rear component (progressive), s-video, and composite video inputs. There is, of course, also a cable TV connection for tuning NTSC (or PAL) cable signals, and the left side of the TV even allows you to take audio and composite video out of the television in the event you would like to record a show. We used the set primarily in DVD mode or with the RF cable inputs, but the composite, s-video and component inputs were also briefly tested (we do not recommend using them). No DVI or HD M I inputs were available. Please note that changing inputs via the remote or the unit itself is intolerably slow, taking 6-8 seconds to engage (see our extended notes under 'Remote Control Functions' below).
Setup and Features - Television
The Axion LCD TV has the ability to receive standard definition cable broadcasts as well as over the air antenna signals (NTSC only in the US .) It also supports automatic channel searching so that any invalid or untunable channels will be hidden or skipped when pressing the Channel Up or Down button on the TV or remote. If you plan on using the AXN-7200 as a TV we recommend setting up your channels first. Closed captioning, parental (V-Chip) controls and picture & sound options are also available.
Setup and Features - DVD Player
As mentioned above, the DVD player shares the same picture controls (and settings) as the television mode and other inputs. There are also set functions for whether the content is to be played back in 4:3 pan and scan, 4:3 letterbox or 16:9 full screen mode. As with all DVD players, we recommend setting up the system for 16:9 mode, which ensures that anamorphic content will be played back correctly on the set, regardless of its aspect ratio. There are really no other options unless you count the NTSC/PAL mode selection. In addition, there are no multi-channel, optical or coaxial outputs for the AXN7200 so if you're planning on listening to surround sound you will need to use an external DVD player. This system is meant to be self-contained and used in a location that would not cater well to surround sound.
Remote Control Functions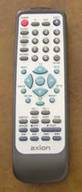 The layout of the remote is sensible and ergonomic. I have to admit, however, we had some difficulties with the remote control functions of this set. The remote seemed to lag severely - so much so, that certain functions literally took seconds to complete. Even when bypassing the remote and using the hard buttons on the top of the device, functions like changing the source would take 6-8 seconds . There was also no immediate visible feedback on the set that the command had been received. After a few seconds the on-screen display would show the new input source selection at the top right. As a result, it could conceivably take over 15-20 seconds just to cycle inputs (and it did.) We would like to see the software tweaked for additional speed and better user feedback. In television mode, changing channels took about 1.5 seconds between channels - another slow function and one we would like to see accelerated in future revisions. As it stands now, this is unacceptable behavior for a television set and makes this unit practically unusable in our opinion. Axion has indicated that future versions of this unit should correct these problems, however we can only report on the model we have which was shipping at the time of this review.
Subjective Viewing and Listening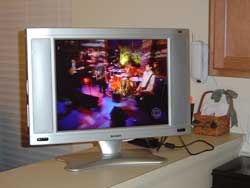 We played several DVDs on the AXN-7200 and even hosted a Super Bowl party which broadcast the game in standard definition to the set. Both modes were very successful. After tweaking the DVD player yielded an acceptable picture for this size television. There is some pixel blurring and plenty of jaggies and artifacting, but as a second TV (say, for a child's room) and given the Axion LCD TV/DVD's price point I didn't feel this to be too detrimental. The on-board speakers are adequate for playback of television or DVD content and are positioned well so that sound is broadcast around the television, creating a nice localization.
Once tweaked, the Super Bowl looked very pleasing on this set. You could make out detail in the stands and grass and the color was realistic and not washed out or oversaturated. Blurring, however, was an issue during fast pans and the lines on the field suffered from plenty of stairstepping. M y Lord of the Rings: Return of the King test DVD looked good at the appropriate viewing distance (4-5x the screen width). There were motion artifacts and again some mild blurring, but overall the image resulting in an enjoyable picture presentation.
I felt that given a proper minimum viewing distance of about 4-5 times the screen width, this set presented an acceptable picture, one that fit its bargain price. Street prices range from $600 to $750 - a dramatic range to be sure. If you shop around you can get a decent value on an LCD television with an integrated DVD player thrown in.)
Conclusion
The Axion AXN-7200 makes a great secondary television for an office or child's room. It is extremely easy to use and its built-in DVD player is a unique space-saving device that you won't find in many other LCD TVs. We loved how easily it unpacked and how quickly it became an integral part of our home. Our only major problems have to do with an unreasonably slow response time for functions (changing channels, inputs, etc) and a complete lack of quality video processing. Better options exist if you do not mind adding a separate DVD player and missing out on the all-in-one look of this set. If the best quality is not important to you and you do not plan on actively switching channels or inputs, then for a street price of just $600 you can add this attractive set to your home - it's truly what the TV of the future should look like!
Axion AXN7200 20" LCD TV/DVD Player
MSRP: $999
American Action, Inc. (AXION)
(866) 576-7337
http://www.axiontv.com
About American Action, Inc. (AXION)
Axion is a leading manufacturer and distributor of innovative consumer electronic products, such as compact LCD televisions, TV/DVD combos, portable DVD players, and handheld TVs. The company is dedicated to continually providing its customers with high-quality audiovisual electronics solutions for personal entertainment, education, and business applications.
The Score Card
The scoring below is based on each piece of equipment doing the duty it is designed for. The numbers are weighed heavily with respect to the individual cost of each unit, thus giving a rating roughly equal to:
Performance × Price Factor/Value = Rating
Audioholics.com note: The ratings indicated below are based on subjective listening and objective testing of the product in question. The rating scale is based on performance/value ratio. If you notice better performing products in future reviews that have lower numbers in certain areas, be aware that the value factor is most likely the culprit. Other Audioholics reviewers may rate products solely based on performance, and each reviewer has his/her own system for ratings.
Audioholics Rating Scale
— Excellent
— Very Good
— Good
— Fair
— Poor
| Metric | Rating |
| --- | --- |
| Standard Definition Video Performance | |
| Analogue Audio Performance | |
| Build Quality | |
| Ergonomics & Usability | |
| Ease of Setup | |
| Features | |
| Remote Control | |
| Performance | |
| Value | |
Confused about what AV Gear to buy or how to set it up? Join our Exclusive Audioholics E-Book Membership Program!