LED vs LCD TVs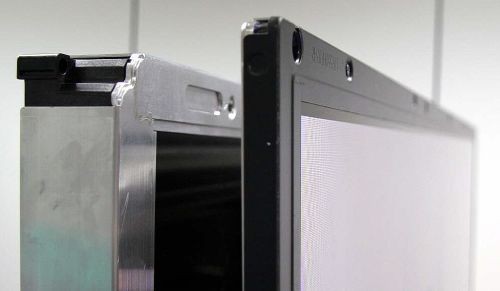 Edge lit LCD TVs
Today, there are more options than ever before when it comes to purchasing a flat panel HDTV. The newest, hottest technology in HDTV are the super thin and lightweight LED TVs. But how is LED different from LCD? Should you expect to pay more for an LED TV? What are the benefits of LED vs LCD? We went to Westinghouse Digital and got some input on them regarding their take on this common question. While all manufacturers have their different opinions on the ideal TV, Westinghouse is really pushing hard on LED backlit technology, and in particular, edge-lit models.
How are LED TVs different from LCD TVs?
Simply stated, an LED TV is an LCD TV that is lit with an LED (light emitting diode) light source instead of CCFLs (cold cathode fluorescent lamp). Manufacturers such as Samsung began the trend of marketing the LED-lit LCD TV as an "LED TV" likely in an attempt to easily differentiate the product from typical CCFL lit LCD products.While an LED TV is still technically an LCD TV, just get used to seeing this type of designation. We don't really have a problem with it and it does, among other things, seem to make it easier to say it out loud.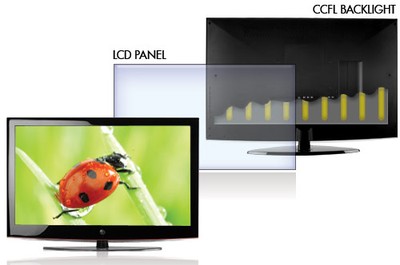 An LCD TV is comprised of several layers. The front layer is a piece of glass filled with liquid crystals that move and change to produce the images we see on the screen. But images can only be viewed when the screen is illuminated. This requires a light source. The light source is the difference between LED TV and conventional LCD TV.
Here's a simple explanation of how it works: Conventional LCD TVs use fluorescent tubes (CCFL) to provide light to illuminate the LCD panel and make the images viewable. In an LED TV, the LCD panel is lit from behind with an LED-based backlight. LED lights can be more precisely controlled and can produce richer blacks and a better contrast ratio for a more vivid viewing experience.
Edge Lit vs. Rear Lit
With LED TVs, edge-lit technology is what allows some sets to be less than 1-inch thick. The LEDs are actually arranged around the very edge of the screen, allowing the display to be very thin, since the lighting technology isn't positioned behind the screen. While this does indeed grant a thinner display, it typically (this is changing now) precludes te manufacturer from setting up a system that optimizes contrast across various areas of the screen.
Smart Dimming and Zones
Several manufacturers are optimizing their LED backlit displays to produce different amounts of backlighting on different areas of the screen. In this way, you can see content that contains bright areas on the screen along with very black areas. Think of a candle lit in a dark room. With your typical edge lit display you have one level for the overall backlight. With Smart Dimming, you can brightly light the part of the screen with teh candle, and then all but turn off the LEDs behind the black areas of the screen.
Should you expect to pay more for LED TV? What are the benefits of LED vs. LCD?
LED TVs like those form Westinghouse Digital are often edge-lit, which means they are generally more energy efficient, weigh less and cost less than full array LED TVs. Some LED TVs are engineered and produced so efficiently that they may even cost less than conventional CCFL lit LCD TVs. The bottom line is that LEDs are getting cheaper and cheaper and soon we estimate they will actually be easier and cheaper to produe than CCFL backlit displays.
LED TVs in general use less energy (and are therefore more efficient and economical to operate) than conventional LCD TVs. LED TVs are also thinner and weigh less than LCD TVs and generally create a brighter picture. For those who are environmentally concerned, LED TVs also contain no Mercury or Lead.
Presented by Westinghouse Digital and edited by Clint DeBoer
ledtvmaker posts on November 25, 2013 08:50
if you are going to compare LCD/LED TV

as nowadays there are lots of OEM/ODM/SKD manufacturing partners worldwide for TV/LCD/LED, and lot of them are medium and small size, and only quite few of big scale, or super scale, and then the number of medium size factories are only countable couples of in in the world, especially in China there are about 5 medium size, always work as a core partner for first tier partner for many famous brands such as TCL, Hi-sense, Vizio, Skyworth, Changhong, Konka, DPL, Westinghouse, Pioneer, Sansui, JVC, Philips, SONY, SAMSUNG, Sharp, Benq etc. the trend is intelligent. one word: almost all family in the coming five years will show off the CRT TV? and and half of them will use smart TV, isn't true?

we have a good experiences in carrying on TV OEM ODM SKD projects, including own manufacturing base, with more than 70,000sqm, we have full facilities for testing, production and aging, manufacturing etc..and most important we have many long term partners here,growing with us, and enjoying a good reputation for manufacturing of TVs.
cpp posts on May 01, 2012 08:46
I think I will hang on to my Plasma Panny and older 60" Sony KDS-R60XBR2 which has never given me any troubles ( thank you man up stairs). When the Sony goes, I might look at LED or the next best thing.
poconnell posts on May 01, 2012 08:35
Huhm,

I must say I concur with the last post. I prefer the LCD Technology.
jtcustoms posts on February 09, 2011 20:21
plasma all the way… but LED > LCD for sure!
Storm Aiden posts on February 04, 2011 23:23
There are BIG CHANGES coming to the LED vs LCD tv market in 2011!! EVERYTHING IS GOING WIRELESS! No More cables running everywhere. The two manufacturers best suited for the switch are Samsung and LG. Make sure all of your audio and video components such as blu-ray players are wireless compatible.

What are the differences between an LED and an LCD tv? Which one is better? Those are questions I had and I bet you do to. LED televisions do have some distinct advantages vs a comparable LCD tv. Price and Environmental Factors are the two main differences. I have outlined the facts about LED televisions and LCD televisions in the tables below.
LED televisions are about one third the thickness of the same size LCD tv. Correspondingly, the weight is about half. This could come into play when deciding how to mount your new HDTV.

It is my belief that LED televisions are vastly superior to an LCD tv. In one to two years time you will look back and be happy that you got the LED tv. I hope the article about LED vs LCD tv's helpful, and have a blessed day!



LED vs LCD tv
Post Reply
Confused about what AV Gear to buy or how to set it up? Join our Exclusive Audioholics E-Book Membership Program!