Zoom H4n Handy Recorder Review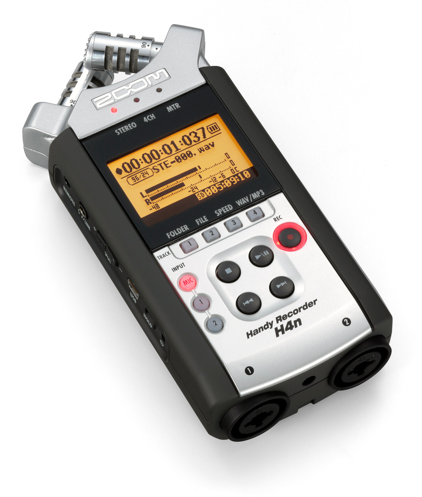 Samson Technologies Zoom H4n Handy Recorder
Summary
X/Y mic design

90° or 120° selectable mic pattern

Up to 24-bit/96kHz recording

MP3 48 - 320 kbps

Records to SD or SDHC up to 32GB

15 hours of recording time at 24-bit/96kHz

550 hours of recording time at 128 kbps MP3

Multi-track studio (MTR) mode (2-track recording and 4-track playback

50 studio-quality DSP effects

Tuner and metronome

Speed adjust from 50 to 150 percent while maintaining pitch

USB 2.0 audio interface

Rubberized, shock resistant chassis

1.9 inch backlit LCD screen

Stamina mode effectively doubles battery life (11 hours in 16-bit/44.1kHz PCM) Includes: 1 GB SD card, windscreen, mic clip adapter, AC adapter, USB cable,

protective case and Cubase LE recording software

Executive Overview
Every now and again we'll cross over into another area that fascinates us as audioholics - this time it's production audio. Of course, even this video requires that we capture audio in a way that delivers good quality sound so we can edit without worrying whether everything is audible. On top of that, we need a solution that's better than the microphone found on most cameras. In short, we need a tool like the Zoom H4n Handy Recorder.
In fact, this thing was used to capture the audio for this video. There's a lot to like about the H4n, but honestly each person is going to use it differently. For example, we plugged the lapel mic for this video directly into it via XLR - it can take both XLR and 1/4" mic and line level inputs and the preamp on this thing is excellent. Now, we could also just as easily have used the on-board microphones. They are arranged in a sort of X-Y pattern, which delivers a decent stereo image and is probably the best call for a handheld recording device. The mics can be rotated between a 90-degree and 120 degree pickup pattern, so its good for small ensembles and even larger, more spacious recordings.
We're able to set the sample rate to match our camera, dial in the recording level, configure manual or auto-start and even set things like the Low-Cut filter, compression, and auto leveling. You can even make the recorder fold both channels to mono and the unit can supply phantom power to condenser mics.
Physically, the H4n fits perfectly in the hand. It comes with a 1/4" camera tripod mount, and even a mic clip adapter so you can use it with a mic stand. The orange backlit LCD screen is super-easy to read and shows recording level, format, and running time. It even displays the space remaining (in recording time) on the included 1GB SD card, which will hold roughly 100 minutes of CD-quality stereo audio. It will also capture audio at up to 96kHz/24-bit which is phenomenal if you're trying to get the most frequency response and dynamic range possible.
Front buttons include record and playback functions, input selection, and four track selection buttons that also give you shortcuts to common menu functions like folder, file, speed and audio format settings. The H4n can actually record two channels while playing back 4, making it a really cool tool for musicians looking for an ultra-portable 4-track recorder. This makes that bulky 4-track I used to use as a kid look like a... well, let's just say this is MUCH smaller.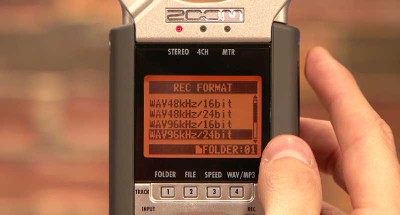 Setting up the Zoom recorder is easy, thanks to a dial that also clicks to activate menu functions. There's also a volume control for the headphone output, so you can set your monitoring level independent of your recording level. A USB 2.0 port lets you transfer files quickly - and without having to remove the SD card from the side of the unit. It also lets you use the H4n as an external sound card - to record audio directly to your PC or Mac without having to first import it.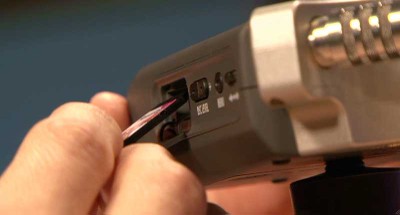 When you record to the H4n, you can actually play back your audio on an included speaker, so you can check your work and ensure everything is up to speed before you begin.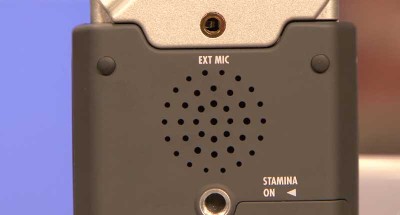 This is a really amazing little box that has so many features we can't even get into all of them now. I mean it's a guitar and bass tuner, a metronome. It's a universal remote control... not really, but that would be so COOL. Anyway, the H4n is a true workhorse and a dream machine for anyone who needs to capture good quality audio. At around $300 this isn't the cheapest digital audio recorder you will find, but the advanced feature set is hard to beat and you're seeing a lot of independent filmmakers and studios start to use this as their go-to tool. After using it for several weeks it's no surprise why.

Unless otherwise indicated, this is a preview article for the featured product. A formal review may or may not follow in the future.
Confused about what AV Gear to buy or how to set it up? Join our Exclusive Audioholics E-Book Membership Program!