Yamaha MusicCast 1000 Digital Music Server & Client Review
Yamaha MusicCast 1000 Digital Music Server & Client Review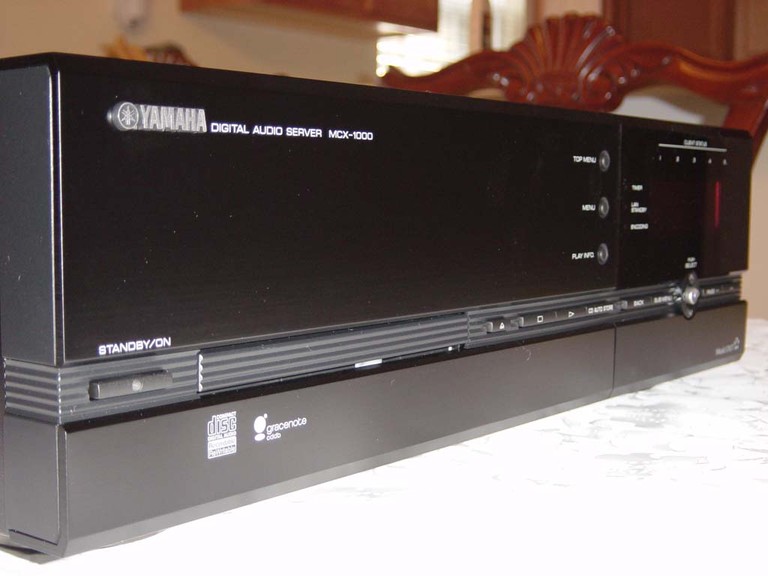 Yamaha MusicCAST MCX-1000 Server
MCX-1000 Server
80GB hard drive
500 CDs in 320kbps MP3
100 CDs in PCM
8x/4x CD-R/RW drive
Optical/coax SPDIF I/O
Analogue stereo I/O
LCD Display / GUI
Gracenote CDDB
OSD via S-video/composite
PS/2 Port
Headphone jack
RS-232 Port
IEEE 802.11b wireless
10/100 CAT-5 link
IR remote
17.125" x 4.75" x 15.625"
24.2 lbs
MSRP $2200

MCX-A10 Client
Analogue stereo I/O
Mono Sub output (full range)
Speaker outputs (20WPC)
PCM stream playback
MP3 stream playback
LCD Display
OSD via composite out
IEEE 802.11b wireless
10/100 CAT-5 link
IR remote
8.25" x 8.25" x 3.125"
4.4 lbs
MSRP $600



MCX-SP10 Speakers
Aesthetically Matching
17WPC
Bass Reflex
Wall Mountable
8.25" x 8.25" x 3.125"
2.6 lbs
MSRP $120/pair



Pros
Excellent PCM audio fidelity
CD jukebox replacement
Simple setup
Works with existing wireless networks
Cons
Pricey
CD burning only works with more expensive audio CD-Rs, not data CD-Rs
Yamaha MusicCAST Introduction
Personal Video Recorders (PVRs) and set top DVD+/-R drives have long indicated a consumer response to digital set top recording devices, and Yamaha has done a good job of finding a simple to use solution to eliminating large, cumbersome CD collections. While some people are familiar with the tools necessary to create an MP3 server from scratch, it is not an easy task. The following items must be accomplished in order to have a truly useful solution:
Ample storage space for your entire CD collection
High MP3 bit rate playback for accurate sound reproduction
Uncompressed PCM playback (optional, but desirable for optimal playback fidelity)
Easy digitization/encoding of source CDs
Artist/track/album labelling for easy search and retrieval of music in the database
PCM digital output to receiver or processor pre-amp
In addition to this, the following is needed for setting up a client device to receive streamed audio content from the server, and (barring laptops) to my knowledge has only been partially achieved by Linksys, CD3O, Creative, and BridgeCo:
Broadcast method to client device via 802.11a/b/g
Client device (computer or other hardware device) to receive streaming content
Remote browsable content of server media content

Confused about what AV Gear to buy or how to set it up? Join our Exclusive Audioholics E-Book Membership Program!