WireTracks WT-RF-01-10 Wire Management System Review
WireTracks WT-RF-01-10 Wire Management System Review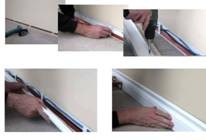 WireTracks Wire Management System
WT-RF-01-10 (10 each 8 ft pieces)
8 ft long, 2.5 inches wide, 0.5 inches thick
White paintable surface
Also available in 5 ft pieces
Pros
Cost effective alternative for pre-wiring home theater
Relatively easy to install
Paintable surface
Large enough to accommodate all wiring needs
Cons
Factory end cuts not square
Plain rectangular styling
No inside or outside corners
WireTracks WT-RF-01-10 Introduction
Over the past few years, we have received numerous inquiries and questions about how to install and run wiring for home theaters in pre-existing homes. Most often this can be a difficult and daunting task, especially if you have a two-story home with no attic crawl space or a home that has tile or wood floors. These types of homes can be nearly impossible to pre-wire without extensive demolition to walls and ceiling surfaces.
All this work may be too much for the average DIY home theater hobbyist. Hiring a pro may be cost prohibitive considering all the finish work that may need to be done.
Now a recent upstart company, Wire Tracks, located in the great Pacific Northwest has introduced a unique product that can help the average home theater DIY'er pre-wire their home theater easily and cost effectively. The Wire Tracks kit can be installed behind existing baseboard or surface mounted. There is also a kit for crown molding installation. The wires are neatly hidden within the plastic molding in a large chamber.
For the purpose of this review we will limit the discuss to surface mounting only because that will require the least amount of work for the DIY'er.

Confused about what AV Gear to buy or how to set it up? Join our Exclusive Audioholics E-Book Membership Program!