WinDVD 7 Platinum Full Review
WinDVD 7 Platinum Full Review
↞ Back to Introduction
WinDVD 7 Platinum is designed for movie nuts, bleeding-edge technology aficionados and even has some excellent features optimized for business travelers. There is a host of new features in version 7 including:
UPnP Player. WinDVD 7 can play back content from users' UPnP-certified devices within a UPnP home networking system. This means that you can use WinDVD 7 as a client to play back files from a network of media servers.
H.264 Support. This is the next-generation DVD standard which is featured as a mandatory player feature for all HD-DVD and Blu-ray Disc players. The ATSC standards body is also working towards using H.264 for broadcast television in the US (H.264 is already approved for use in broadcast television to at least some extent in Europe, France, Korea and Japan).
Brand New Interface Design & Controls. Featuring "dynamic player control" WinDVD users can dock and undock some panels and the transport controls automatically gray-out options that are unavailable to the user.
External Subtitles Control. If you play AVI, WMV or DivX movies with an external subtitles file, WinDVD will allow you to adjust the placement, color and size of the subtitle.
This is actually an exciting upgrade for those on the bleeding edge as well as those who want a much improved user interface over previous versions.
The Interface

Though in general I find most software players to be cumbersome and lacking in standards, I really enjoyed the intuitive interface of WinDVD. You can't miss the big play controls on the bottom of the main screen and selecting the source file/drive was made easy by a simple dropdown on the top left (where I would expect it to be). Access to advanced features was made tremendously convenient through the use of a sub-panel below the transport. This panel gave access to Audio M ode, Picture presets, EQ settings, Language, Subtitles, Closed Captioning and more.
| | |
| --- | --- |
| | |
| WinDVD 7 Interface | WinDVD 6 Interface |
As you can see, the new iteration of WinDVD has a more tightly integrated navigation area and features some different graphics from version 6. I for one like the docked navigation, even though I recognize that some people to float the navigation controls over the picture. With the majority of content being widescreen, I find the docked controls over the lower third of the picture to be the best and cleanest solution.
Settings and Configuration
I felt that WinDVD had a sufficient amount of settings and options, however some users may find it difficult at times to understand when or why some of the options are unavailable. Video Effects, for example, did not seem to be available on most commercial DVDs (there is certainly no big loss there). In order to enjoy a DVD, there is no setup or configuration necessary. If you want to tweak or play with some of the options, however, there are many to choose from: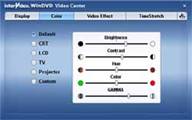 In terms of video settings, there are a host of options including how you would like to display the movie (in a window or via ActiveX on the desktop), Deinterlace method, Color settings (including basic gamma control), Video Effect and Timestretch (which maintains pitch but compresses or expands playback time). When using the application with front projection or via a home theater PC, I recommend the use of a video setup disc like AVIA or Digital Video Essentials and adjusting the video output using these controls (unless you are using the new video controls found in Windows M edia Center Ed ition 2005.) I tried all of the deinterlacer settings but found them to be sub-par overall and in fact it failed nearly every deinterlacer and cadence test on the HQV test disc. This is a common problem with software deinterlacing solutions and will hopefully get better with time.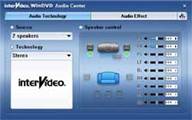 Audio settings include the ability to tell the application how to process audio based on what you are listening on (headphones or speakers, for example). I engaged Dolby Headphone and was surprised by the convincing audio surround effects - even on a very inexpensive pair of headphones. For those using WinDVD in a home theater environment, I was pleased to see that the system allowed for adjustment of a complete 7.1 system (plus a nebulous Surround Center Back speaker, whatever that is) including level and delay. The levels are not specific, however (no numeric designations) and the delay is given in milliseconds (up to 25) so the user will need to remember that 1ms = about 1 foot. There is no real bass management features in terms of speaker size or crossover point. There were some issues, possibly limited to the presence of a Dolby Digital stream. I could not readily switch from speakers to headphones and back in the configuration, get out of Dolby Headphone mode, or even adjust the room size for the effect until I stopped the DVD.
Advanced Features
There are some neat things that can be done with WinDVD such as creating playlists, time stretching movies to fit into a smaller or larger time frame, and Smart Stretch for keeping the center action area of video unscaled while fitting an overall 4:3 picture to a 16:9 screen. This last feature even has additional parameters that will allow you to customize the Smart Stretch parameters. WinDVD provides a handy "Instant Replay" and "Jump Forward"mode that can be activated with the keyboard and help you replay a cool scene or skip through parts of a program.
Room for Improvement
Though WinDVD comes with a Help application, there are more than a few features that are simply not well documented. I could not, for example, locate the Comic Book feature that supposedly allows you to capture or import images, add text captions and create a comic book. As the interface is contextually-aware, I am guessing that it simply isn't available on certain DVDs. The image capture feature was unavailable on many items I played, including a downloaded movie trailer for Star Wars Episode III and a little-known DVD named Spartan starring Val Kilmer. Many audio and video settings were unavailable for no apparent reason, leading me to think that the majority of audio effects are intended for non-Dolby Digital/DTS streams and certain color corrections will only be able to be performed on home movies. On some discs I also found that the Capture image icon would be grayed out, when just moments before it was available.
Conclusion

WinDVD 7 is an excellent program with lots of features. Substituting a Help System for a User Manual is not sufficient in my opinion and the contextually-aware features offer a bit of confusion in the sense that you may be looking for functions that are not available. In addition I would like to see even more bass management options for home theater use when using the analogue output of sound cards. Numerical adjustment of individual channel levels and variable crossover settings would be a tremendous improvement and would really make this program soar in terms of its usefulness as a home theater source application. With attention to detail and a careful study of what features are available to the various media types and formats will enable you to get a lot of use out of this program and give you a high level of satisfaction.
InterVideo WinDVD 7 Platinum
MSRP: $69
About InterVideo
InterVideo is a leading provider of DVD software. InterVideo has developed a technology platform from which it has created a broad suite of integrated multimedia software products that allow users to capture, edit, author, burn, distribute, and play digital video. InterVideo's software is bundled with products sold by the majority of the leading PC OEMs. The company is headquartered in Fremont, CA with regional offices in Europe, Taiwan, China and Japan.
The Score Card
The scoring below is based on each piece of equipment doing the duty it is designed for. The numbers are weighed heavily with respect to the individual cost of each unit, thus giving a rating roughly equal to:
Performance × Price Factor/Value = Rating
Audioholics.com note: The ratings indicated below are based on subjective listening and objective testing of the product in question. The rating scale is based on performance/value ratio. If you notice better performing products in future reviews that have lower numbers in certain areas, be aware that the value factor is most likely the culprit. Other Audioholics reviewers may rate products solely based on performance, and each reviewer has his/her own system for ratings.
Audioholics Rating Scale
— Excellent
— Very Good
— Good
— Fair
— Poor
| Metric | Rating |
| --- | --- |
| Standard Definition Video Performance | |
| Bass Management | |
| Ergonomics & Usability | |
| Ease of Setup | |
| Features | |
| Deinterlacing & Scaling | |
| Performance | |
| Value | |