Vizio's Laptop, Ultrabook, and All-in-One PCs Preview
Vizio's Laptop, Ultrabook, and All-in-One PCs Preview

Vizio announced a complete line of notebooks/laptops and an all-in-one PC that appears to be taking on the design trends of Apple Computer directly. Built with a stylish aluminum frame design, the new PCs look to be incredibly stunning visually and are extremely light and thin in all dimensions. The new Windows 7-based PCs are going to launch in spring 2012 and includes 2 All-in-One computers, 2 thin + light notebooks and one netbook. The notebooks in particular look to be directly aimed at Apple's MacBook Pro line and the smaller Ultrabook is reminiscent of the MacBook Air. This may not be enough to drive sales away from Apple, but it's great to see other companies taking such a design-focus on their products.
Vizio claims to be identifying and addressing a fundamental shift in consumer buying habits and behavior. Namely, their desire to be more portable and a growing trend to stream media from online sources and perform double-duty as both work and play machines. As Vizio has been seeking to unite the PC world with its expansive line of TVs, this isn't exactly a stretch - though it was surprising to see them dive into PCs personally and not via some sort of more open manufacturing agreement with another provider. Check out the new PCs up close in this video: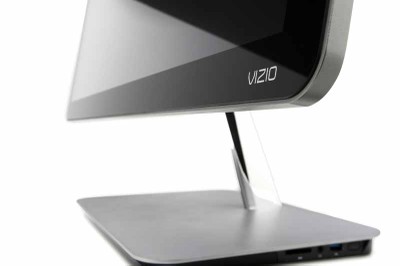 The new PCs will make good use of Vizio's Internet Apps (V.I.A.), maintaining compatibility with the company's HDTVs, Blu-Ray players and tablets.
"PCs are often associated with productivity and the workplace, routinely lacking the excitement that would be expected with what and how consumers want to use their PCs today – as an extension of their entertainment experience. VIZIO wanted to change that. Our new line of VIZIO PCs are truly high quality and consumer focused, delivering enhanced multimedia capabilities while upholding our high standards of performance, style and design."
- Matt McRae, Chief Technology Officer
Complete with high-performance hardware, the VIZIO PCs boast a clean system image optimized by Microsoft and an elegant industrial design incorporating authentic, high-quality materials that are sure to turn heads both on-the-go and in the living room. Vizio is banking that their groundbreaking PCs will alter the way consumers view computing. With entertainment at the heart of the new PCs, the company is hoping that users will find consuming content to be just as desirable as on their HDTV. It will be fun to see how quickly these products are adopted by consumers and how well they stand up to the competition already in the market. Vizio could be on to something if it offers a connectivity between their notebooks and TVs. If the connection is not clear, or amazing, then they may lose their advantage and get lost in a sea of competition.