ViewSonic 10" Digital Photo Frame VFD1020-12 First Look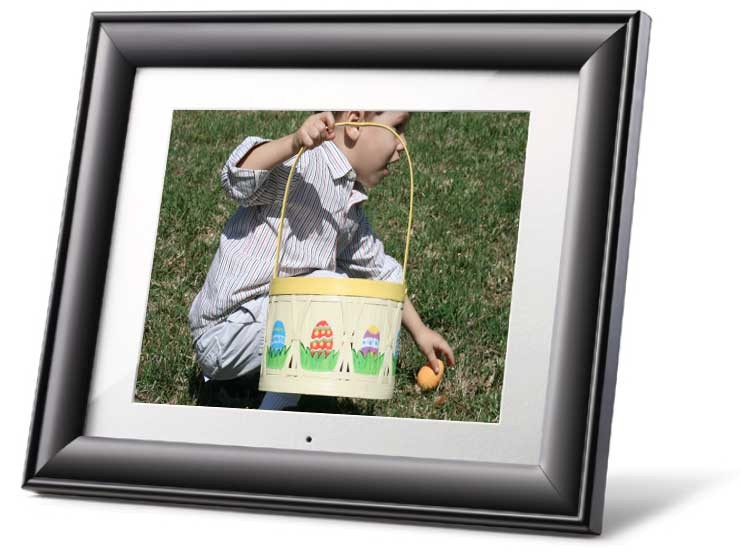 ViewSonic VFD1020-12 digital photo frame
Summary
2GB of internal memory
LED backlit TFT LCD display

Contrast ratio: 600:1
Brightness: 250 cd/m^2 (anti-glare surface)

Slideshow feature

7.9" x 5.9" viewing area (10-inch diagonal)

1024x768 (4:3) photo resolution
JPG file support
Remote control and on-screen menu

USB 2.0 or SD/MMC/MS memory card connectivity

Clock, timer, and calendar functions
Weight: 2.9 lbs

Dimensions: 13.0" x 10.5" x 2.8" (330mm x 266mm x 58mm)
Warranty: One-year limited

Executive Overview
Digital photo frames come in all sizes and kinds these days. ViewSonic's latest iteration is a 10" model, the VFD1020-12 digital photo frame, and is one of the brighter photo frames we've seen to date. We've experienced photo frames that try to do too much, some that do too little, and some that are unwieldy in how they allow you to upload and manage your photos. The ViewSonic strikes a nice balance between possessing features that a photo frame should certainly have, and avoiding the ones that turn it into a bit of a hassle. What will be telling in the near future is how quickly the prices on these frames will go down, given that for the price of a two you can have an iPad, which would do nicely as a photo frame if set upon a dock above the fireplace or piano.
Design and Aesthetics
The design of the VFD1020-12 is modern, but spartan, though ViewSonic attempts to label it "ebony", giving it a modern distinction. We'd be more apt to label it "plain", though it's the pictures which should be getting the most attention in a frame of this size. If you want something more flashy, you might end up stepping into a small television or display in which case you can opt for a more stylized product. Inside the black (ebony) frame there is a white matte, which is what gives the photo frame its "photo" look. It's a nice touch and adds some size to the diminutive 8" x 6" LCD screen. The simplicity of design is matched by the simplicity of its use, and ViewSonic has priced these photo frames to match or beat the rather high-priced competition. At $169 for this frame, and two other sizes to choose from (7-inch and 8-inch), they seem to be on the right path.
Features and Capabilities
The ViewSonic VFD1020-12 stores an ample amount of digital photos on its internal 2GB of allocated memory (and this is a case where the pluralized "thousands" isn't really too much of a stretch on the part of marketing department). For most this will be plenty, especially if you're good about resizing your photos to fit the frame prior to loading them in. If you're insane about photos, you can grab a large USB thumb drive and pull images directly off of that - meaning that it would be possible to have up to 32GB or more of images.
In terms of storage, there's no reason on a 1024x768 frame, to import photos that are 2MB each, or greater, in size. You'll be surprised just how many photos you can fit in 2GB. All the extra resolution captured by your camera is wasted space once it hits a 10-inch diagonal screen. Should you opt to use USB, note that the ViewSonic will recognize any inserted drive and begin playing back photos from it immediately - this is a rather nice feature.
On the back of the frame you'll find a raked back design that gives the illusion of reduced thickness - a nice touch and one that didn't go unnoticed by our family. The stand adjusts and swivels for both landscape and portrait viewing and there are four "keyhole" hanging points for mounting the photo frame on the wall (though since it requires power, this leads to a rather odd conundrum). The back of the frame sports a directional pad for menu navigation and control as well as access to the SD/MMC/MS slots and USB 2.0 port. There is also a headphone jack, miniUSB connector (for slaving the frame to a PC) and a DC power jack to connect up to the included power adapter.
The included remote is very basic, and of the crdit-car variety, but it does one thing well - allows you to get out front of the screen and navigate the menu system. This facilitates loading, copying, and deleting images much better than if you had to use the mounted controls on the rear of the frame. It can also power up and power down the photo frame when not in use.
The VFD1020-12 has the expected slideshow feature that can randomly or sequentially play back your photos, and the transitions were fast, provided you didn't give the frame your 4MB, high-quality JPG photos to play back. Slim photos of 200k or less will transition quickly and efficiently. There are a ton of transitions available via the menu system, but we preferred either a standard fade or the random function to change things up a bit. You can also set the slideshow timing for each photo as well as enable a "full-resolution" mode for photos. The Menu system is very easy to navigate, though it does get a tad deep at times. The big exception, as has been the case with almost every photo frame we've reviewed to-date, is file management. Copying files to and from a USB thumb drive is an exercise in madness and tedium. If you have a lot of transferring to do, we've found it best to just slave the VFD1020-12 to a computer. Selecting and copying files from USB is a one-at-a-time proposition and something we wouldn't wish on our worst enemy.
Conclusion
Overall, the VFD1020-12 is an excellent, and simple-to-use photo frame. Its LED-backlit display present vibrant colors and a bright picture - the number one feature we look for in a good photo presentation device. Off-axis viewing was above average and definitely helps this device stand out against other competitors. ViewSonic seems to really know how to make a display - no surprse since they've been doing it for many years and have ample experience in the computer monitor arena as well as with other venues. Its ability to use the clock function to turn itself on and off was also a really nice feature that we ished all other photo frames would catch onto. It saves energy and takes away the hassle of flipping on the display each day, or getting lazy and leaving it off - as is the case in our home unless we have guests. We would sumarize this product with the words: simple, colorful, and bright - and those are about three of the greatest attributes you can hope to find in a digital photo frame.

Unless otherwise indicated, this is a preview article for the featured product. A formal review may or may not follow in the future.
Confused about what AV Gear to buy or how to set it up? Join our Exclusive Audioholics E-Book Membership Program!