Sony Vehicle, Speakers and Amplifier Overview
Sony Vehicle, Speakers and Amplifier Overview
It's not often that you get a chance to "pimp" your ride, so when Sony suggested we take a look at their newest ZR Series amplifier and their GTX speakers, we ran out and immediately located a victim, er... test vehicle. The experiment was simple: remove the stock system and replace it with the upgraded amplifier and speakers and note the differences. The proposition was this: would an upgrade of just the speakers make a huge enough difference in a car audio system? Or does it take a complete overhaul. Well, the results were eye-opening to say the least, but we actually ran the experiment both ways (having installed a separate XAV-701HD head unit in a  separate vehicle, while keeping the stock speakers) and this was part 2.
The Test Vehicle
A lot of cars make customization of speakers and head units a real pain, but Toyota is still a beautiful company that doesn't mind people messing with its stock systems. That is particularly true about its Celica vehicles. Ours was a 2000, and with this model it's not only possible to replace and customize the speakers, you can do it behind the door panels with some ingenuity and know-how. Because of the way the vehicle's door panels are constructed, the end result is that your car can look stock, but have upgraded sound that will impress anyone who appreciates good car audio.
The Speakers
So let's take a quick look at the components we're going to install. The front doors will get the XS-GTX1622S, which are 6-1/2" 2-way component speakers. That means that you get both a midrange and a tweeter. In our installation each mid/tweeter system will be fed off a single amplifier channel and the included 12 dB/octave crossover will handle the allocation of frequencies to the tweeter, while keeping the 6-1/2" midrange from having to deal with high frequency material it's not suited for reproducing.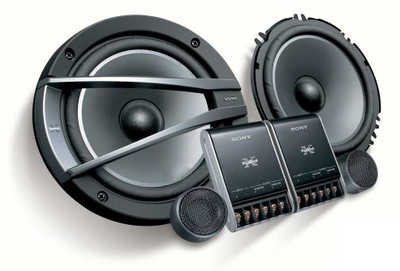 The midrange driver features a Highly Oriented Polyolefine (HOP) material, which is essentially a stiff polymer with a particular geometry for the materials used. And stiffness with light weight materials is what you want in a speaker cone. Sony seems to get this and the material looks to be a quality solution. The 1" Tetron dome tweeter, near as we can tell is made of a soft material similar to a fabric dome tweeter. The magnets on the driver and the tweeter look respectably-sized given the cost and configuration of this system and the crossover allows for a single speaker level input that is then crossed to the woofer and tweeter using a 12 dB/octave crossover slope. The speakers can handle 260W peak power and are designed to take 60W continuous, making them almost perfectly matched for the XM-ZR704 we were installing.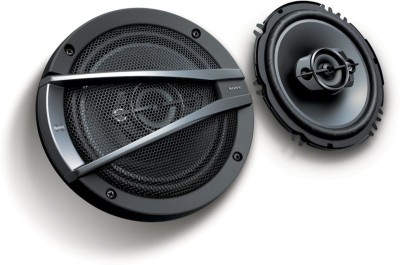 The XS-GTX1642 rear speakers were going in the back and utilize a semi-coaxial 4-way design. It's odd, let's just come out and say it, but basically you have a 6-3/8" woofer, a 1-7/16" balanced dome midrange, a 7/16" dome tweeter and a 11/32" dome super tweeter. It's a little overkill, particularly with how bright these speakers can be, but it seems to get the job done and blows the pants off most "full-range" speakers that lack even two-way fidelity.
The Amplifier
Sony's XM-ZR704 is arguably their top of the line multi-channel automotive audio amplifier. The XM-GS400 is very similar, however it has a smaller chassis and moves the crossover controls to a removable top panel. The ZR704 features 150W of power into 4-ohms, or a more practical 70W x 4 into 4-ohms (which is what you get with the 4-ohm Sony XS-GTX series speakers we installed). Power IS everything with an amp, but Sony also delivered a variable HPF (high-pass filter) and LPF (low-pass filter) for front and rear connections. There is also a subsonic filter that operates at a 12 dB/octave slope and can be configured between 6-70Hz. This is perfect for if you want to make sure your subwoofer is the only speaker handling those super-low, distortion-causing frequencies. If, on the other hand, you're running your own crossover for a passive subwoofer, a 40Hz Low Boost is available to help custom tailor the low frequency shelf response. Oh, and did we mention this amp can drive 2-ohm loads at 80W per channel? This is a very capable amp.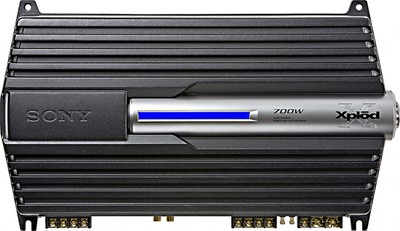 Confused about what AV Gear to buy or how to set it up? Join our Exclusive Audioholics E-Book Membership Program!
See also:
Recent Forum Posts:
Steve81 posts on February 21, 2013 10:05
I like the Super Mario Bros hat; stylish yet functional
Stump909 posts on February 21, 2013 09:53
Would these be a step up from "premium" sound systems, or just the lower-tier stock? My accord came with some decent Pioneer speakers, but how could I test if another pair was worth the upgrade?
Post Reply