Sony Amplifier and Speakers Installation
Sony Amplifier and Speakers Installation
Installing the system was fun. We used a myriad of tips and tricks that some people will congratulate on, while others will look down their noses at us. But this is car audio—and if you can't have fun while innovating, what's the point? To get the speakers perfectly mounted within the available space we actually retrofitted some 1/2-inch plywood to use as a mounting bracket. This allowed us to seal the cavity behind the speaker properly, while providing a solid and secure mounting plate for our new speakers. The crossover was able to be nestled into the door panel without running into any areas where it might get tripped up by the window mechanism. We used hook & loop to secure it in place and also provided it with some insulation which served to ensure it wouldn't rattle or introduce mechanical noise to the speaker wire.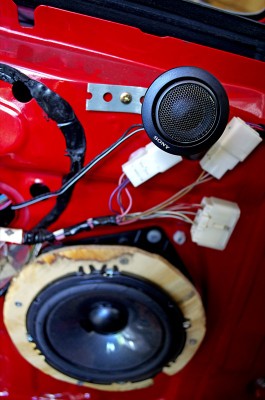 Sony provided ample wiring for the speakers, were we installing them with a feed from the radio. Since we were running new wiring from the trunk-mounted amplifier, however, we opted to go with some high-quality 14/2 cable. For our amplifier power feed sourced from the battery, well... we went a little crazy and got some serious cable that wouldn't heat up under the load, even when driven hard. 
The amplifier mounted easily to the side-wall of the Celica's trunk, offering easy access to the terminals if needed, but keeping it well out of the way when the owner carried supplies or otherwise required the trunk space. Mounting the amplifier is simple thanks to the convenient anchor points located on each corner of the unit. We were impressed by the weight of the amplifier. At nearly 7 lbs., it's no slouch and it feels heavy duty. The glowing blue light on the top may be corny, but it's also very impressive and raises the bar just a little bit when you're showing off the system to friends.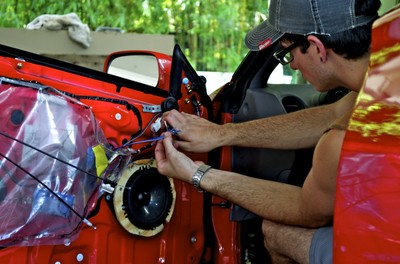 The coaxial rear speakers were a similar installation to the fronts and it took no time at all before we had all 6 speakers (don't forget the tweeters!) installed and hidden behind the factory door panel. It was now time for some listening tests!
Confused about what AV Gear to buy or how to set it up? Join our Exclusive Audioholics E-Book Membership Program!
See also:
Recent Forum Posts:
Steve81 posts on February 21, 2013 10:05
I like the Super Mario Bros hat; stylish yet functional
Stump909 posts on February 21, 2013 09:53
Would these be a step up from "premium" sound systems, or just the lower-tier stock? My accord came with some decent Pioneer speakers, but how could I test if another pair was worth the upgrade?
Post Reply