Sony Tablets S and P Preview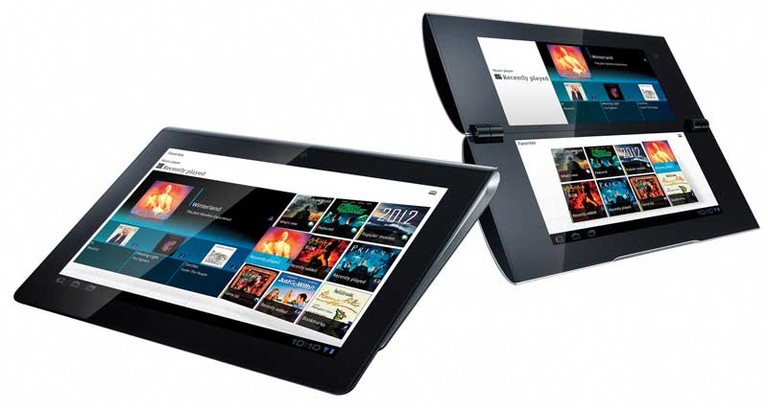 Sony Tablets S and P
Summary
IR remote control function

Resolution WXGA (1280 x 800) TFT color LCD

Screen Size: 9.4"

Camera Front: 0.3 Megapixel

Camera Rear: 5.0 Megapixel

Headphone/mono mic jack (Stereo, mini jack) x1

SD memory slot

USB 2.0 Micro-AB connector

Installed Memory 16GB/32GB

Internal Memory 1GB

Li-Ion 5000mAh battery

NVIDIA Tegra 2 Mobile Processor 1GHz

Android Honeycomb OS

Dimensions: 9.5" L x 6.8" W x 0.3" D

Weight: 1.33 lbs.

Bluetooth 2.1 + EDR

IEEE802.11b/g/n WiFi

Executive Overview
Can Sony take on Apple's iPad? The company today announced pre-sale of two new Sony Tablet devices (incidentally, Sony trademarked the "Tablet" name, which just goes to show how much the patent and trademark offices need to be utterly reformed). The new tablets will ship with the Android 3.2 "Honeycomb" OS and have some very unique styling that aims to improve on ergonomics and the way people utilize touchscreen devices. The Sony Tablet S looks like a notebook with its cover folded back on itself, and its 9.4" multi-touch display seems to directly take on the iPad. The Tablet S uses the brand new NVIDIA Tegra 2 processor, which is designed specifically for mobile applications. Weighing around 1.3 lbs., the Tablet S should be very portable and we really like the styling to be honest. Sony is hoping that its new Tablet tablets (they deserve that, after all they named it!) will be recognized for having optimally designed hardware and software, excellent touchscreen response, solid network entertainment features and the ability to work well with other devices like PCs, smart phones and even Sony televisions.
The Tablet S will be available next month and the Tablet P will come to market later this year. Here is a very geek-laden unboxing of the Tablet S, courtesy of Sony:
Sony's Tablet P tablet has an interesting folding design whereby two identical 5.5-inch displays collapse together for protection. The unit also only weighs 0.83 lbs. and can be slipped into a purse or pocket. But get this - it uses the same NVIDIA Tegra 2 mobile processor and is Wi-Fi b/g/n-compatible and does 4G on AT&T's mobile broadband network.
Both tablets come with a 0.3 megapixel front camera and a 5 megapixel rear-facing camera, so you can do video conferencing as well as take high quality photos and videos. The tablets also both support a micro USB interface and an SD card.
The rather unusual form factor of the Tablet S actually makes it easier (in my opinion) to carry around than a thinner-with-no-differentiations solution like the iPad. It also has the added benefit of making the screen slope when placed on a flat surface, enhancing visibility and making typing more comfortable. You can dock the Tablet S into an optional charging cradle, which also helps to make getting the tablet back to full strength less of a hassle over plugging it in. While docked, the Tablet turns into a photo frame, digital clock . Placing a Sony Tablet S device onto a specialized charging cradle (sold separately) converts the device into a digital photo frame, a digital clock that displays customizable information or it can run the chumby app platform.
Going back to the Tablet P, Sony made the device so that the Android OS could enable software to smartly make use of the dual screens when running apps. With the NVIDIA processor, there is plenty of power to operate the screens independently and split app functions between them as needed. Of course, this is where Sony once again rears its ugly proprietary and ego-driven head. Dual screens, in the way that Sony advertises them, means that Android apps would need to be "Sony Tablet" aware - something that in the past has been a tough sell for the company that brought us the Betamax, DAT, Mini Disc, Memory Stick, and UMD. Let's face it - Sony is going to have a tough time convincing developers to universally alter their apps to make them capable of dealing with their dual screen Tablet P. The displays can, of course, be used in tandem for web surfing and checking email. You can also turn the unit vertically and get a sort of side-by-side e-reader.
Sony is also pushing its "Swift and Smooth Experience" which came across as standard fare in the era of iPad and touchscreens that work well and are ergonomic in their interactions with keyboard and numeric entry modes. What is more impressive is that both of the new Sony Tablets include the ability to run Sony's entire network of entertainment services, including their new cloud-based Music Unlimited and Video Unlimited services. A 6-month trial membership from Music Unlimited and a free movie download from Video Unlimited are included with each device. The Tablets are also PlayStation Certified. That means that each Sony Tablet can function as PSPs with games like "Crash Bandicoot" and "Pinball Heroes" (which are included free of charge).
There's a whole lot more, but it's all Sony - and it will be interesting to see if it's any better than the available myriad of software that exists already for the Android platform. For example, Sony gives you the Reader Store, for books and magazines, and Personal Space, for sharing photos and videos.
Sony's new Tablets let you "throw" music, photos, and video to DLNA-compatible TVs with the touch of a button. On top pf that, the Sony Tablet S is equipped with IR technology, so it can be a universal remote control that not only controls Sony products, but other brands as well.
Optional Accessories, Pricing and Availability
Sony Tablet S: Charging cradle, AC adapter, LCD screen protector, carrying case and USB adapter cable. Sony Tablet P: Rechargeable battery pack, AC adapter, LCD screen protector, carrying case and detachable panels. A Bluetooth keyboard is also available for both models.
The Sony Tablet S device is available in both 16GB ($499) and 32 GB ($599) versions and will be sold at Sony Stores including online and other authorized retailers nationwide. For more information, please visit www.sony.com/tablet. Would I buy one? Absolutely not. While impressive in their form-factor, these tablets are still just Androids (albeit good implementations) and playing catch-up to the iPad, which is nearly due for version 3. Also, with the Tablet P, it's going to, seemingly, take a lot of adoption before developers trust a dual screen tablet enough to actually develop for it in the mainstream.

Unless otherwise indicated, this is a preview article for the featured product. A formal review may or may not follow in the future.
Adam posts on September 02, 2011 09:36
Eh, whatever. I want an iPad. "It's 3G…and has the WiFis."
smurphy522 posts on September 02, 2011 08:31
What's in a name?

"Tablet tablets" - love it! Thank goodness that Sony trademarked that. Because with all of these new fan-dangled devices I was getting confused if they were medicine or computers. I guess Tylenol, Advil and other popular medicines will now have to be available in hard coated oblong shaped pills - unless they rename them to "Tabs". Oh wait……then someone may complain about a mix up with "Totally Artificial Beverages".
Post Reply
Confused about what AV Gear to buy or how to set it up? Join our Exclusive Audioholics E-Book Membership Program!