Sonos Setup and Wireless LCD Controller
Sonos Setup and Wireless LCD Controller
I really wasn't kidding about the Sonos taking only three steps to set up. In fact, here they are:
Connect the ZonePlayer to your audio system or to a pair of speakers (it has an on-board 2 x 50 watts/channel amplifier)

Connect the first ZonePlayer to your existing network using an Ethernet (RJ45) cable
Install the computer software or follow the instructions on the LCD Controller to configure the Sonos music system.
Obviously, Step 3 involves several "sub-steps", however the system walks you through each step which involves nothing of the sort of mental gymnastics you would think of when typically setting up network devices:
Press the 'Mute' and 'Volume Up' buttons on the primary ZonePlayer to assign your LCD Controller to your network.
Select a name for the ZonePlayer/Zone.
Add additional ZonePlayers or wait until later to do so.
Register the Sonos Digital Music System to enable automatic updates.
Set up access to your digital music files (this last can be done from several computers if desired, including network or local shared file folders.)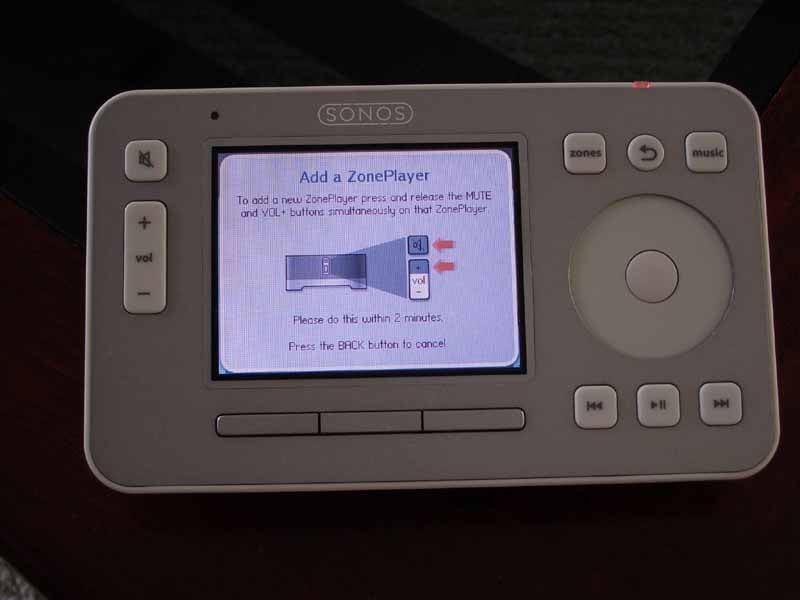 Adding additional ZonePlayers/Zones is simpler than I would have thought possible. All you do is set up a new ZonePlayer in the desired location (either connected directly to speakers or through another audio system) and then select 'Add a ZonePlayer' on either the Sonos LCD Controller or the Desktop Controller software. Once you do this you have about 2 minutes to press the 'Mute' and 'Volume Up' buttons on the new ZonePlayer which will trigger the network to autoconfigure the new Zone into the system.
The only possible snags you may run into when setting up the Sonos System involve whether you have unusual network scenarios such as lack of an Ethernet connection or a particularly over-protective firewall. In either case, Sonos has plenty of documentation to solve most types of problems. My network has hardware-level security that requires the MAC address of all wireless components to be registered. However, since the first ZonePlayer connected through my LAN (non-wireless connection) I never encountered an issue. To my surprise, the Sonos system provided its own wireless network (dubbed Sonosnet).
Using the Sonos Wireless LCD Controller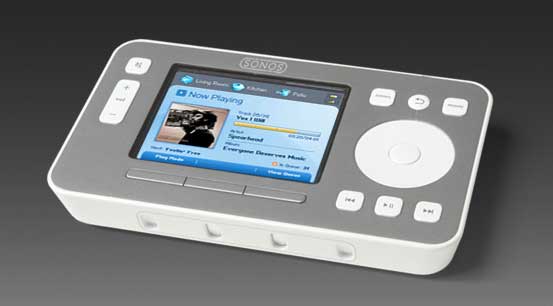 Sporting a first-generation iPod-style touch-sensitive scroll wheel and a full color 3.5" diagonal LCD screen, the Sonos Controller is really what sets apart this Digital Music System from its peers. It combines ease of use, style, and a suite of flexible options and controls. Once you have configured your system, (for this review we acquired three zones) the Sonos Controller is your all-in-one tool for sending your desired sources to their appropriate destinations.
The Controller itself has a very simplified interface. The aforementioned scroll wheel has an 'Enter' button inside, accompanied by revere, play/pause, and stop buttons. At the top right there are hard buttons for selecting a zone, backing up in the menu, and bringing up the available music choices. The left features volume and mute controls, while the bottom has three soft function buttons that interact with the LCD screen contents.
The remote is automatically backlit, meaning that it has a built-in sensor that engages a backlit when it is being used in low light environments. It also automatically disengages backlighting to conserve battery power when the Controller is well lit. This feature surprised me as I was walking through my dark hallway after having just set up the third ZonePlayer in the Guest room. The buttons just popped to life as I was walking and just as suddenly went back to normal once I reached the bottom of the stairs and the well-lit living room. This is a feature that is not only helpful; it's actually as thoughtful as it is cool.
The Sonos Controller is both wireless and sports a rechargeable Li-ION polymer battery. Charging seemed to take about 2 hours and the unit lasts fairly long (days under moderately aggressive, but not persistent, use. It has several battery saving modes including a "deep sleep" function that requires a brief boot up once entered (but only occurs after 4 hours of inactivity and is adjustable from 1-12 hours). The charging process, while simple, could use some help. The DC power port is covered by a rubber door that is almost impossible to open without having long nails or a pen. The Controller has charging tabs on the front bottom that are apparently slated for use with a docking station. I would love to see that as at least an option in the near future. Weighing about 0.75 lbs, I felt the Controller to be a good blend of portability and sturdiness. It had substance and the fully-gasketed no-skid/splash-proof back coating it possesses is a nice touch, making sure that you won't have any problems using it around water.
Confused about what AV Gear to buy or how to set it up? Join our Exclusive Audioholics E-Book Membership Program!