Slim Devices Squeezebox v2 Review
Slim Devices Squeezebox v2 Review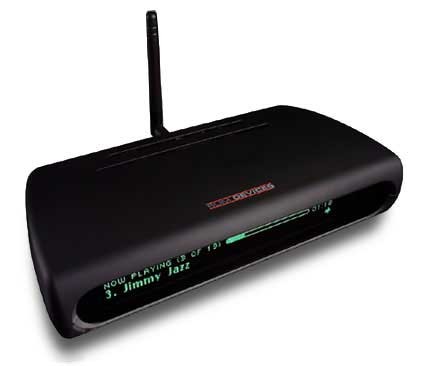 Squeezebox v2 Digital Music Player
Product Name: Squeezebox v2 Digital Music Player
Manufacturer: Slim Devices
Performance Rating:
Value Rating:
Review Date: July 05, 2005 19:00
MSRP: $ 299
System Requirements

All systems: 128MB RAM, Ethernet or wireless network, and 20MB hard disk space
Macintosh: Mac OS X 10.1.5 or later
Windows: 233Mhz Pentium running Windows NT/2000/XP
Linux/BSD/Solaris/Other: Perl 5.6.0 or later

Audio formats

Lossless Formats (FLAC, Apple Lossless, WMA Lossless)
Uncompressed formats (AIFF, WAV, PCM)
Compressed formats (MP3, AAC, Ogg Vorbis, MP2, MusePack, WMA)
High accuracy 24-bit synthesis

Wireless Interface (wireless model only): 802.11b/g wireless networking with dual int/ext antennas; Bridging capability allows Ethernet devices to connect to the network through Squeezebox2; Automatic detection of available networks; Support for both WPA Personal and 64/128-bit WEP encryption

Ethernet: True 100Mbps throughput; Shielded CAT5 RJ-45 connector; Automatic receive polarity correction

Display: 320x32 VFD with brightness control

Firmware: Flash-upgradeable; Network settings stored on non-volatile memory

Architecture: 250 MHz 8-way multithreaded RISC processor; Field-upgradeable Xilinx CPLD; 64Mb high-speed RAM; 16Mb program flash

Warranty: One year parts and labor; 30-day Satisfaction Guarantee

Internet Radio

"Always-on" Internet Radio, powered by SqueezeNetwork
Internet Radio favorites can be saved in a playlist for easy access.
Displays song title information during playback
Support for MP3, Ogg Vorbis, and WMA formatted Internet Radio streams

Analog RCA outputs

High fidelity Burr-Brown 24-bit DAC
Two dedicated linear power regulators for DAC and line-out stages
Full 6.0Vpp line-level signals
Signal-to-noise ratio: over 100dB
Less than 0.003% THD

Digital S/PDIF outputs

Optical and coax digital connections
Dedicated high-precision crystal oscillators (no PLL, no resampling)
Sample rates: 44.1Khz, 48Khz
Audio format: linear PCM, 16- or 24-bits per sample

Headphone output: Multifunction 1/8" jack (also functions as an IR blaster); 16-ohms minimum impedance; less than 0.03% THD

Dimensions: 8.5"W x 1.9"H x 4.5"D (216mm x 48mm x 117mm)

Finish: choice of Triple Platinum or Soft-touch Black
Pros
Wireless connectivity with good range
Easy to follow setup procedure
Digital coax and optical S/PDIF outputs
Excellent audio quality
Small footprint
Flexible system with many customization options including fully-customizable navigation
Cons
Average "no-frills" remote control and design
No Direct Selection of Internet Radio from SlimServer software
Unsearchable Help topics
Slim Devices Squeezebox v2 Introduction
Among some of the noticeable features of the Slim Devices Squeezebox v2 are:
High fidelity Burr-Brown 24-bit DAC for analogue output
Optical and coax S/PDIF outputs (simultaneously active with analogue output)
Support for FLAC, Apple Lossless, WMA Lossless, AIFF, WAV, PCM, MP3, AAC, Ogg Vorbis, MP2, MusePack, and WMA
802.11b/g-based networking with bridgeable Ethernet port (allows other network devices to connect to the network through the Squeezebox2)
Universal compatibility with Windows XP/NT/2000, Mac OS X, and Linux/BSD/Solaris
Easy semi-automatic setup
The Squeezebox2 is a completely reworked product that follows the original Squeezebox. The differences between the two devices are substantial. The Squeezebox2 adds:
802.11g networking (optional)
Grayscale vacuum fluorescent display (VFD) with more than twice the resolution (320x32 pixels)
Animations, transitions and visualizers, including a full screen, 64-channel, 30 frame-per-second stereo spectrum analyzer.
Wireless bridging which allows wired Ethernet devices to plug into the wireless Squeezebox2, and access your network
SlimDSP, a scalable pure software architecture for all audio format decoding and signal processing functionality.
Native FLAC support in the firmware
High fidelity 24-bit Burr-Brown DAC
High precision dedicated crystal clocks and separate linear power supplies for the audio stages
64Mbit buffer for extreme resilience to adverse wireless network conditions.
SqueezeNetwork for access to your favorite internet radio stations, alarms, and more without a computer
Option to add crossfades between songs
Faster 100Mbps wired Ethernet interface
Confused about what AV Gear to buy or how to set it up? Join our Exclusive Audioholics E-Book Membership Program!