Slappa M.A.S.K. Custom Build Backpack First Look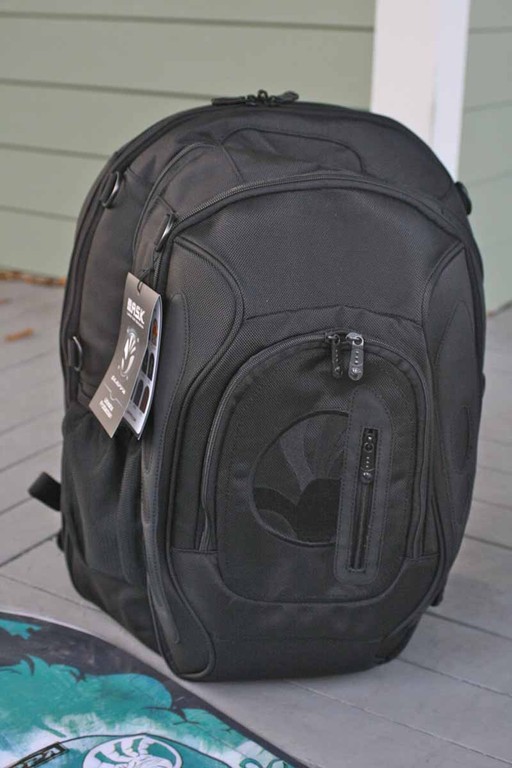 Slappa M.A.S.K. Backpack
Summary
Faces options: 2
Lining options: 3
Insert options: 12
Outer Bag Dimensions: 13"(w) x 18"(h) x 11"(d)
Laptop Compartment Dimensions: 12.5"(w) x 16.5"(h) x 2.5"(d)
Main Compartment Dimensions: 12"(w) x 15.5"(h) x 5"(d)
Weight: 3.35 lbs
Executive Overview
We do a fair amount of traveling, and when we do it's important to carry along a decent complement of electronics. When Slappa announced their new M.A.S.K. Custom Build Backpack, we were interested in taking it for a spin. Our interest stemmed from its level of customization and the amount of compartments and storage it offered. This is one backpack that you can really make your own.
Design and Build Quality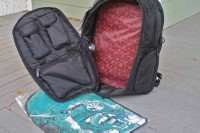 The M.A.S.K. Backpack isn't for those looking for a trim bag that won't hold tons of gear. This is a heavy-duty solution that will store a laptop up to 17-inches. It's available with either of two removable faces, the High Five or the KOA M.A.S.K and you can even choose one of three lining colors (red, blue, or black). The High Five has a central zippered pocket with an inset zippered compartment while the KOA M.A.S.K. has three surrounding padded pockets. Our sample was a High Five model and when we opened up the front pocket we noted two hook and loop-flapped pouches and two more zippered compartments, one on the flap itself and another above the hook and loop pouches. Inside the first compartment, whose front is bordered by the selectable face, you can see two more larger hook and loop pouches and a larger lower zippered compartment. It is in this section that you can remove, customize, or replace the insert with any of the 12 available options. This section of the backpack is so large, I could easily envision packing in an Xbox 360 or PS3 with no difficulties, even with the peripherals and power supplies.
M.A.S.K. is engineered from pro-grade 1680D Ballistix nylon, and features 1/2-inch "super-cush" padding in every wall of the backpack. The insert options are interesting, to say the least. We grabbed the Bomber Dude and Slappa Red Strike inserts. These use hook and loop fasteners to secure into the back of the first compartment pretty easily and give the backpack some nice flair to differentiate it and help make it just a little more interesting.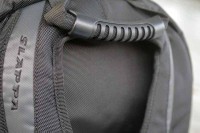 In the primary laptop compartment there are three side-pouches, two with hook and loop flaps. Below this there is a large, padded zippered compartment - perfect for storing a laptop power supply or a host of AV cables. If you're getting the feeling that this thing is simply chock full of zippered and hook and loop compartments, that's likely because it is. I don't recall seeing another bag with more nooks and crannies in which to place your electronics, notebooks, business cards and accessories. There's even a handle on top for grabbing the backpack quickly, or hauling it into a vehicle or onto your shoulder.
The padding of the laptop compartment is very thick, over 1/4-inch on every side to be more precise. There is even a padded flap that secures the laptop from slipping out. All-in-all, you've got all 6 sides of the laptop fully protected. The only difficulty we saw was that smaller laptops tended to slide around a bit. With netbooks being so popular, it was difficult to secure them inside such a large space.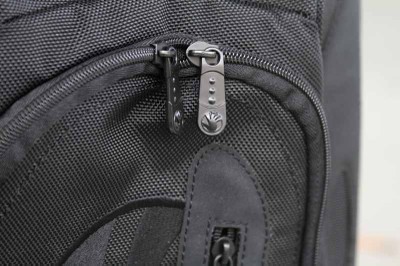 We loaded up this backpack with an iPod Touch, MacBook Pro laptop, USB thumb drives, pens, notebooks, Bible, DSLR camera, portable hard drive, 250 business cards, water bottle (in the elastic side pouch), and a full complement of power supplies. When all was said and done, the bag weighed well over 25 pounds. When I hoisted it up on my shoulder I was pleased to find that the padded shoulder straps relieved much of the strain from having a negative impact on where the weight bore down on my body. It's a comfortable backpack and with the added weight we were surprised at how easy it was to lift and take with us on the road.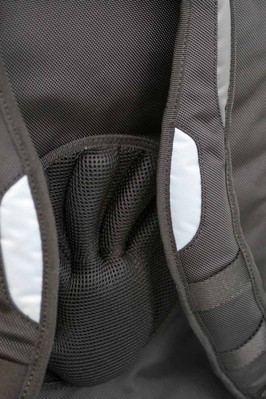 Special Features
The M.A.S.K. Backpack features an innovative "quick-scan" laptop and peripheral section that allows you to keep your laptop inside the bag when you go through airport security. Typically, this is signified by a TSA-approved "Checkpoint friendly" logo, but in this case I believe Slappa intends for users to simply open up the zipper all the way and spread open the laptop like a fillet.
The Ordering Process
When you order the M.A.S.K. backpack online you get the opportunity to configure it in any of several different ways. In fact, the possibilities are almost limitless. First, you pick the face style, either the KOA M.A.S.K. or the High Five. Next, you select the rip-stop nylon inner lining of the backpack, either Red, Blue or Black. Finally, you can select a "custom-artist" insert, and they can be changed at any time at a later date if you so choose.
Recommendations 
& Conclusion
This is a big bag, but one that will also allow you to carry just about every single piece of electronics along with you to various business events or other destinations. When I say "big" it measures 13" in width by 18" tall and over 11" deep when crammed with your electronics and equipment. The Slappa M.A.S.K. is very well made, and at $129.99, it will appeal to those wanting a serious portable solution to haul all of their equipment and supplies from place to place without fear of damage or the bulk of a traditional roller bag. The M.A.S.K. seems perfectly suited for the professional, semi-professional, or serious hobbyist who needs a lot of equipment ready for any scenario. Previously, I had to figure out what to take along with me and how to get it all packed into my case or bag. With the Slappa Custom Backpack I could just about throw everything I had in there and take it with me.
If you are looking for a smaller, ergonomic bag to handle you netbook and a few odds and ends, this isn't your bag. But if you want to have a convenient way to bring your office with you on location, I can think of few products as versatile and convenient as the Slappa M.A.S.K. Custom Build Backpack – plus you can customize it to fit your personality and needs.
About Slappa
SLAPPA engineers and distributes a visionary range of products, inspired by the pursuit of creating the ultimate user experience. Building on the success of the SLAPPA HardBody CD and DVD storage line, the SLAPPA brand continues to build its reputation for offering the highest quality products and personal customer service. SLAPPA products have won critical acclaim from more then 80 publications and have been recognized for 3 "Product of the Year" awards. SLAPPA currently sells in 18 countries around the globe, and continues to actively expand its international presence. For more information on SLAPPA visit the website at www.slappa.com.

Unless otherwise indicated, this is a preview article for the featured product. A formal review may or may not follow in the future.
Confused about what AV Gear to buy or how to set it up? Join our Exclusive Audioholics E-Book Membership Program!