Roku Netflix Build Quality
Roku Netflix Build Quality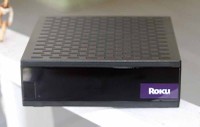 Upon opening the small retail packaging I was rather surprised by the diminutive size of Roku's Netflix Player. The device is about the size of four (4) CD jewel cases stacked together. It's so small, in fact, that we decided to take it with us on vacation. The Roku Player, its power supply cord, a component video, and an analogue audio cable all fit neatly into a gallon Ziploc bag. That's a pretty handy way to take 10,000 movies along with you on your next trip!
There is no power switch and also no Standby mode, a definite drawback but not one that interferes with its use. In fact, to get around the power issues, we recommend plugging the Roku into one of the power receptacles found on the back of most AV receivers (this may be difficult for some, due to the size of the actual DC adapter). This will allow the Player to power up only when the receiver is being utilized. A firmware update with a sleep/hibernation mode would be a welcome addition, especially since - when the unit is on - the video output remains active. On displays with auto-sensing inputs, this may pose an inconvenience when you power down other devices (the display would auto-switch to the Roku whenever, for example, the DVD player was powered off). There are about 6 different workarounds to this, so we quickly moved on.
Connections
There are no surprises on the back of the Netflix Player, save the pleasant kind. The box has all the analogue flavors of video: composite, S-video, and component. For audio there is both TOSlink optical digital and analogue stereo. This means that, at the very least Dolby Digital and DTS audio tracks are supported by the hardware - even though neither is currently implemented. The pleasant surprise was the inclusion of an HDMI output (the version is unspecified, but at least 1.1) which supports high definition audio and video. You can use the HDMI output for playback now, even though the source content being streamed is currently limited to 480p video with stereo PCM audio.

While you can certainly use the HDMI connection on the back of the Roku, Netflix has yet to enable any actual HD audio or video beyond the 480p/stereo fare it has available in its system. For some this will be a huge issue. For others, like me, this is just icing on the cake. The Netflix Player is powered by an external DC power supply that is actually just a power adapter. While quite small the bulk of it is around the power plug, but aligned sideways so as to not hog traditional power strips.
Confused about what AV Gear to buy or how to set it up? Join our Exclusive Audioholics E-Book Membership Program!
Recent Forum Posts:
croseiv posts on August 06, 2009 13:08
It's decent for the money, and I consider it as a supplement to my SD DVD/Bluray collection. THe PQ/SQ is okay for the most part. PQ /SQ doesn't hold a candle to Bluray, but it has already paid for itself after about two weeks of use.
n1lss posts on August 05, 2009 21:26
mcfin posts on August 01, 2009 20:48
Thanks. Is there anything oher than video game systems that can do this? There has to be, right?
nirv117 posts on July 30, 2009 13:37
The Roku player will only play items from netflix and amazon.

For streaming your files a media PC would work well. The x-box or PS3 might do it - I haven't tried. When I used to stream I used my hacked Directv tivo box …
mcfin posts on July 29, 2009 11:06
I'm interested in this ROKU box, but have one question: along with Netflix movies, will it also play movies I've downloaded (avi's, e.g.) onto my Mac? If not, how do I play these movies over my wireless onto my flat-screen, which is in a different part of the house?

Thanks!
Post Reply