Ready to Play CD Ripping Service Full Review
Ready to Play CD Ripping Service Full Review
We hear from a lot of custom installers at Audioholics. This may be due in part to our coverage of trade shows and it might be due to the many articles we have written on select CEDIA classes. In either case, there is a common issue that needs to be dealt with when installing the ever-more-popular music server systems: getting the music onto the hard drives for playback. While a majority of these systems feature easy loading and digitization procedures, the simple fact remains that neither the client nor the installer wants to go through the hassle of encoding hundreds of CDs. Enter ReadyToPlay. Founded in 2003, this Silicon Valley company saw a growing need for digitization services to help a rapidly-expanding market for home audio distribution and music server systems.
In a nutshell, ReadyToPlay provides a CD conversion service for consumers making the jump to the digital music format. ReadyToPlay rips each CD using state of the art computer hardware and software, converting to a user-selected format and organizing the resulting files by artist, album and genre. They then deliver the ripped digital music files on a choice of either DVDs or an external disc drive back to the consumer. Alternatively, they can place the ripped files onto a consumer's digital media player. Each of these options is selectable form the online website during the ordering process.
ReadyToPlay is very experienced working with music servers from Elan Home Systems, Request Audio, Integra and Escient. In fact, they are the only service in the U.S. endorsed by the three companies. They also are one of the loading providers endorsed by Sonos. As such, custom installers frequently ship CD collections and have ReadyToPlay rip, groom and load the collections specific for those servers or devices. ReadyToPlay has different pricing for loading such servers and custom installers can inquire with the company about those rates. One of the additional services offered by the company involves counseling installers on the right codec/bit rate choices that make sense for a client with a server and/or a portable player, and also grooming meta data for each of the individual server platforms.
For those wanting a more speedy consumer alternative, ReadyToPlay has also set up an agreement with Cambridge SoundWorks so that users may bring in their CDs and M P3 players to a local authorized retailer and get their collections ripped without having to pay for shipping. Authorized retailers who provide this service are not available in every state, so check with their website to see if one is available in your area.
A Tour of the Complete Ordering Process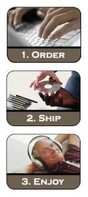 Jeff Tedesco was kind enough to offer Audioholics a chance to test out the ReadyToPlay system. We do so with 100 CDs and used the online ordering system just as a regular client would to see how ReadyToPlay performed and if there were any difficulties with using the service.
The ReadyToPlay website is fairly well-designed - and that's the professional opinion of a web development veteran of 8+ years. To get started, we simply clicked on the "ORDER" button which is conveniently located on just about every page. Before you do anything, the pricing structure is given to you up-front, so you aren't stuck going through an entire order process only to find that you'd rather change the quantity of discs and start over. Pricing is about $1.10/CD, with the price dropping gradually with larger orders until it settles around $1.03 with a quantity of 500 CDs. The minimum order is 50 CDs with increments being rounded to the nearest 10 discs. If you have a healthy CD collection of about 300 discs, you're looking at $319. If you're a custom installer - using this service is going to be a whole lot cheaper than taking up your precious time or paying someone on your team to babysit a computer (and hope they do everything correctly). Since it's also billable to the client, this is a no-brainer and a real life-saver.
Entering the Number of Discs and Storage Options
After you enter your quantity (we'll use 100 discs for our example) you are presented with a screen allowing you to choose your storage options. They also make a size estimate/recommendation based on your number of discs. Our order of 100 discs came with a recommendation for 10GB of hard disc space (or roughly 100 M B/CD). At the bottom of the screen are selections for how you want to receive your files, including "Load MP3 Player", "Purchase Hard Drive" and "Standard DVDs". While most installers will be obtaining DVDs, consumers may be very interested to have ReadyToPlay place the encoded files directly on to their Creative Zen Touch or other portable M P3 player.
Should you be interested in purchasing an external hard drive, they offer a selection of USB 2.0 drives and USB 2.0/Firewire drives. Prices range from $140 - $300 and sizes range from 80GB to 250GB.
We selected DVDs and continued onward. For this test, ReadyToPlay also loaded our music onto a Creative Zen Touch M P3 player so that we could see more than one type of storage option available with their CD ripping service.
The Available Encoding Options
We were pleased by the available options ReadyToPlay offered. It would have been very simple for them to gloss over some of the non-mainstream formats and allow only two or three options. Instead, they provided the following selections (descriptions provided by ReadyToPlay):
MP3 192kbps: Standard. A good balance of sound quality and compression.
MP3 224kbps: Better sound quality than 192kbps, but larger files.
MP3 320kbps: Best MP3 sound quality.
WMA 160kbps: Equivalent sound quality to about 192kbps MP3.
AAC 128kbps: Native Apple format. Plays only in iTunes and iPod.
AAC 192kbps: Native Apple format. Plays only in iTunes and iPod.
FLAC: Lossless compression. Perfect sound quality, but very large file size.
WAV: Uncompressed audio, no standard metadata tagging. largest file size.
OGG: Open source, patent-free alternative to MP3.
Monkey's Audio: Lossless, bit-for-bit conversion. Extremely large files.
We decided to select 320kbps MP3 format for our CDs since the entire source collection already exists in a larger W M A "lossless" format. Once we made our selection we were prompted to agree to the Terms & Conditions of service which, among other things, ensures that you understand that a DVD drive or access to a USB 2.0 portable storage device is required in order to read the encoded files. It also reiterates that scratched or otherwise damaged CDs will not be converted.
Shipping and Order Confirmation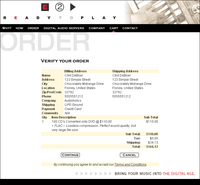 The only remaining step is to confirm the order and pay online using a credit card. The final shipping charge is presented prior to submitting the order. For our 100 CDs, the charges to ship across the country were:
UPS Ground: $34.13
UPS 3-Day Select: $55.51
UPS 2nd Day Air: $69.75
ReadytoPlay also offers a pick up and delivery service in lieu of UPS shipping for the San Francisco Bay area. If you live in area code 408 or 650 they can pick up and deliver your CDs and Digital Media for a flat fee of $25.
Packing It All Up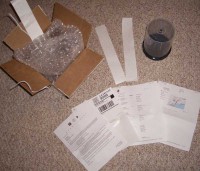 I'm not sure what I expected when I received my ReadyToPlay kit in the mail from UPS, but I had no idea they would be as thorough as they were. Inside the reusable box we received were the following contents:
Welcome letter and detailed instructions
A CD spindle (there would supposedly be one spindle for each 100 discs)
Return UPS shipment label
List of all UPS drop-off locations in the area
Map with directions to closest UPS drop-off location
Packing tape & bubble wrap
This represented the most thorough shipment arrangement I had ever seen. Everything was included down to the UPD drop-off locations and packing tape for resealing the interior packaging and box. I was impressed with their attention to detail and their apparent desire to ensure that none of my CDs were damaged in shipment (your fee, incidentally, includes insurance of $10 per disc).
It took about 5 days for UPS Ground to get my shipment to California , about 2 days for ReadyToPlay to get everything encoded and another 5 days to get the discs back via UPS Ground. Installers who are billing this to the client may want to either get their orders in early, or simply opt for the faster shipping methods available (see above).
Back from the Ripping Process

The box arrived just as well-packed as before, with no damage to our CDs or the Creative Zen Touch M P3 player. There was again a very nice note letting me know that all of my 100 CDs were successfully ripped. In addition, there were helpful guides on how to load the files onto my computer as well as which software ReadyToPlay recommended for playback (Apple's iTunes for iPod users and M usic M atch for the rest). Three DVDs were included with all of our encoded music. I suppose we could stop there, but being the audioholics that we are, we decided to check their work - just to be sure.
The DVDs - Checking Their Work

I played the tunes on the Creative Zen Touch M P3 player and fidelity was exactly as expected for 320kbps M P3 files. The tracks appeared to be named correctly with all ID tags represented. To get a better picture of the files I again turned to the supplied DVDs and looked through the folders to see how they named the files. What I found was the following well laid-out folder structure:
Artist > Albums > Songs
Each song was named with track number followed by a hyphen, then the song title and extension. Here are some examples:
01 - Run, Baby, Run.mp3

02 - Leaving Las Vegas.mp3

03 - Strong Enough.mp3

04 - Can't Cry Anymore.mp3
...
Apostrophe's and spaces were kept and each album folder also contained a .PNG and .JPG file of the cover artwork - one of which is necessary for most media servers in order to display this graphic in the menu system. This is yet another nice touch and shows the thought that went into this process. The .PNG file is referenced as the folder icon, providing a great way to browse your music when using 'Thumbnails' view.
As a test, I threw in a "ringer" - a little known CD by "The Exit", a favorite Christian band of mine. To my surprise, all tracks were correctly named (indicating to me that they perhaps manually edit any files that aren't correctly done by the online database). The cover art image was incorrect (it was something from a band apparent called "The Last Exit", but I certainly didn't lose any sleep over it. The neat thing was that, while I found a few albums that didn't have correct cover art images there were no instances of "Unknown Artist" and all music tracks were correctly ID'd and labeled. The incorrect album artwork almost consistently was replaced by "Greatest Hits" cover art - perhaps a common glitch with the database being used by Ready To Play.
Conclusion
For a grand total of $144.13 I had 100 CDs converted into M P3 format and shipped back to me on three DVDs. The service was prompt, the process well thought out, and the results better than expected. For custom installers this is a simple process that will save you time and money. You may have had to deal with your clients' music libraries in the past - now you don't. Life is good. For consumers, ReadyToPlay is a tremendous time saver and a great way for those looking to enjoy their music collections in a whole new (perhaps portable) way to save tons of time. For about a buck a disc (not including shipping) this is a pretty compelling offer. If you're a do-it-yourself sort of person, have at it - but for the rest of us, this is a chance to instantly get our CD collections organized and ready for portable use.
ReadyToPlay
336 Portage Avenue
Palo Alto , CA 94306
http://www.readytoplay.com
Phone: 650-213-9300
Fax: 650-213-9301
About ReadyToPlay
ReadyToPlay , Inc., is a privately held company based in Palo Alto , California . They provide digital music services including CD conversion, audio server and portable digital audio device loading and disaster recovery services. Ready To Play offers these services to customers through retail partners such as Cambridge Soundworks and home audio server manufacturers such as ELAN Home Systems, Request M ultimedia, Sonos, and more.
ReadyToPlay also has partnerships in Europe through Rip Factory, a United Kingdom based company. ReadyToPlay believes in the joy that music adds to life and supports the legal integration of music into a digital lifestyle.
The Score Card
The scoring below is based on each piece of equipment doing the duty it is designed for. The numbers are weighed heavily with respect to the individual cost of each unit, thus giving a rating roughly equal to:
Performance × Price Factor/Value = Rating
Audioholics.com note: The ratings indicated below are based on subjective listening and objective testing of the product in question. The rating scale is based on performance/value ratio. If you notice better performing products in future reviews that have lower numbers in certain areas, be aware that the value factor is most likely the culprit. Other Audioholics reviewers may rate products solely based on performance, and each reviewer has his/her own system for ratings.
Audioholics Rating Scale
— Excellent
— Very Good
— Good
— Fair
— Poor
| Metric | Rating |
| --- | --- |
| Ergonomics & Usability | |
| Ease of Setup/Programming/Integration | |
| Features | |
| Performance | |
| Value | |
Confused about what AV Gear to buy or how to set it up? Join our Exclusive Audioholics E-Book Membership Program!