Olympus LS-20M HD Video Audio PCM Recorder Preview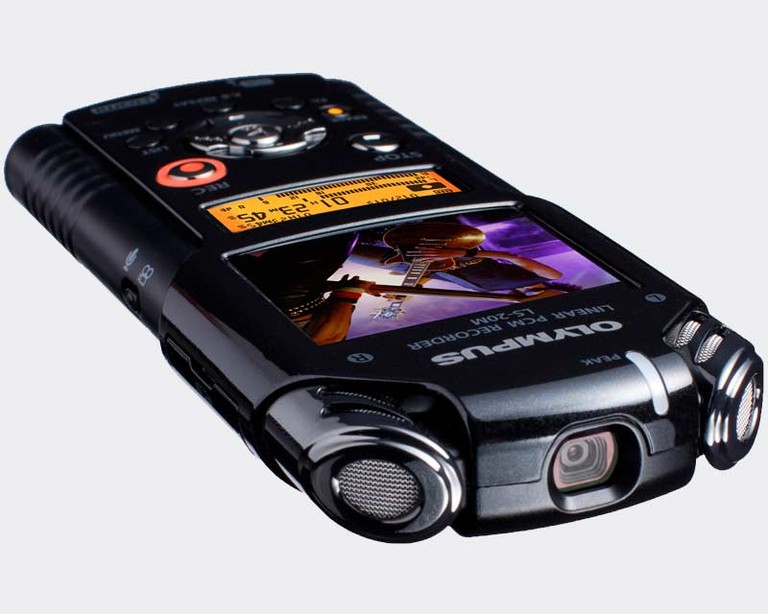 Olympus LS-20M HD Video Audio PCM Recorder
Summary
Recording Format
Voice: PCM (WAV) and MP3
Movie: MOV

Recording Media
SD/SDHC card slot

Recording Time (2GB SD card)
PCM
96kHz 24bit: 55m
44.1kHz 16bit: 3h

MP3
320kbps: 12h45m
256kbps: 16h

Shooting Time (2GB SD card)
1920 x 1080 30fps
96kHz 24bit: 15m
44.1kHz 16bit: 17m

1280 x 720 30fps
96kHz 24bit: 20m
44.1kHz 16bit: 30m

640 x 480 30fps
320kbps 44.1kHz: 1h
256kbps 44.1kHz: 1h

Image sensor
1/4 inch CMOS, 5.32 Mega Pixel

Lens
4.1mm (16:9 at 49mm, 4:3 at 59mm)

LCD
2.0 inch color

USB
Hi speed USB 2.0

Frequency response
PCM 96kHz/24bit: 20Hz-44kHz

Maximum headphone output
3.0mW+3.0mW (at load of 16Ω)

Speaker
16 mm round dynamic speaker

Maximum speaker output
270mW (8Ω load)

Microphone Jack
3.5mm dia

Earphone Jack
3.5mm dia

Power Supply
Lithium Ion Battery / AC adapter

Compatible OS (USB connection)
Microsoft Windows XP/Vista/7 Mac OS X 10.4.11-10.6

Size
5.3 x 2.5 x 0.7 inch (134.7 x 62.8 x 18.2 mm)

Weight
5.4 oz (154g), including batteries
Executive Overview
Changing movies directly into unforgettable videos might often be a difficult task, however the Olympus LS-20M Linear PCM recorder helps to make it uncomplicated imaginative pizazz to virtually any production with the benefits of high-definition video. This is especailly good news for people looking to take up a new consumer-level video capture product now that the popular Flip Video has been kicked to the curb by parent company Cisco. The new LS-20M lets you capture a live recital, make home videos and publish incredible linear PCM audio tracks as well as high-definition video using the brand new Olympus LS-20M. Making use of technological innovation just like those which came out in the latest Olympus electronic digital imaging solutions, the innovative LS-20M is the 1st Olympus recorder which records as well as edits 1080p High-definition video while recording 24 bit/96 Hz Linear PCM stereo audio. Along with 4 unique Magic Movie special effects functions, the LS-20M lets consumers create home videos which appear and also sound just like professional shows from a product that's so very small that it fits in your pants pocket.
Functions & Features
So how does it work? Well, users can record movies in any of 3 video format settings up to and including 1080p for full HD. Both the camera's lens and stereo microphones are located on the top of the recorder, so you can pretty much point and shoot and get pristine audio every time. The 2" diagonal full-color LCD on the front of the Olympus LS-20M gives you a clear view of the video in real-time. Below this screen is a 1.5" LCD display that gives record/playback time, audio recording levels and even battery life. 
For those who love social media (as we do), the Olympus' HD video format provides for quick and easy uploading of videos to YouTube, Facebook, iTunes, Vimeo and other file-sharing sites. Better yet, playback on your home theater system is pristine, since the 1080p output can be (apparently, according to our sources) fed to your television with an optional HDMI adapter cable.
The camera features a 4.1mm (16:9 at 49mm, 4:3 at 59mm) autofocus lens right on the top of the unit - you literally point the device right at the subject. This is a little awkward if you want to hold the unit higher in the air and capture anything at eye-level but it's also easier to get down low and get right into the action for sports and kid-centric videos. A 4x digital zoom is present, but we recommend not using it as digital zoom typically renders HD vieo quite grainy and dithered. The Olympus LS-20M is also somewhat accommodating towards recording in low light and also offers close-up video shooting.
Audio Features That Really Impress
So what about audio? Well, Olympus LS-20M continues in the line of popular Linear PCM recorders with twin condenser mics, and the ability to record in Linear PCM (WAV files) and MP3 formats. You can also use internal or external microphones to record 24-bit "better-than-CD" quality audio. The Olympus LS-20M also offers manual or auto-level recording, something you typically see on Pro-level products. The "auto" level is perfect if you are recording from the crowd or have no idea what kind of peaks might be present in the sound you are capturing. With the manual level, however, you can also attain a level of consistency not possible with other products. Continuing the feature tour, there is a switchable low-cut filter that lets you filter out low-frequency from the recording (useful for windy situations as well). A built-in headphone jack allows you to listen in while the recording is made to ensure the best possible audio.
The Olympus LS-20M has a handy voice-activation feature which starts recording when a certain level of audio is breached. The self-timer feature presents a way to start recording after a predetermined amount of "pre-roll" time elapses. You can use either feature to aid in recording events where you can't constantly be behind the camera at all times to start the recorder.
Movie Effects and Features

A Magic Movie mode lets consumers create custom videos with a stylized look. There are four basic settings:
Rock - Step on stage with the classic Rock Magic Movie setting, featuring saturated black images and bright, bold background colors;
Sketch - The Sketch Magic Movie setting turns your video into a living and breathing pencil drawing, reminiscent of some popular 80's videos. Sketch adds an artistic feel and poetic flavor to your recordings;
Pinhole - The Pinhole Magic Movie setting allows users to record video with soft, darkened outside edges - enhancing the subject in the center of the video. Pinhole is great for setting a mood to tie in with the melody or focus of your recorded sound;
Pop - The Pop Magic Movie setting super-saturates colors to create a brighter, more vivid video recording. Turn your world into a work of pop art!
Build Quality and General Features

The Olympus LS-20M features a lightweight, durable, black body with silver function buttons in a slim, pocket-size device that fits in your palm. At just 5.3" long and weighing only 5.4 ounces, the LS-20M provides a lot of features in a convenient and portable size.
The attractive Olympus LS-20M is actually pretty good-looking for a portable video camera - blending pro and consumer in a way that gives it a lot of appeal. It seems to be really designed with ease-of-use in mind, especially given the control panel just below the video and data LCDs. As the previous LS-series models, the record button lights up when activated and the thumb panel enables easy adjustments to settings while recording. A switch on the right side panel allows for easy transition from audio/video to audio-only recording.
Inputs at the base of the unit offer easy access to USB and HDMI connections, so plugging the device into a computer or tablet for quick video uploads, or playback on a flat panel TV couldn't be simpler.
Accessories
The Olympus LS-20M is packaged with everything needed to make HD movies straight out of the box. It's equipped with a 2GB SD card, one rechargeable Lithium ion battery, a USB cable and an AC adapter. The battery is easily charged by plugging in the LS-20M into a computer. For added memory, the LS-20M can handle SDHC cards up to 32GB for even longer movie making.
An optional RS-30W Wireless Remote lets users start and stop the recording of the Olympus LS-20M without being on top of the unit. This is ideal for live performances, as the device can be placed in an optimal recording position and activated at a distance.
Pricing and Availability
The Olympus LS-20M will have a street price of $299.99 and will be available in June 2011.
About Olympus Imaging America, Inc.
Olympus Imaging America Inc. is a precision technology leader, designing and delivering award-winning products for consumer and professional markets.

Unless otherwise indicated, this is a preview article for the featured product. A formal review may or may not follow in the future.
Confused about what AV Gear to buy or how to set it up? Join our Exclusive Audioholics E-Book Membership Program!