Oakley THUMP Full Review
Subtitle: It's Mine and You Can't Have It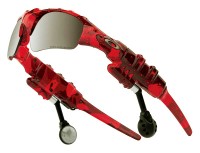 I review a lot of products... a lot of products. I was never as thoroughly impressed as when I opened up the box sent to me from Oakley which contained the first ever MP3 sunglasses. Billed as the "world's first digital audio eyewear" the Oakley THUMP is everything you could imagine. Remember that over-hyped movie you wanted to go see and then were let down by the actual event? Not gonna happen here. This is the real deal and I'll go into detail as to why these babies are going to be the NUMBER ONE Christmas present to have this year.
Convenience and Style

Slip on the Oakley THUMP and you have a pair of slick sunglasses. A nice, comfortable fit matched with a set of polarized lenses and a convenient flip up design make these a good pair of sunglasses. That's right, I haven't even gotten to the part about them playing your music collection yet. Oakley has become masterful at manufacturing sunglasses that sit nicely on the face and are quite wearable. In addition, their lenses are raked back with a nice wraparound design so that they truly provide excellent coverage for the entire visible range. This is something we've come to expect from the Oakley name brand. What I never would have expected was that they would maintain this level of comfort and convenience once they added a 256MB MP3 player to the mix.
Where's the Beef?

The first thing I did when I put on the Oakley THUMP was take them back off and immediately go to my postal scale. Something had to be wrong - maybe they forgot to put in the batteries or something. The glasses weigh 1.9 ounces (and I have an engineering sample - Oakley's marketing says production versions weigh less then 1.8 oz.) What? For comparison, a cheap set of sunglasses I just bought at Wal-Mart weigh 0.9 oz. With engineering like this, it's no wonder you feel just like you're wearing a pair of stylized sunglasses - the MP3 player is a throw-in.
The Oakley THUMP sunglasses I have are the 256MB polarized version in black. The lenses (apparently made of a magical material called "Plutonite") can swing up when not in use, thus allowing you to enjoy the MP3 player while inside. I have them on right now as I am writing this review! Like a regular pair of Oakleys (or any other pair of sunglasses for that matter) the THUMP folds up for easy storage into an included cloth bag.
Talk About the MP3 Player Already!

OK, how does one take a nice pair of sunglasses and make them into an MP3 player? Well, it's not easy and it could have been done a lot simpler than Oakley did it. The amount of time spent making the Oakley THUMP is obvious as soon as you start looking at the features and build quality. Let's take the solid state integration for example. The MP3 player electronics, memory, battery and control are housed efficiently in the arms of the sunglasses. Measuring 0.7" tall at its widest point, each arm is not prohibitively large, nor does it seem oddly oversized when worn. The controls are located conveniently on top of the arms - volume on the left, power and navigation on the right. Below the arms are located the fully-adjustable ear bud-style speakers which are simply amazing. I have never seen such a well-designed system before. The speakers are attached to positioning arms that can be simultaneously extended, pivoted and rotated. The extension mechanism is so smooth it feels like it is pneumatic-assisted. The result is that no matter what size head you have (children excepted), the Oakley THUMP's "one size fits all" design will fit it.
There are no wires. This simple fact deserves its own paragraph. This is not some kind of Bluetooth wireless rig. It is completely self-contained. You put it on and you go.
The Controls

Controlling the Oakley THUMP is not the least bit complicated. Feel along the top of the right arm of the sunglasses while you're wearing them - feel those three buttons? That's your track advance, play/pause and skip-back buttons. Three buttons. Ergonomic. Simple. The center button on the right side puts the device in sleep mode (off) when the unit is paused for more than a few minutes - otherwise it goes from 'play' to 'pause' and back instantly. Incidentally, when you first put on the Oakley THUMP and push the center button to power it up, you'll hear the distinctive 'double-thump' heartbeat-like sound effect that marks the device. The left arm of the Oakley THUMP possesses your volume controls. That's about it. They made this unit easy to use.
Loading Up the THUMP

Dumping music into the Oakley THUMP is about as easy as it gets. Since the unit is basically an external 256MB USB 2.0 drive and it accepts WMA, MP3 and WAV files, you basically drag and drop your songs into the unit and go. The USB connector is located on the right arm just behind the Mylar speakers. Simply hook it up to a Mac or PC via the included USB 2.0 cable and the Oakley THUMP will appear on your computer as a USB 2.0 storage device. Grab some tunes and drag them to the THUMP's solid state drive. Transfer was about as quick as some USB 2.0 pen drives I've tested and after ejecting the device and removing the cable you're all set to go. If you want to, you can even use the THUMP to transfer files - it'll take anything you throw at it and you don't have to worry about it trying to play back your PowerPoint presentation.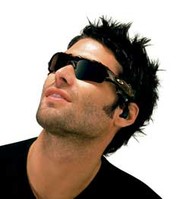 The Oakley THUMP even charges its onboard lithium ion polymer cell via the USB 2.0 cable, so you don't have to worry about bringing along extra batteries (or weight). The THUMP runs for about 6 hours on a charge and plugging in the unit for 3 hours fully charges it (though you can get about 80% [2.5 hours] in just an hour's time.) One other cool feature (there are so many) is that when the unit is nearing the end of its charge, the familiar 'double-thump' sound effect interrupts the music to let you know the battery is nearing discharge status. When you plug the THUMP into an available USB port, a small red LED lights up and flashes to let you know charging has commenced. When it's finished charging, the LED stay permanently lit until you unplug the USB cable.
I was able to put a sizable amount of music on the THUMP and could have done even more were I daring enough to allow anything less than 256 kbps in my collection. If you have 64 kbps files you're looking at being able to move around with up to 120 songs.
How Does It Sound?

Putting on the Oakley THUMP I had fairly low expectations for the sound quality. After all, I'm listening to MP3s played back on ½" drivers, right? Well let me describe the sound using one word: customizable. It's funny because even the marketing contact we spoke with didn't quite realize the extent to which sound could be customized until I described what I had been able to do. By utilizing the multi-positional speaker arms you can listen to music in several different ways. Slip the Oakley THUMP on and press the 'power on' button and you'll find that the sound is fairly robust and enjoyable. Want more bass extension? Take the speakers and tuck them into your ears, like a pair of ear buds - they'll fit thanks to the swing arms. Ah, more bass response and a somewhat fuller sound (don't expect to hear the phone if you've got it cranked, though.) I would recommend listening to a bit of Rage Against the Machine while trying various speaker positions and you'll quickly get the idea.
I felt that the sound overall was much better than a cheap pair of ear-bud style headphones and probably as good as it gets for in-ear listening. I found myself most often leaving the speakers out of my ears and positioned just over them, the position they naturally assume when you put on the THUMP. When I encountered a really great song that I wanted to get lost in, I tucked in the speakers and went for the fuller sound.
One other cool thing about these speakers is that the swing arms not only allow for depth and height adjustments - they can easily swing all the way up and out to enable you to answer the phone without taking off the THUMP. It's a smooth, quick motion and one that I utilized quite a bit.

Conclusion

The Oakley THUMP is the product of the year as far as I'm concerned. This invention was a long time in coming and Oakley is the perfect company to bring it to market, though I hope to see the technology drop in price over the next year or so. The look is good. The sound is good. The ergonomics and implementation are excellent. These sunglasses rock and my prediction is that you will not be disappointed in any aspect of their use. Oh yeah, I almost forgot. Everyone you meet will want one.
Oakley THUMP
MSRP: $495 ($395 for 128MB version)
Oakley, Inc.
1 Icon
Foothill Ranch, CA 92610
800.431.1439
[email protected]
http:/www.oakley.com/thump/

About Oakley
Oakley: a world brand, driven to ignite the imagination through the fusion of art and science. Building on its legacy of innovative, market-leading, premium sunglasses, the company also offers an expanding line of electronics, premium performance footwear, apparel, accessories, watches and prescription eyewear to consumers in more than 100 countries. Trailing-12-month revenues through September 30, 2004 totaled $548.9 million and generated net income of $34.8 million. Oakley, Inc. press releases, SEC filings and the company's Annual Report are available at no charge through the company's Web site at www.oakley.com.
The Score Card
The scoring below is based on each piece of equipment doing the duty it is designed for. The numbers are weighed heavily with respect to the individual cost of each unit, thus giving a rating roughly equal to:
Performance × Price Factor/Value = Rating
Audioholics.com note: The ratings indicated below are based on subjective listening and objective testing of the product in question. The rating scale is based on performance/value ratio. If you notice better performing products in future reviews that have lower numbers in certain areas, be aware that the value factor is most likely the culprit. Other Audioholics reviewers may rate products solely based on performance, and each reviewer has his/her own system for ratings.
Audioholics Rating Scale
— Excellent
— Very Good
— Good
— Fair
— Poor
| Metric | Rating |
| --- | --- |
| Build Quality | |
| Ergonomics & Usability | |
| Features | |
| Performance | |
| Value | |
Confused about what AV Gear to buy or how to set it up? Join our Exclusive Audioholics E-Book Membership Program!