Simaudio Moon 180 MiND Music Streamer Preview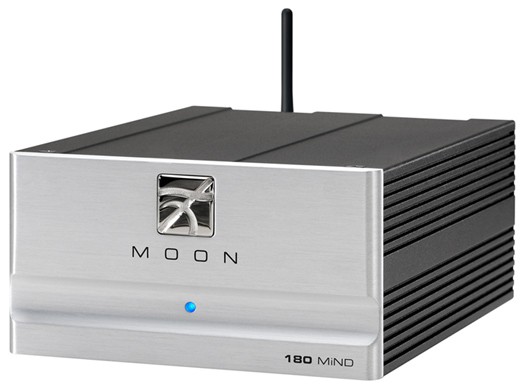 Simaudio Moon 180 MiND Music Streamer
Summary
Product Name:

Moon 180 MiND

Manufacturer:

Simaudio

Review Date:

January 09, 2012 19:00

MSRP: $1,250
First Impression:

Mildly Interesting
DLNA 1.5 support

vTuner Internet Radio
Supported formats: WAV (PCM), FLAC, FLAC HD, AIF, AAC, ALAC, MP3, WMA-9 and OGG Vorbis
Digital outputs: S/PDIF (RCA), AES/EBU (XLR), and Optical (Toslink)

Network: 100 Base-T RJ45 Ethernet, IEEE 802.11 b/g/n

Wireless security: WEP, WPA and WPA2

SimLink controller 2-way port

Executive Overview
Simaudio showed off more than just their Moon phono preamplifier, they also introduced the Moon 180 MiND Music Streamer. MiND, an acronym for Moon intelligent Network Device, streams digitally stored music from a computer, Network Attached Storage (NAS) device, the internet, subscriber-based music services or a UPnP (Universal Plug and Play) enabled device to your audio system. Ultimately, MiND provides a simple means for efficient access to large collections of music, as well as the ability to organize the music to your own preferences. And, the included control software app works with the Apple iPhone, iTouch, iPad or any Android-powered device.
The diminutive Moon MiND can stream music either through a standard Ethernet connection or wirelessly over a Wi-Fi network. Digital music files in all common formats are supported up 24-bit/192kHz resolution, however a 16-bit/48kHz limit exists when streaming wirelessly between the location of your digitally stored music and the MiND. A jitter-free digital audio signal departs from the MiND streamer via any one of its three different digital outputs which is connected to a digital-to-analog-converter. Finally, if your audio system uses a Moon Preamplifier or Integrated Amplifier equipped with SimLink capability, you can control features such as input selection, volume and power on/off using the MiND control app. Basically, if you keep it in the family, then your iPad, iPhone or Android-powered device can become your system's remote control.
The MiND technology will initially be available in the stand-alone Moon 180 MiND, but eventually it will made available as an optional module that can be incorporated into future Moon products, starting with the all new Moon 380D Digital-to-Analog Converter (DAC).
Significant Design Features:
Allows local playlists, gapless playback and silent track scanning
Provides for Zone selection, Zone grouping and permanent Zone naming
Support for DLNA 1.5
vTuner Internet Radio
Supported file formats: WAV (PCM), FLAC, FLAC HD, AIF, AAC, ALAC, MP3, WMA-9 and OGG Vorbis
S/PDIF (RCA), AES/EBU (XLR), and Optical (Toslink) digital audio outputs
Wired network interface via 100 Base-T RJ45 Ethernet
Wireless network interface via IEEE 802.11 b/g/n Wi-Fi with WEP, WPA and WPA2 encryption support
SimLink controller port allows for 2-way communications between other compatible Moon components
The Moon 180 MiND will be available in April 2012 with an MSRP $1,250
Unless otherwise indicated, this is a preview article for the featured product. A formal review may or may not follow in the future.
Confused about what AV Gear to buy or how to set it up? Join our Exclusive Audioholics E-Book Membership Program!