McIntosh AP1 Audio Player iPhone/iPad App Preview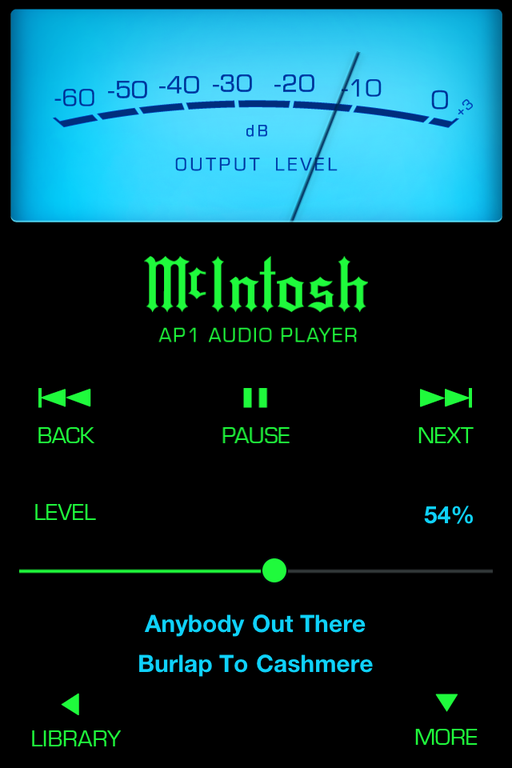 McIntosh AP1 Audio Player iPhone/iPad App
Summary
Executive Overview
McIntosh Laboratory is offering iPhone and iPad users the opportunity to enjoy an iconic McIntosh experience anywhere and anytime with its new FREE AP1 Audio Player iPhone/iPad App, available now for downloading at the iTunes Store. Designed to envelop McIntosh fans in a portable aura of the company that defines the "platinum standard" in upscale audio, the AP1 Audio Player offers virtually all features of the existing iPod App, while tailoring the portable playback/control experience for the unique McIntosh style. With the new App, iPhone and iPad users will now be able to select tracks, artists, play lists and albums as well as control the volume of the music, with all controls fully customized and consistent with McIntosh styling and functionality.
Notably, when not used as a controller, the AP1 will default to a McIntosh "Meter Display Mode" and act as a live meter display for the music, in effect, providing users with a backdrop consistent with the iconic "McIntosh Blue" LED watt meter – a recognized hallmark of audio excellence. The App will function independent of any external hardware (i.e. Dock) and allow a portable McIntosh experience for all iPhone and iPad users. When used with an iPod Dock (of any make or model) the App serves as a virtual McIntosh display, reflecting the company's renowned brand, style and experience. 
First impressions (Clint DeBoer): "On the iPhone the app is snappy and pretty nice to use. The VU meter is real-time and it gives you the illusion of a really cool McIntosh experience on your iPhone. Flip it sideways and you have access to a full-screen VU meter experience. In the normal mode a "More" button grants access to album art, remaining time and a progress bar. On a (non-multitasking) 2nd-gen iPod Touch, the app is decidedly slower, taking a while to respond and follow through with controls and such. Also, the VU level meter is merely used to show you a static representation of the volume level you're at... Um, that's neat, but what about real-time VU metering? It's apparently not possible on older models. So our first statement about it would be: Great for the more recent models of iPhone and iPod, but you might want to avoid it if you have an older iPhone 3G system."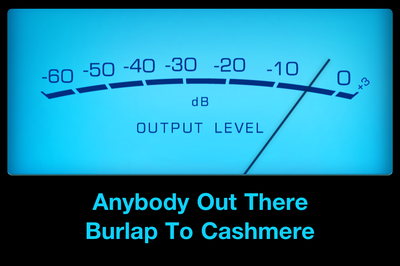 "McIntosh customers have always been a breed apart when it comes to their quest for ultimate quality in their music listening – these are people who care deeply about music quality, reliability, and of course the legendary McIntosh style. The introduction of our customized McIntosh App on the iPad AP1 Audio Player iPhone/iPod App reflects McIntosh's commitment to providing our customers with the latest, most up-to-date benefits and capabilities of today's 'digital age,' while retaining the excellence and functionality that has always defined the McIntosh experience. Best of all, it lets iPhone and iPad users literally wear their love for McIntosh on their sleeve!"
- McIntosh President Charlie Randall
About McIntosh Laboratory
Since 1949, McIntosh Laboratory's unwavering commitment to excellence, innovation and quality continues to define the state-of-the-art in high fidelity and provide discriminating consumers around the world an elevated home entertainment experience. McIntosh high-performance audio and video products are handcrafted in Binghamton NY. Its products reflect unmatched levels of performance, superlative engineering and hand craftsmanship. Built to last for decades, McIntosh components demand nothing less than an equal level of commitment to customer support and service. All product and brand names with a trademark symbol are trademarks or registered trademarks of McIntosh Laboratory, Inc. McIntosh Laboratory, Inc. is a D&M Holdings company. For more information visit www.mcintoshlabs.com.

Unless otherwise indicated, this is a preview article for the featured product. A formal review may or may not follow in the future.
jessicascott posts on August 29, 2013 06:29
Thanks for the Mcintosh review, i have not checked the app yet.
billyjewels posts on June 11, 2013 05:51
Cool App

You know, I totally forgot about Mcintosh (as in Apple Mac), anyway, the app looks okay, I don't know about the font though.
urnacona54 posts on August 20, 2011 08:33
sarkdollen posts on April 18, 2011 14:41
smurphy522 posts on January 07, 2011 11:34
McIntosh……….not to be confused with the "Macintosh" of old.
Post Reply
Confused about what AV Gear to buy or how to set it up? Join our Exclusive Audioholics E-Book Membership Program!