Lowepro Vertex 200 AW Backpack Review
Lowepro Vertex 200 AW Backpack Review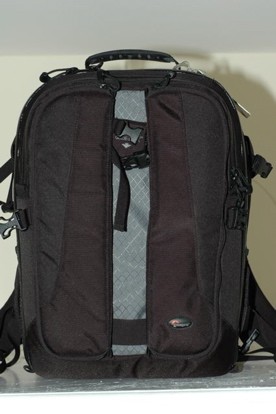 Lowepro Vertex 200 AW Backpack
When Lowepro offered me an opportunity to review one of their professional series photography and computer bags, I had just the test for it.  I had just planned a two week trip to Europe that included ten days on location documenting a mission trip in Encs, Hungary, and the other 4 days traveling across Germany and into Austria with my family.  This trip would include travel (including airplane, bus, train, van, and cab), exposure to elements, and the need to cover a variety of photo opportunities.

My review began with the transferring of my gear into the Vertex 200 AW from the two photography gear bags I typically utilized.  It was during this process that I was first amazed by just how much equipment this bag could neatly hold.

Design and Build Quality
The 200 AW is a professional quality photography gear and laptop backpack that can accommodate tons of photo gear as well as most 15" laptops.  The bag contains a total of 4 zippered compartments, including the main photography gear compartment, the laptop compartment, and 2 smaller compartments on the front of the bag.  The main interior section has 10 compartments; however, this area of the pack is completely customizable to fit whatever your needs might be.  There are several padded divider sections with Velcro strips on 2 or 3 sides that can be arranged in various configurations to provide a custom fit for lenses, flash units, batteries & chargers, camera bodies, etc.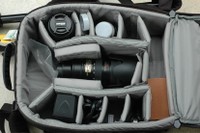 Once completely packed for my trip the main photography compartment in the Vertex 200 AW easily held my digital camera (with plenty of room for a backup camera body), 4 lenses I decided I might possibly need for this trip (the largest being my Nikon 70-200 f2.8 lens), my flash unit, 2 battery chargers, and my memory card reader.  The top of this main compartment also contained a total of 4 small zippered compartments and one larger Velcro compartment (an ideal size for manuals).

The padding of this compartment is very thick and I never had any concerns about the safety of my equipment - despite the beating it took during this trip.  The same is true of the computer compartment, which is sandwiched between the main photography compartment and the front pockets.  The zippers on both the photography and the computer compartments are very heavy duty, water resistant YKK zippers. 

The two smaller zippered compartments on the front of the bag contain pockets that make organizing and accessing digital accessories (lens filters, memory cards, batteries, pens, business cards, and other small items) very easy.  The outside of the bag also contains three of Lowepro's adjustable Glide -Lock systems (one on each side and on the front) for attaching accessories (tripods for example) to the outside of the bag. 

The Vertex 200 AW is only offered in black and has a padded handle in the middle near the top, which I constantly used when grabbing the pack to move it short distances.   The back pack contains two adjustable heavy duty shoulder harnesses, each with an attachment loop for adding pouches or other accessories.  The back pack system also contains a padded waist belt that helps distribute the weight of the pack more evenly.  The back of the pack is well padded with Lowepro's DryFlo channel ventilation system, which helps keep your back cool when it is hot outside.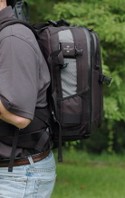 I must admit, that once I loaded all my equipment into this bag (fully loaded weight was over 30 pounds), I was beginning to wonder if this was such a good idea.  Sure, having access to the bulk of my photography gear was going to be great, but I had visions of myself in traction in some Hungarian hospital from attempting to lug this heavy bag all over Hungary, Germany and Austria.  (As a side note, I did almost end up in an Austrian hospital due to an unfortunate summer luge accident, but I digress...)  To my surprise, this pack was very comfortable, even when fully loaded and in 90+ degree weather.  Not once in all the miles I walked - whether through the historical cities of Budapest, Rothenburg, and Munich, along alpine mountain paths, or through train stations and airport - did my back ever feel strained under the relatively heavy load. 

The AW designation stands for "all-weather," and this is achieved by the Vertex 200's seam-sealed all weather cover.  Like other bags in the AW line, the grey cover is tucked away in a hidden pocket located on the bottom of the pack.  If bad weather descends on you, just pull the attached cover out and over the pack, cinch the pull string and you have an instant rain jacket for your pack.

When I first received the CompuRover AW, I could not find the All Weather Cover.   Only after close inspection did I realize that what I thought was a seam on the bottom of the pack was actually a hidden pocket containing the cover!

Recommendations
This is a monster bag.  And for all the great things that means for photo opportunities, it can also mean bad things for pure space.  The exterior dimensions are approximately 19 1/2" tall x 10 1/2" deep x 15 1/2" wide (with no glide lock accessories attached) after the bag is completely loaded.  This is not a problem while I'm doing sports photography; however, picture me (a 6-foot, roughly 200 pound man) in a tiny little shop in Rothenburg, Germany, full of tourists with a 10 1/2" bag sticking off my back.  I was constantly bumping into things and/or people and eventually learned to just wait outside while my family shopped for souvenirs (maybe this isn't a bad thing).  Also, this bag was too large to carry on the smaller airplanes, as it would not fit in the overhead compartment or under the seat.  It was necessary to gate-check it for one of my flights.  Add to that there was not way to securely lock it, which could have meant trouble.  Fortunately, it wasn't for me on this trip, but a great improvement on the bag would be adding a way to quickly easily secure the contents for those times when it is not in your possession.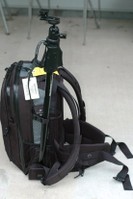 While the backpack system is very heavy duty and comfortable when it is on your back, the padded waist belt system adds to the amount of space the back pack takes up.  The straps and waist belt are sewn on, and are not removable.  During my trip, I often times found myself trying to configure the straps and belt system in a manner that would take up the least amount of room.  It would be very helpful if some system (possibly as simple as adding some strategically placed velcro) were added to help keep this cumbersome system at bay when not doing duty protecting your back.

The 2 water resistant zippers (especially the one on the main photography compartment) were very stiff and difficult to operate.  I would not give up their waterproof properties or want a less heavy duty zipper; however, an easier-to-operate opening system would be an added benefit.
Conclusion
This bag is very well made and reasonably priced at $232.99.  Despite a few minor complaints, the Vertex 200 AW is a great bag for a professional, semi-professional, or serious hobbyist who needs a lot of equipment at their side so they are ready for any situation.   While I wasn't sure about the bag before my trip (due to it's imposing size), I quickly grew to like it and it was a relief not to need to try to figure out what curves the day might bring before I left every morning.  I just grabbed the Vertex 200 AW and rushed out the door to see what the day might produce, knowing I was ready for whatever it threw at me.  Bottom line for me is I got pictures on this trip I would not have been able to capture had I not had access to all my gear at every photo shoot and opportunity. 

One note, with seemingly everyone hopping on the digital SLR bandwagon, I would say that this is probably not the best bag for the casual photography buff.  If you are a weekend photographer buying this bag because you want to have the cool professional-grade bag that all your friends will ooh and ahh over, I think you will regret the purchase due to the size and bulk.  But if you need a large, rugged bag that will protect your serious camera gear, the Vertex 200 AW is a great choice.  The Vertex  is available in three flavors, accommodating laptops from 14" - 17".  The Vertex 100 AW is designed for the 14" laptop, the 200 is designed for up to a 15.4" and the 300 can accommodate a 17".
Vertex 200 AW Specs:

Interior Dimensions:  11.8W x 6.5D x 17.3H in
Exterior Dimensions:  12.6W x 10.2D x 18.5H in
Notebook Compartment Dimensions:  11.8W x 2D x 16.5H in
(Also available in Vertex 100 AW model, for 14" laptop, and Vertex 300 AW for 17" laptops)
Capacity:  1-2 Pro digital SLRs, large 35mm or medium format system, 4-6 lenses (up to a 300mm f/2.8), tripod or monopod, flash and digital accessories.
For More Information:
Lowepro
1003 Gravenstein Highway North Suite 200
Sebastopol, CA 95472
Phone: 1.707.827.4000
www.lowepro.com


About Gear Corner
Welcome to the Gear Corner, where we give you a quick but comprehensive look at consumer electronics from several different categories.  All products in the Gear Corner have been individually evaluated through hands-on testing by our reviewers in order to give you a quick but detailed overview that we hope will help you in your purchasing decisions.

Confused about what AV Gear to buy or how to set it up? Join our Exclusive Audioholics E-Book Membership Program!