Concord Keystone ECO NautiCase iPhone 4 Case Review
Keystone ECO NautiCase iPhone 4 Case
Summary
Compatibility: iPhone 4
Certification: IP54
Dimensions: 5.1" X 2.7" X .7" (129 X 69.5 X 18mm)
Weight: 2.4 oz/68g (w/o phone)
Includes holster
Executive Overview
When we got wind that a new iPhone 4 case was coming to market we said we'd give it a try. Trouble is, the company that brought it to bear, Concord Keystone, must have missed a few memos regarding how to make a successful iPhone 4 case and, as a result, they made some mistakes that render us unable to recommend the product as it currently stands. Starting with the good, the NautiCase is IP54-rated which is to say it's well-shielded (and certified) against dust and water spray - that's more than we can say for a majority of cases on the market today. While they may keep your iPhone 4 from cracking when dropped, get caught in the rain and you may find your device totaled in a short amount of time.
The NautiCase is a single case with a bottom-oriented hinge that lets the entire unit open and close. In this way, it sort of "gobbles up" your iPhone, containing it within a multi-layered shell, but without the hassle of a multi-layered installation process. The outer covering of the case is a soft rubber that flexes and gives - which is what you want for maximum drop protection. The inner shell is plastic, with another layer of soft padding within that gives you that important third layer of protection. We like the design, and the rubberized overmold covers up important infiltration points, like the dock connector and headphone jack. It's locked up tight, but you can still hear your speakers and use the mic for phone calls.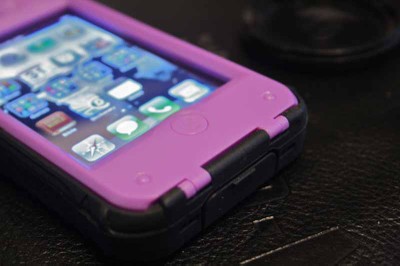 We got our sample in Purple - which, frankly, was a bad choice as the colorful plastic makes the case look... well, plasticky. The buttons are a tad hard to press, but it's not a big deal to control volume and the Home buttons sufficiently. The screen protective film actually sits a bit above the screen of the iPhone 4, which renders a bit of a click each time you push on it. This is a little odd and doesn't feel as natural as using the native iPhone's screen. The headphone jack clearance is also remarkably small in diameter. Far too small for any aftermarket headphones - the only ones we could find that would fit were the stock Apple earphones.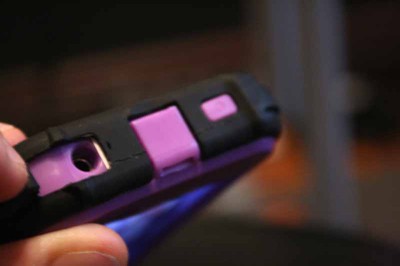 And here is where the case loses it. You see, the Nauticase suffers from the old problem where, if a case doesn't have sufficient clearance and/or absorption around the flash/camera portal - the flash will completely overwhelm the picture. Check these out:
without flash (left); flash on (right)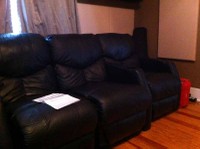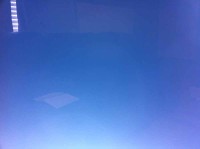 without flash (left); flash on (right)
So I suppose if you NEVER take pictures, this could be a great case. Honestly, though it's back to the drawing board on this one.

Unless otherwise indicated, this is a preview article for the featured product. A formal review may or may not follow in the future.
Confused about what AV Gear to buy or how to set it up? Join our Exclusive Audioholics E-Book Membership Program!