IOGEAR HDMI Control Center Preview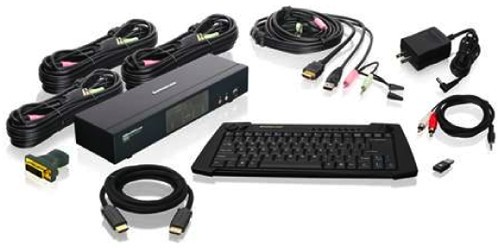 Summary


• Superior video quality: 480i, 480p, 720i, 720p, 1080i and 1080p

- Maximum video resolution: 1920 x 1200
• HDMI 1.3 and HDCP compliant
• Dolby® TrueHD and DTS-HD™ Master Audio Support
• 2 x USB 2.0 peripheral sharing ports
• IOGEAR's Display Emulation Technology reads and remembers the monitor's parameters (EDID) so there is no delay or change of video resolution when switching devices
• Convenient switching between devices via keyboard Hot Keys or front panel LED pushbuttons
• Multi-platform and OS support – Blu-ray/DVD players, Game Consoles, Set-top Boxes, Media Servers, and Computers running Windows®, Mac, Sun Solaris™ , Linux®
• Complete keyboard and mouse emulation for error free booting and real time switching
• Firmware upgradeable
• Power-On detection
• Plug & Play - no software required

2.4GHz Multimedia Keyboard with Laser Trackball and Scroll Wheel
• Work wirelessly 33ft away from any angle in the room
• Easily operates through obstacles such as glass door, wood panel, in your cabinet or wall
• Built-in laser trackball with 400, 800, and 1200 dpi selections
• Built-in left and right mouse buttons with scroll wheel
• MCE Ready - 19 hotkeys for multimedia functions****
• Ergonomic compact design for comfort and convenience
• Slip resistant design on both sides with rubber grip

Requirements

Console

A display with an HDMI or DVI input *

Source devices

Source devices with HDMI or DVI outputs*
USB port (if source supports keyboard, mouse or peripheral)

Optional

Audio connections for speakers and mic

*(To connect to a DVI computer or monitor please use the GHDMIFDVIMW6 / GHDMIMDVIF adapter, available at www.iogear.com )

Package Content

1 x 4-Port HDMI Control Center
1 x Wireless Multimedia Keyboard
1 x USB RF Keyboard Dongle
4 x Custom Audio / USB / HDMI Cables (6ft)
1 x HDMI Cable (6ft)
1 x HDMI (F) to DVI-D (M) Adapter
1 x PS/2 to USB Adapter
1 x Firmware Upgrade Cable
1 x 3.5mm to RCA Cable (6ft)
1 x Cleaning Cloth
1 x Power Adapter
2 x AA Battery
1 x Installation Guide
1 x Quick Start Guide
2 x Warranty Card
Executive Overview
Listen up control freaks! IOGEAR has your number. As long as that number is no more than four, because that's the number of ports on IOGEAR's latest effort to bring unity to your HDMI based A/V system. It's an interesting product already dropping out of the CEDIA 2009 Expo: IOGEAR HDMI Control Center, and it looks like the complete solution if you find yourself in need of a few HDMI ports. But be warned, it ain't your father's 4-port-HDMI switch.
It's billed as the over-the-top solution for any HDMI A/V system. It has four available HDMI inputs and an out to your HDTV/Display Monitor, IOGEAR wants you to use the Control Center to unify all your HDMI equipment. A small hub is the control center but you interface with a 2.4GHz wireless keyboard with a built-in laser trackball mouse. The keyboard not only lets you switch between components but is ready to take over HTPC keyboard duties for Windows, Mac, Sun-Solaris or Unix. It's even compatible with Windows XP MCE and Vista Premium hot keys.
It looks like IOGEAR hasn't gone cheap on the output to your display device either, a potential Achilles heel to a system like this. It supports 480i, 480p, 720i, 720p, 1080i, 1080p and a maximum video resolution of 1920 x 1200. Is that enough video options for you? The hub itself even has a Display Emulation feature that'll remember your settings so there is no delay or changes in video resolution when switching between devices. What? No delay? How un-HDMI of them...
The hub is also completely HDMI 1.3, HDCP compliant and supports Dolby TrueHD and DTS-HD Master Audio. That sure sounds impressive so far!
There is just no way to soften the blow of entering into fully licensed HDMI with HDCP compliance. This system isn't cheap, it retails at $499.95. Sure, you could save a bundle and go with a bare-bones 4-port HDMI switchbox. You can find basic 4-ports hubs for well under $100.
A setup like the IOGEAR HDMI Control Center is likely to appeal to anyone who requires the no-compromises, total control solution for HDMI switching. But then, aren't those going to be the same people who go out and buy a dedicated A/V receiver that takes care of those responsibilities? Granted, your A/V receiver (or basic HDMI switchbox) probably only comes with a remote control, not the full HTPC compatible, wireless keyboard with trackball mouse IOGEAR offers.
Maybe you're just the type A/V fanatic who needs this type of over-the-top control-center. After all, why get up off the couch and switch a box when you can use a keyboard that'll also control your HTPC. The HDMI Control Center dares you to go ahead and burn up those HDMI ports on your A/V receiver with extra sources – IOGEAR has your back.
Conclusion
On top of everybody's mind when evaluating this product is one thing: $500 ain't chump change when it comes to switchboxes and interconnects. SO who exactly is this product for? The custom installer client who demands ease of use? Then the HTPC integration is unlikely... The home enthusiast? He's more apt to spend his money on an upgraded A/V receiver. It's nice that IOGEAR includes all you need to get this up and running by including all the HDMI cables (they even throw in a DVI-D to HDMI adapter). But you can easily find remote controlled four-port HDMI hubs for around $60. Unique though it is, IOGEAR HDMI Control Center will fall squarely under the niche-product category.
HTPC fans will get the most mileage from this product. The HTPC using, no-compromises control freak probably couldn't find a better HDMI switching solution. Plus you have to admit, seamless switching from your game system to computer to type out a quick message on the keyboard, then back to the game - is pretty cool! But is it $500 cool? Probably not.

Confused about what AV Gear to buy or how to set it up? Join our Exclusive Audioholics E-Book Membership Program!
Recent Forum Posts:
lesser evil posts on September 10, 2009 15:06
Why isn't this wireless?

At $500, it needs to include wireless distribution of your HDMI connection from the hub to the monitor. Maybe in the next generation…
scenaria posts on September 10, 2009 12:37
Just cant see it for the price they have it at. Considering a DVDO Edge is on the street for under $650 AND provides scaling, 6 HDMI 1.3, 2 component, 1 composite, 1 SVHS along with toslink and coax digital audio switching. Just seems like a lot more oomf for not much more in $$$
Post Reply