Harman Kardon Go + Play II iPod Speakers Review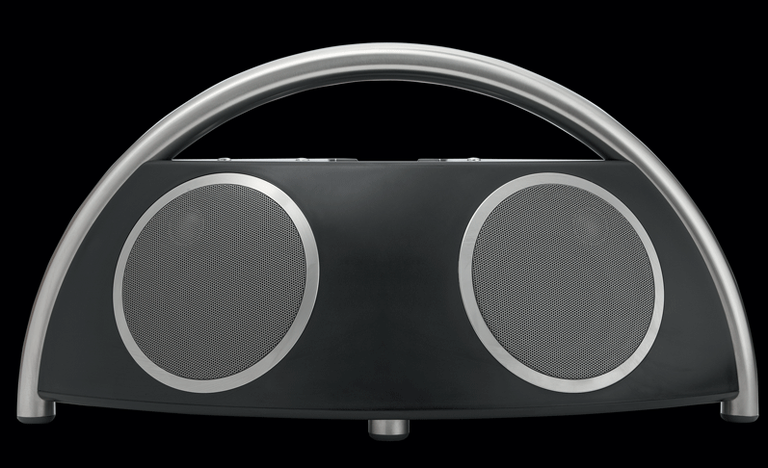 Harman Kardon Go + Play II iPod Speakers
Summary
Power: 2 x 15 watts @ 1% THD
Frequency Response: 40Hz – 20kHz
Dimensions (W x H x D): 20" x 9" x 9-1/2"(500mm x 230mm x 240mm)
Weight: Weight: 8.6 lb (3.9kg)
Intelligent EQ Technology (IEQ)
Remote Control Type: RF
Executive Overview
Portable music is really driven by the players these days, so it's difficult to find a system with good quality speakers that can be literally picked up and taken with you to a... party at the beach, for example. When we took at look at the Harman Kardon Go + Play II it was clear this product screams one thing: "take me out and play me loud". So we did. We took it outside and cranked it up. It plays really loud. We measured around 95dB SPL from 3 feet away. If you're using it inside, we'll bet you don't make it past half-volume.
The Go + Play II takes 8 'D' cell batteries - that gets you about 16 hours of playtime, but not at max volume. This makes us wish that Harman Kardon also offered a lithium-ion battery solution, but they don't. So if you have access to power - plug it in - it'll save you tons of money over the long haul. Still, this is truly a product that can go where most iPod speakers can't. With this arching stainless steel handle that goes across the entire top of the unit, you just grab it and go. It also feels durable, though it's a bit of an enigma in that respect. Rain and sand would almost certainly make it through the grills into the speakers, but the entire unit is raised up on four feet to give it some clearance and there are features like rubber covers on the power, USB, Aux input and S-video output terminals to protect them. From that list you can correctly gather that it outputs video from compatible devices and you can sync your iPod or iPhone to your computer while it's docked.
Your iPhone or iPod docks into the top of the unit and is angled slightly so that you can see the screen. There's a twisting knob in the middle that you can tell Harman desperately wants you to think actually does something... but it doesn't. Now, operating the Go + Play II is simple if you're using a playlist. What Harman Kardon did for the remote was to use an RF-based solution with just 6 buttons. It's kinda pretty, and way cool in that you don't have to point it, and it even stores inside the unit itself. But it's difficult to figure out. There's a Music mode, when its LED flashes Blue. Here you can operate the Music controls: volume, track skipping, fast-forward/rewind, play and pause... Hit the lower left Mode button and an Orange LED lets you know you can now control your actual iPod, navigating the menu and scrolling through playlists, songs or artists. Harman tries to help, by giving you some stickers to label the remote if you have trouble keeping up. And you will. It's definitely a case of form over function, and it is a bit confusing.
OK, but the sound. The sound is very good for a portable music system like this - especially off batteries. The bass actually has some real tactile thump to it at higher volumes and no matter how hard you push it, you don't distort the speakers, you just make it louder until it tops out. We really like that. Part of this is because Harman splits out the speakers so they do what they do best. The front two speakers are actually two grills that cover a pair of 15W tweeters and 30W midranges. On back is an Atlas driver that is dedicated to low frequency output. The result is a well-rounded system that sounds great. Plenty of clear highs and a decent low end that reproduces punchy kick drums and satisfying bass guitar.
Both male and female vocals sounded realistic and the midrange wasn't missing, so saxophones came through without sounding like kazoos. And honestly, for $349 it should. This is NOT an inexpensive boom box. It's priced for those who want something that's portable and yet a cut above. If that's you, go ahead and pick it up, it's worth it and it really will kill any of those overpriced clock radios you see advertised on TV.

Unless otherwise indicated, this is a preview article for the featured product. A formal review may or may not follow in the future.
Confused about what AV Gear to buy or how to set it up? Join our Exclusive Audioholics E-Book Membership Program!