Gefen HDMI v1.3 CAT-5/6 ELR Future Proof Extender Preview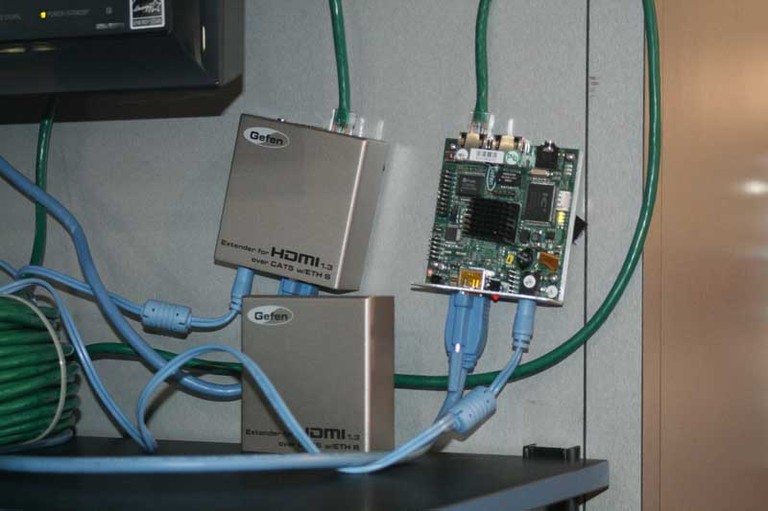 Gefen HDMI 1.3 Extender
Summary
Features:
Extends HDMI1.3 at 1080p60 up to 330feet
Built-in IR Blaster allows IR remote control of source devices from remote viewing location
Supports resolutions up to 1080p and 1920 x 1200
Supports high bit-rate audio formats (Dolby TrueHD / DTS Master Audio)
Fully HDMI and HDCP compliant (when both power supplies are used)
4x DIP switches allow EDID selection
Power Consumption: 5V DC @ 2A / 10W max.
Specifications:
Input Connector: HDMI 19-pin Female type "A"
Input Connector : 5V locking power supply connector
Link Connector: (4) RJ-45 Shielded
Indicator LED: Red power LED (Power is being received when ON)
Supports multi-channel digital audio: Dolby True HD / DTS Master Audio
Dimensions: 3.4" D x 3.25" W x 1.25" H
Fully HDMI and HDCP compliant (when both power supplies are used)
Single Link Range: 1080P/1920 x 1200
Executive Overview
For some technical or licensing reason, Gefen cannot apparently call this an HDMI 1.4 product, likely due to the fact that it wasn't certified as such when it headed into final production. They do, however call it an HDMI 1.3 product that is "Future-Proof" with support for HDMI 1.4, allowing Ethernet support and the return audio channel functionality. The HDMI v1.3 CAT-5 Extra Long Range (ELR) Extender allows installers, with just one CAT-5e or CAT-6 cable, to carry the 1080p full HD resolutions of HDMI with Ethernet and IR back channel up to 330 feet (100m) in distance.
The HDMI v1.3 CAT-5 ELR Extender is also future proof for HDMI v1.4, making it the world's first HDMI v1.4 extension solution over a single CAT-5e or CAT-6 cable. 
Gefen is using a proprietary flavor of technology called HDBaseT to power this long distance extension solution for HDMI and Ethernet. From what we've seen, allowing custom installers to make long runs at the latest HDMI format is a solution that is going to be sought after by many this coming year as manufacturers begin to roll out products supporting the new features of HDMI 1.4.
The HDMI 1.3 CAT-5 ELR Extender sender unit sits next to your set-top box or DVD player source. Cables supplied with the HDMI 1.3 CAT-5 ELR Extender connect your HDMI source to the sender unit. The HDMI 1.3 CAT-5 ELR Extender receiver unit sits next to your display - up to 330 feet away. The HDTV display plugs into the back of the Extender-R receiver unit. Only one CAT-5 cable connects the sender and the receiver units to each other. The Ethernet ports on both the sender and receiver are connected to standard network devices such as 100Base-T routers and hubs. Multi-channel digital audio (such as Dolby TrueHD/DTS Master Audio) is embedded into the HDMI signal.
Note:  Note: The HDMI1.3-CAT5-ELR Extender is only fully HDMI and HDCP compliant when both power supplies are used.
The Gefen HDMI v1.3 CAT-5 ELR Extender will retail for $699 which includes both the transmitter and receiver.

Unless otherwise indicated, this is a preview article for the featured product. A formal review may or may not follow in the future.
JerryLove posts on October 06, 2009 12:09
Or if you've ever seen a locking PS/2 connector, those are nice.
highfigh posts on October 06, 2009 11:53
They find ways to send more signal through less cable all the time- they can send HDMI through Cat5 or coax now, just wait until they find a way to send it with two conductor 24AWG.

The problem with the old HDMI specs was that a company could send their shortest length and have it tested and that qualified them to advertise that their cables meet the spec, without testing any of the others in their line.

I still don't like the lack of retainer at the connection points and the orientation in many cases. A heavy cable and plug inserted horizontally and being affected by gravity is NOT the best way to assure longevity or reliability. I admit DVI is too bulky but I think a round connector with a spring clip would have been better.
audiophile1882 posts on October 01, 2009 13:44
Crazy HDMI people

So true. HDMI is being rather odd about it, they will not allow retailers to claim they have v1.4 technology. They think if you use the term 1.4 it will throw people off, cause we are all super stupid!

Companies can get around this by posting what features their cables can carry. For example CableWholesale's HDMI v1.3 cat2 will support all new functions of v1.4, without the ethernet channel, even though they say it is coming soon…

Check it out: at Cablewholesale.com

It is stupid and rediculous, and everyone is ignoring it! I wonder if they will go after Monster, who is in CLEAR violation of this! Maybe they will allow people to actually say the cable is v1.4 once the testing is done. Its odd, because if you want a v1.4 high speed cable without ethernet, it IS!!!! a Cat2 v1.3 cable!!!!! The change to v1.4 is a CHIPSET update!
Post Reply
Confused about what AV Gear to buy or how to set it up? Join our Exclusive Audioholics E-Book Membership Program!