DVIGear AV Wall Plates Options & Configurations
DVIGear AV Wall Plates Options & Configurations
What's Possible: Options and Configurations
When I say "custom" wall plates, I mean just that. In addition to a myriad of "standard" plates which can be ordered online, DVIGear will custom configure wall plates to meet nearly any potential need. Before getting into custom configuration, check out this partial list of wall plate options:
HDMI, DVI, or DVI + HDMI
HDMI/DVI + component (rear 'F' style or RCA) or s-video
HDMI (x1 or x2) + toslink (optical) or coax digital (x1 or x2)
HDMI + component + s-video
HDMI (x1 or x2) + component
DVI or VGA + USB (input or output)
DVI or VGA + stereo audio (rear 'F' style or RCA)
DVI or VGA + 3.5mm stereo
DVI or VGA + coax digital
Component video (rear 'F' style or RCA)
Component video + stereo audio
Component video + toslink (optical)
Optional configurations can expand on the above and include XLR, telephone jacks, RJ45, D-sub connections, RS-232, volume controls & switches, fiber optic jacks, or even switches lights or indicators. The configuration options are endless – and if you're like me, you'll miss some excellent opportunities solely because you didn't have the imagination (or perhaps budget) to take it one step further.
In the picture above, one of my more complex custom orders included a single-gang Decora-style wall plate the contained two RJ45 punch connections, an F connector (for cableTV), a coax digital RCA jack and a 3.5mm TRS input for connecting an RF remote receiver.
Ordering and Delivery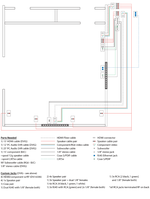 Grabbing some standard plates can be accomplished online with no hassles using DVIGear's secure Yahoo storefront. Ordering custom wall plates is also made easy but is best done via phone so you can speak directly with DVIGear and communicate your needs thoroughly. Since you need to describe both the front and back of the plate connectors, it's a good idea to sketch a drawing of the room first and make plenty of notes. I took my time and laid out a plan for connecting not only my room, but also providing for some convenient patching as well as outputs to a secondary room.
You don't have to use a graphics program as I did here, but you'll want to make triple sure that you've covered all of your bases when setting up your wiring layout. This is even more important if you are planning on putting your gear into a remote closet, as I am with this Reference System. Once you've got everything well-defined, and you feel as though you can do a good job of intoning the difference between needing rear 'F'-style connectors on your component video connections as opposed to RCA-style, then you should be ready to pick up the phone. I would have loved a more robust online ordering system for building custom wall plates, but this doesn't seem to be anything that anyone has at the moment. As it stands now, you may have to spend some time clarifying and double checking your order over the phone to make sure everything is exactly the way you need it for your jobsite or theater room.
It took approximately two and a half weeks for me to receive my custom wall plates from DVIGear. I didn't pay for rush delivery and this fell within the normal expected delivery time for this type of order. When the packages arrived, each wall plate was individually wrapped in bubble wrap and contained all of the screws and plate covers I needed to fully complete the job (you'll need to get your own low voltage boxes of course). I had quite the order, with two 3-gang assemblies, two 2-gang assemblies, and a host of single-gang plates. The folks at DVIGear helped take my drawing and parts list and arrange the connections onto the plates in a way that saved space and made sense.
Confused about what AV Gear to buy or how to set it up? Join our Exclusive Audioholics E-Book Membership Program!