DVIGear AV Wall Plates Installation and Conclusion
DVIGear AV Wall Plates Installation and Conclusion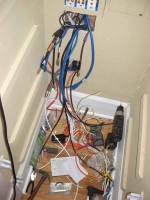 You would think installation of the plates would be the difficult part. In my case it was a welcome relief as it meant the end was near for the clutter that had become the inside of my equipment closet. It was one big mess, but its days were numbered!
Though I was prepared for difficulties, I was actually quite surprised at the number of innovations and shortcuts the custom wall plates afforded me. For example, I had no idea how I was going to wire up a stereo 3.5mm jack to remotely locate the RF receiver for my Universal Remote Control MX-950. As it turns out, DVIGear soldered on a TRS screw down terminal on the back of the wall plate. All I had to do was use a few pairs from a CAT5e cable, screw them down, and I was all set. Not sure the best way to run component video from plate to plate? Well, you can either do a robust RCA to RCA connection, or simply crimp on some 'F'-style connections and use well-shielded RG6. Use the flexibility and choices you have to make your life easier.
One thing in particular really caught my attention. I have done my share of punch-down RJ45 connectors, but DVIGear has the easiest method I have seen to date. Instead of lining up the individual cables and using a plastic (or other) punch tool to seat each cable in its slot, the DVIGear connector has you thread the cables through the top piece and then push it down onto the assembly. This forces each cable to make contact through its individual shield and you aren't stuck bending individual wires to fit across each section. In addition, it is far easier to cut the correct length and provide a little strain relief on the Cat5e cable.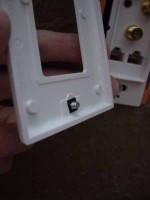 The next nifty thing that happened was that I received the standard HDMI + component wall plates. These feature a short HDMI "pigtail" which can be oriented in any direction and is just long enough to poke through a standard J-box. The first wall plate I received had a female end for facilitating connection with standard male cables. Because of this I'd need to use the (included) small HDMI jumper cable to facilitate a connection to the female end of the DVIGear HDMI fiber optic cable. DVIGear's Steven Barlow quickly realized that with such a hot product as a fiber optic cable with integrated electronics, he'd better make an HDMI wall plate that had a male "pigtail" coming from it. One week later I had the new wall plate in my hand and I was able to eliminate the small male-to-male HDMI jumper cable.
When putting on the final plate covers I noticed that each had a small retaining nut that kept the screw (metal, none of that plastic or nylon junk) from coming out of the fixture. These small details are what all add up to making an installation job smooth and hassle-free. All the screws lined up correctly and I was able to produce some very nice finished results.
Conclusion
If you are doing an installation – either personally or as a custom installer, you owe it to yourself to simplify your life by ordering custom HDMI wall plates. They will make a tough job much more manageable and the configuration options will likely save you some room and hassle when planning your layout and cable runs. DVIGear is one of the only companies I know of who offers this type of service and it should be something they shout from the rooftops. Get organized. Get connected. Get some DVIGear custom AV wall plates.
The Score Card
The scoring below is based on each piece of equipment doing the duty it is designed for. The numbers are weighed heavily with respect to the individual cost of each unit, thus giving a rating roughly equal to:
Performance × Price Factor/Value = Rating
Audioholics.com note: The ratings indicated below are based on subjective listening and objective testing of the product in question. The rating scale is based on performance/value ratio. If you notice better performing products in future reviews that have lower numbers in certain areas, be aware that the value factor is most likely the culprit. Other Audioholics reviewers may rate products solely based on performance, and each reviewer has his/her own system for ratings.
Audioholics Rating Scale
— Excellent
— Very Good
— Good
— Fair
— Poor
| Metric | Rating |
| --- | --- |
| Build Quality | |
| Ergonomics & Usability | |
| Ease of Setup/Programming/Integration | |
| Features | |
| Performance | |
| Value | |
Confused about what AV Gear to buy or how to set it up? Join our Exclusive Audioholics E-Book Membership Program!