Axiom Audio Interconnects & Speaker Cables Subjective Review
Axiom Audio Interconnects & Speaker Cables Subjective Review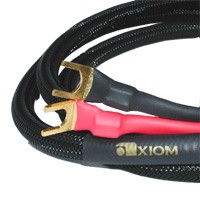 Axiom Audio Speaker Cables
Wait a minute, a speaker company making cables? Well, who better than a company who has proven itself to be a no-nonsense manufacturer of quality products to make no-nonsense "sensible" cables. When Axiom offered to send us a set of their new cables to examine, we accepted, anxious to see if the quality they put into their speakers showed up in their cables. This article gives you a sneak peek into the look and build quality of these cables.
If you've read any of our other Speaker Cable articles, you'll know that we have done extensive testing on various cables. People may not realize, but we actually acknowledge the fact that speaker cables and analog interconnects can sound different. The problem, however is that many so-called exotic speaker cables can colorize the sound, resulting in a perceived tonal change at the expense of transparency and/or accuracy. Our view is that the best cable is a transparent cable. There will be a companion article that will address the measurements for the Axiom analog interconnects and speaker cables and we'll see how they line up with some other brands.
General Comments on Interconnects
Examine the Axiom Audio analogue interconnects and you will find gold-plated, stiff RCA connectors that comfortably grip when attached without risking damage during insertion or removal. They have a secure connection, yet are removable without much difficulty. Of all our samples, all had excellent solder connections
Now let's take a look at this sneak peek complete with photos and comments:


Analogue Audio Interconnects
These cables are attractively made, with a beautiful casing and solid construction. Open them up and you'll find clean solder joints and clear shrink tubing around the positive conductor. This is a first-class cable and is made as good as anything you'll find by other better known companies. The cables are further protected from the outer casing by a thick plastic guard. There is no chance of shorting or bleed here.
Price: $58 (3 feet/1 meter)


Digital Audio Optical Toslink SPDIF Cables
Not only are these cables well-built, they are attracticely presented with one of my favorite features - an attached protective plastic cap that guards the surface of the optical connector when not in use. This ensures that the surface of the connector isn't damaged in transite, and when you remove the cable, you can actually find the cap since it never leaves the connector.
Price: $48 (3 feet/1 meter)


Component Video Cables
These cables are built to handle the demanding 50-100MHz requirements of HDTV (more info on these specifications will be available in our related cable test article.) They are color coded for easy matching to the appropriate Y, Pb, and Pr video connections. The strain relief built into these cables is excellent and ensures they will not unduly stress any of the solder or mechanical connections.
Price: $78 (3 feet/1 meter)


Coaxial Digital/Composite Video Cables
Built with a bit more gusto than the analogue audio interconects, these coax digital cables can also be utilized for composite video connections. They are equipped with sufficient spring strain relief and (as are all Axiom's cables) are wrapped with a high quality braided cover. Shielding is excellent and I noticed they made a solid connection to my coax SPDIF connections.
Price: $70 (3 feet/1 meter)


S-Video Cables
The solder connections on these s-video cables impressed me as being very solid and well-protected. Often, cheaper s-video cables can suffer from having poor solder connections in close proximity to one another - almost touching. These cables feature individually-shinkwrapped connections so you get absolutely discreet connections for each pin.
Price: $44 (3 feet/1 meter)



Speaker Cables
The Axiom Audio speaker cables come with both ends having spade lug connectors. If your receiver/power amp has 5-way binding posts this will serve to make a solid connection, however many receivers may make connections difficult or impossible.

In response to this, Axiom Audio is working on two things. First, an adapter to securely mate the spade lugs to a banana connector, and secondly, they will eventually be offering these cables with banana connectors.
Price: $59 (9 feet/3 meter)
Conclusion
Axiom Audio has once again provided a solution for those looking for excellent quality crafted cables without spending a fortune. If you are looking for solid cables at a sensible price, then Axiom appears to be a great place to start. One important thing to note is that you can actually unscrew all of the Axiom Audio interconnects and take a look inside at the excellent solder quality and shielding. I've noticed that many other cable manufacturers tend to make their cable terminations inaccessible to inspection, yet tout superior build quality. It's nice to be able to see the craftsmanship underneath the hood. With these cables, nothing is hidden - you know exactly what you are getting.
We will be providing hard data and analysis on these cables, but this sneak peek at least gives you an idea as to what to expect from these new offerings from Axiom Audio.
Confused about what AV Gear to buy or how to set it up? Join our Exclusive Audioholics E-Book Membership Program!