Apogee HDMI Products Preview
Apogee - another distributer
Summary
Executive Overview
Apogee is a California-based company that specializes in bringing inexpensive Chinese-manufactured HDMI products to the US market. They are positioned primarily for resellers and large quantity purchases by custom installers. We found their products to be a mixed bag. While their cables looked adequate and their mini HDMI switch was a really neat product, we actually received a non-functioning HDMI splitter that had a piece of loose plastic rattling around inside. I'm sure this isn't the norm, but it reflects a potential problem when companies specialize in distribution and not manufacturing original products. Apogee is also the name of a well-known DSP audio company here in the states - this is not the same company.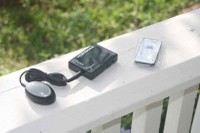 Let's start with the most compelling of the sample products we received. The 3x1 HDMI mini switcher is tiny in size and really seemed like a useful "on-the-road" device that could come in handy if you need a simple switching solution that doesn't require a discrete power supply. The box comes with an IR receiver and remote control - all of which aren't required since the unit can function by using its top-mounted Select switch. It would be a handy device if you needed something to hide away or mount behind a flat panel, but realize that it has no keyhole mounts so it is more of a "connect and let dangle" product. The remote worked well and the features packed into such a little box are compelling. The switch looks to actually be manufactured by Hong Kong Mealink Electronic Industrial Co., Ltd in China and resold by Apogee without any branding or alterations. The bulk price of the unit is around $15, so resellers should be able to pick thee up for a reasonable price. Apogee doesn't list retail pricing online until you are approved on their website.
They also sent along an HDMI cable. It was branded with the Apogee labeling on the side of the cable itself, but was otherwise unremarkable. It worked well and seemed to pass 1080p with no difficulties, however we showed that this is possible with all but the most egregiously poor cables on the market.
Apogee also sent us a small DVI-D to HDMI adapter. This looked to be a handy device for older displays that still utilize the now all-but-extinct DVI-D connection. I have a Westinghouse LVM-47w1 that fits that description and it was nice to slap this on and give myself another HDMI input. I encountered no difficulties during its use.
The last product we tested was a generic HDMI 1x2 splitter. This product, while packaged beautifully, crashed and burned. When I picked up the small plastic housing I heard something rattling around inside. Oops... not good. I opened up the device and found that it was a small pierce of plastic. Nothing appeared to be damaged or missing and it didn't seem to be anything other than a leftover piece that broke off from the injection-molding process. The splitter, however, just didn't work. The LED indicator lights flashed briefly when power supply was attached, but never engaged when an active HDMI input signal was attached. I'm sure this just happened to be a malfunctioning product sample, however it puts the company at 1 for 2 on switchers and splitters. I don't like those odds. This product, manufacturerd by CMI Communications Ltd. is also rated at up to 1.65 Gbps, meaning it may not be ready for HDMI 1.3a applications which may (someday) include 12-bit video signals, though it does apparently include some pre-emphasis EQ and receiver equalization to help stabilize signals for longer cable runs.
Overall Apogee seems to be a company that is gearing up to bring inexpensive Chinese-made products to the US. With the current (artificially) high prices of HDMI switchers and splitters, this may help to bring prices down to a level more comfortable to consumers. That means more flexibility and further innovation and cost savings. That in and of itself is good. As for Apogee, we can't really pass too much judgment except to say that more data will be needed before we recommend this brand to custom installers, retailers or consumers.

Unless otherwise indicated, this is a preview article for the featured product. A formal review may or may not follow in the future.
eva6206213 posts on September 16, 2008 00:23
thank you for your sharing and leave my foot print!
Post Reply
Confused about what AV Gear to buy or how to set it up? Join our Exclusive Audioholics E-Book Membership Program!