Mix Digital Boombox Complete Review
Mix Digital Boombox Complete Review
Being bulky in nature makes the MIX Digital Boombox difficult to package in a way that is neat and tidy.  Nonetheless, it comes packed between two hard foam pieces that fit snugly over the top and bottom of the boombox.  Along with the boombox comes a remote, two 3.5mm stereo iPod/iPhone connection cables, an AC adapter, and an array of plastic mounting adapters for any size iPod/iPhone imaginable.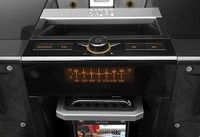 Aside from your standard Power, Volume Control, Play/Pause and Skip Forward/Back buttons, the remote also includes several other features.  Among these are 4 programmable FM stereo preset buttons for you to set to your favorite radio stations.  These preset buttons not only allow you to choose different Shuffle and Repeat functions when listening to your iPod or iPhone, but they also allow you to access all of your different playlists.  It also has a Source button, which allows you to toggle between iPod, FM radio, AUX 1 and AUX 2 sources.  Finally, it has an EQ button, which allows you to choose from four different customizable EQ presets.  You can also personalize these presets in order to get the sound you desire.  The remote also has a nifty carabineer clip at the bottom in case you are like me and have a tendency to easily misplace small items.  When transporting the MIX Digital Boombox, there is a recessed slot on top where the remote cozily locks into place.
Just next to the remote slot, you will find two auxiliary 3.5 mm line inputs, which will allow you to connect two additional audio players.  This is a great feature for the times when you head to the beach or to the park with some friends and you have several MP3 players that you want to use.  And if you still don't have enough music to suit your needs, there is a telescopic antenna just behind the remote slot that allows you to tune to your favorite FM radio stations with clear digital quality sound.  However, there is no AM radio capability, which may be a drawback for those of you who like to listen to talk radio.  While I'm not much into talk radio, I do listen to some sporting events from time to time on AM, so the next time I have a backyard BBQ, I will need to make other arrangements to listen to the game.  Oh, but of course there's no need to worry about finding an outlet nearby because the boombox can run up to 30 hours on 8 D-cell batteries.
Both of the auxiliary inputs and the remote storage are set in the recessed area underneath the handle on top of the unit.  This recessed area also serves as a convenient place to rest your additional audio players when they are connected to the auxiliary inputs.  Also on top of the boombox are manual controls located in front of the recessed handle area.  These controls allow you to turn the unit on and off, adjust the volume, choose your music source, choose and change your EQ settings, and Skip Forward/Backward.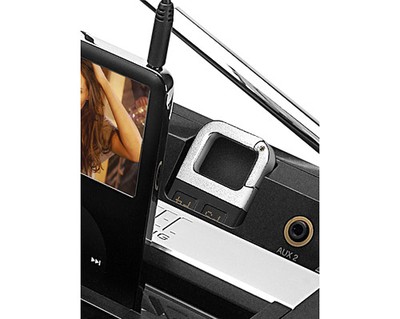 On the front of the unit (directly in front of the manual controls) is the LCD screen.  The LCD screen has a bit of a retro feel to it and is not the most visually appealing part of the unit, but it is functional nonetheless.  Directly below the LCD screen is the iPod/iPhone dock.  There is a silver guard bar that provides an added layer of security in the event that you take it to the park and someone throws a football in the direction of the boombox.  Also attached to the front of the boombox are two silver "grab handles" (one on each side), which help to make the unit a bit more portable.
Another great feature is that, if you are using your iPhone, there is no need to switch it into airplane mode because the MIX Digital Boombox is GSM-shielded, so you won't hear any interference from your phone.  You also don't have to worry about your iPhone or iPod dying in the middle of a song because when it is connected to the dock, it will be charging as well.
Listening Tests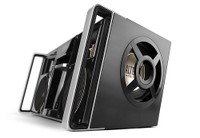 The speakers built into the MIX Digital Boombox provide quite a punch for a portable unit.  When I think of a boombox, I generally do not think of high quality sound.  I think of noise—extremely loud noise.  I think it's safe to say that Altec Lansing has done a great job at redefining the sound quality that should be expected from such a unit.  The crisp quality and undeniable clarity that is produced by the boombox was a very welcomed surprise to say the least.
The blend of sound that is produced from the high, mid, and low speakers is not only clear, but full and does not seem to lack in any range.  For starters, the "specially engineered" highs and "custom designed" mids did not disappoint.  The two 1" horn-loaded tweeters located at the top of the front side of the boombox produce clear high range sounds at even the highest volume level. They are complemented by a pair of 3" midrange drivers that pump mids and mid bass at unmatched levels of clarity from other boom box-style products we've heard.  Together, these two sets of speakers help produce a full sound that is lacking in most other portable amplification devices.
But the MIX Digital Boombox also lays down some serious bass from its 5.25" side-firing subwoofer and a 5.25" passive radiator.  Together, these drivers are more than capable of filling the entire room with enough sound to feel like you are in a club, so it's not hard to see why Altec Lansing claims that the MIX is "the heart of every party" and that it "brings the house down".  With all that bass, one might expect there to be a sacrifice in quality of sound, but this is not the case at all.  Even the lows sound epically clear and smooth.
Areas For Improvement
While there are a lot of good qualities and features of the MIX Digital Boombox, there is also some room for improvement.  There are a couple of areas where I think Altec Lansing should consider improving:
LCD Screen – I don't know if it is because they were going for the retro look, but this is something that I feel could have been a little more advanced.
EQ adjustment – The process of adjusting the EQ presets was a little tedious and was even more difficult when attempting to do so with the remote.
AM radio – This would be nice for those who are wanting to listen to the game while manning the grill during the backyard BBQ.
Conclusion
Overall, the MIX Digital Boombox is pretty impressive.  The biggest drawbacks would have to be its heavier than normal price tag and the bulky nature of the unit itself.  Those looking to purchase an amplification device for their iPod/iPhone are going to have to decide if they want to purchase a unit of this size.  However, if they decide to take the plunge, the MIX Digital Boombox is more than capable of satisfying even the most skeptical owner.  The sound quality, epic clarity, and extreme amplification potential makes this system stand in a league of its own.  If you are looking for a party in a box that sounds good and that you can take with you wherever you go, you won't find a better system.
Altec Lansing MIX Digital Boombox
$299.95

Altec Lansing
535 Route 6 & 209
Milford, PA 18337 USA
866-570-5702
www.alteclansing.com
About Altec Lansing
Altec Lansing was officially formed on May 1, 1941.  Since then, they have become an international symbol of high quality audio amplification devices.  Altec Lansing's can be found in homes, churches, sports stadiums, and everything in between.  In fact, you can find their sound systems in such places as The United Nations Building, Indianapolis Motor Speedway, Disneyland and Disneyworld, New York's Lincoln Philharmonic Center and the Schubert Theatre, MGM's Grand Hotel, The Singapore National Stadium, and The Sydney Opera House, to name a few.
The Score Card
The scoring below is based on each piece of equipment doing the duty it is designed for. The numbers are weighed heavily with respect to the individual cost of each unit, thus giving a rating roughly equal to:
Performance × Price Factor/Value = Rating
Audioholics.com note: The ratings indicated below are based on subjective listening and objective testing of the product in question. The rating scale is based on performance/value ratio. If you notice better performing products in future reviews that have lower numbers in certain areas, be aware that the value factor is most likely the culprit. Other Audioholics reviewers may rate products solely based on performance, and each reviewer has his/her own system for ratings.
Audioholics Rating Scale
— Excellent
— Very Good
— Good
— Fair
— Poor
| Metric | Rating |
| --- | --- |
| Audio Performance | |
| Build Quality | |
| Ergonomics & Usability | |
| Features | |
| Remote Control | |
| Fit and Finish | |
| Performance | |
| Value | |
Confused about what AV Gear to buy or how to set it up? Join our Exclusive Audioholics E-Book Membership Program!
Recent Forum Posts: