Instant DVD+DV Hardware & System Requirements
Instant DVD+DV Hardware & System Requirements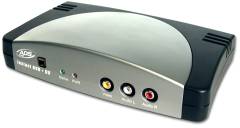 Everybody I meet wants to edit videos and make home movies on DVDs. The trouble is, most people are fairly computer illiterate or at least aren't going to run out and search online for a hodgepodge of solutions to get the job done on their own. And then there's the hardware 舑 where do you start? What devices do you need in order to digitize from your camcorder and make a finished product? Fortunately, a large percentage of new computers are being sold with built-in DVD burners. Truth be told, the prices on these devices has dropped below $50 in many cases and even advanced dual layer models are being sold at commodity prices. Assuming you have a fairly modern system, the solution for home DVD and movie-making isn't as far away as you might think.
ADS Tech is a worldwide company specializing in USB and IEEE-1394/FireWire solutions for the personal computer. Since the company's inception in 1992, the cornerstone of the company's success has been to introduce niche or high-end technologies to the consumer marketplace with quality devices sold at a reasonable cost.
Over the years, ADS Technologies, Inc. has brought a wide range of products to market including VGA-to-TV scan converters, video capture and TV Tuner cards, which enabled ADS Technologies to sustain steady growth and sales during the mid-1990's. They have only continued in growth and now manufacture higher end products marketed under the "PYRO" brand in addition to their more consumer-oriented products.
The Hardware Requirements
Hardware requirements to use the ADS Tech Instant DVD+DV system are a breeze for anyone who has upgraded in the last 4 years. Though the recommendations given here will technically run the system, we would advise beefing up a little bit in order to get performance that does not leave you looking for something to do while your computer catches up on an import or compilation process.
Minimum System Requirements
Intel® Pentium® III 800 MHz or higher or AMD Athlon/ Duron CPU (we recommend a Pentium IV or Athlon)
Microsoft® Windows® 98SE, 2000, ME or XP (we recommend using Windows XP SP2)
128MB of RAM (we recommend at least 512MB or more of RAM)
500 MB of available hard drive space for program installation
4 GB+ hard drive space for video capture and editing (we'd recommend getting a dedicated 60GB or larger drive for your video files)
Windows-compatible display with at least 1024x768 resolution (we recommend a 17" monitor at 1280x1024)
Windows-compatible mouse or pointing device
Windows-compatible sound card
Available USB Port
CD-ROM drive
CD-Recordable or DVD-Recordable drive required for saving movies onto CD or DVD (make sure you order a universal DVD+/-R/RW recordable drive if you don't already have one)
The Review System
AMD Athlon 2500+
Microsoft® Windows® XP SP2
1024MB of RAM
Over 120 GB of hard drive space for video capture and editing
Dell 17" & 15" LCD displays at 1280x1024 and 1024x768 respectively
BenQ Universal DVD+/-R/RW recordable drive
As you can see you can only increase your experience by making sure your hardware is better suited for editing video. If you're not quite there but you fit the minimums, don't fret it 舑 just realize that any frustrations you experience due to computer slowness or lack of hard disc space can be easily remedied with some upgrades.
The Instant DVD+DV Hardware


The Instant DVD+DV System comes with a small external set-top box that is designed to interface with your PCs USB 2.0 bus. It provides real-time capture of NTSC at 29.97 (drop frame) or 25fps PAL. It features composite (RCA) and s-video inputs and outputs on the rear along with the USB 2.0 B connector and 3.5mm stereo inputs and outputs. The front panel possesses a composite (RCA) input, stereo audio RCA inputs and a mini 4-pin IEEE 1394/Firewire connection. With all of these connections you will have everything you need to import and export consumer audio and video content.
Confused about what AV Gear to buy or how to set it up? Join our Exclusive Audioholics E-Book Membership Program!