Yamaha RX-V2400 Receiver FAQs
Yamaha RX-V2400 Receiver FAQs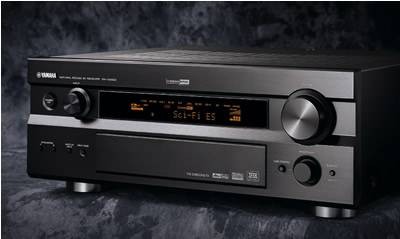 We have received our review sample of the Yamaha RX-V2400 (MSRP:$1000) A/V receiver. We are also fortunate to have a direct contact with Yamaha Engineering in Japan to get any of our questions/concerns answered from the designers themselves. With that a few questions popped in my head while I was unboxing the RX-V2400 and perusing the user manual.
Q: Simultaneous Front Effects and Surround Back Channels?


When engaged in a DSP mode, using an external amp connected to the preouts for Surround Back/Presence, can the user achieve a 9.1 configuration? In other words, with the receiver supply power to the surround back channels while the external amps supply power to presence channels? Or is the user simply parallel powering identical surround back/presence channels to all four speakers?
Audioholics: No, this option is not supported on the RX-V2400.
The user cannot achieve a 9.1ch configuration. No, because RX-V2400 has only 7ch amplifiers AND 7 preout circuit to output. TheRX-V2400 has 9 speakers setting (please see Owner's manual page 29). In this 9 speakers setting case, presence speakers are set on "front" and surround back speakers are set on "back". The customer has a choice between two alternatives which is "using presence speakers" OR "using surround back speakers".

For example, when engaged in Cinema DSP mode (presence speakers out mode) and a source signals have 7.1ch signal (including surround back signal), a customer has to decide which speakers (presence or surround back) is ON. In presence case, surround back signal is merged into surround channel signal. In surround back case, presence signal is merged into front channel signal. In this case, A priority which speakers are selected is set by setting. See Owner's manual page 53.
Q: "Straight" vs "Direct Stereo" Modes


What are the differences between the "Straight" and "Direct Stereo" modes? Is there a true analog bypass for 2CH analog audio sources?
Audioholics:
Operational Difference of NEW modes
Straight
Mode for Original Channel Audio Enjoyment without Post Processing:
Operation for Analog and Digital Sources (Decoding only)
2ch to Multi Channel Sources (SP Configuration can be engaged)
Direct Stereo
Mode for direct 2ch enjoyment:
Operation for 2ch Analog and 2ch Digital Sources
Bypassing DSP Circuits and other processing Circuits
Stream Signal is not acceptable -- > Change to Analog Input
Priority: 1. Straight 2. Direct Stereo
Operation Difference of NEW modes:
Stay tuned for more to come as we dig deeper into the capabilities of the Yamaha RX-V2400 and what it has to offer the end user.
Read our detailed review of the Yamaha RX-V2400 A/V receiver
Confused about what AV Gear to buy or how to set it up? Join our Exclusive Audioholics E-Book Membership Program!