TV Audio Moves Closer to Wireless Speakers
TV Audio Moves Closer to Wireless Speakers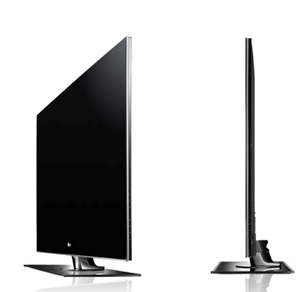 Summit Wireless surround
Audioholics would like to thank Summit Wireless for providing the following article on their technology and how it might affect future DTV production and development.
In the last 3 years we have witnessed explosive growth in the sale of flat panel TV's. It's by far the form factor of choice, capable of delivering high definition video that consumers demand at a price point that is available for the mass market. However, contrary to all of the amazing accolades regarding picture quality, many have raised the issue about the lack of audio quality.  Audio is the emotional connection to what we see and many believe that poor audio can ruin the viewing experience. George Lucas once said, "The sound and music are 50% of the entertainment in a movie".  So why do TV manufacturers put emphasis on video quality and not audio?  The simple answer is that they have no choice.
The intent of this article is not to dive deep into the physics behind Home Theater setup, since there are a myriad of online tools and articles available to guide the consumer through this process, but at a high level these are the trade-offs and challenges TV manufacturers face in designing a television set with good audio: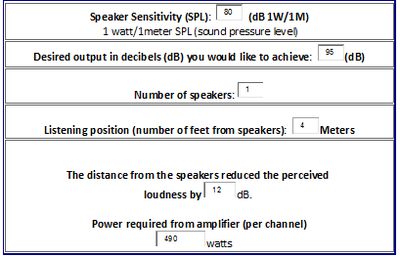 First, a TV's amplifier can vary, but usually they are less than 10 watts per channel with typical speaker sensitivities around 80dB (1 watt/1 meter). However, to experience the 90-100dB peaks that today's blockbuster movies are capable of delivering, consumers would potentially need an amplifier approaching 500 watts for a listening position of 4 meters (or 13.3 feet). This is not something we are likely to see in TV's anytime soon due to cost and physical size limitations.
To complicate matters further, the thin chassis design limits the speaker size and location which in turn affects sound quality. TV designs are getting more complicated and in some cases, such as borderless TVs, there is no room for mounting the speakers facing forward - further reducing audio performance with rear projecting speakers.



TVs are limited to rendering multi-channel content in stereo. This is becoming a major concern as more and more programming is being broadcast in 5.1. In addition to the movies consumers rent or purchase, the new broadcast standard for HDTV is "Dolby Digital" (5.1 Channel Surround Sound - or better). The irony is that many TVs have the silicon capability inside to decode a multi-channel audio stream, but don't make it available to consumers as an output. Some TVs do provide S/PDIF (encoded 5.1 for 5 speakers and 1 subwoofer) via coax or optical, but this is typically enabled for only ATSC broadcast content. The argument by TV manufacturers for this architecture is sometimes driven by their desire to avoid royalties for multi-channel decoding (Dolby, DTS…). It makes sense given there hasn't been a viable approach for the TV to render multi-channel audio, but it is short-sighted given the potential benefits of reducing the number of wires and remote controls required for utilizing the TV as the primary source switching device.
Finally, consumers' tastes and requirements are changing. No longer do they see the TV as a monitor, but more as a multimedia connectivity platform (i.e. Google TV, Pandora Radio, streaming Netflix). Most TVs above 36" are capable of connecting a Blu-ray player, game machine, iPod, or set-top box and are becoming network aware. You can then add the arrival of 3D TVs to the mix as well as the desire for 3D audio to complement the new viewing and gaming experience.  The question becomes: How will 3D audio get delivered when multi-channel is a must, and solving the setup complexities is paramount for consumer adoption.
The Home Theater attach rate (consumers purchasing a Home Theater audio system with a flat-panel TV) is thought to be less than 15%, while the home electronics industry trend favors wireless connected devices to make it easier for consumers to install their home theater. The Consumer Electronics Association (CEA) validates this trend in their market surveys which reports that consumers are requesting wireless speakers in Home Theaters.
While wireless solutions have been available for quite some time, they haven't achieved acceptance - especially in the hi-fi segment where reliability and quality are vital. So what are the alternatives for the consumer?
Current Reality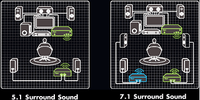 Historically, the most popular solution for enhancing TV audio was to purchase an audio video receiver (AVR). The primary advantage to the AVR was that it housed the necessary amplification and power supply needed to drive the home theater speakers at the correct levels. The AVR was an ideal platform for connectivity to a variety of A/V equipment while supporting a wide variety of encoding and decoding formats that simplified equipment interconnectivity. If the upside to AVRs is their flexibility and performance, then the downside is the significant cost to the overall home entertainment purchase and the added complexity to set it up correctly, without hiring a professional installer. Part of the complexity that many homeowners are trying to avoid is routing speaker wires and performing sweet spot calibration.
Another attempt to reduce cost and simplify the installation process is to offer a home theater-in-a-box (HTiB) and sound bar solutions. The HTiB typically includes a Blu-ray player bundled with a set of wired speakers. While the sound bar is limited to supporting a left, right and center channels bundled with a subwoofer (equivalent to 3.1) with virtual surround sound.  Both solutions achieve their lower cost by trading off the high performance and connectivity of an AVR with lower performance and less flexible connectivity, but the same setup challenges still exist.  The latest attempt to simplify setup is to offer wireless subwoofers and surround speakers that are a hybrid of wired fronts with wireless surrounds and subwoofers. The approach allows a consumer to use existing speakers, but in the end falls short in reducing the number of wires, delivering CD quality fidelity, and avoiding poor wireless performance.
All of today's hybrid wireless audio networks operate in the congested ISM bands found at 2.4 and 5.8 GHz. Congestion occurs in these bands due to WiFi, Bluetooth, microwave ovens, cordless phones, and other equipment, and they operate with few rules to avoid interference. Current wireless audio technologies attempt to mask these issues by using large amounts of buffering that has the negative effect of adding unwanted latency and compressing the audio signal to reduce bandwidth requirements. Regardless of technique, the end result is lower quality audio with the potential for audible clicks, pops, drop-outs and lip-sync issues.
The ideal wireless audio solution would have the following characteristics.
Minimal incremental cost to TV
Easy use and setup for the average consumer
No speaker wires
Scalable from stereo to 7.1 (7 speakers and 1 subwoofer)
Render HD 24-bit, with sample rates up to 48k/96kHz
Simplified sweet spot calibration process
Interactive TV GUI to set up sweet spot calibration
Integrated inside the TV and no additional remote controls
Open approach offering interoperability to mix and match speakers from different brands
Eco friendly
The Summit Wireless Solution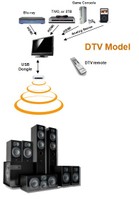 A new technology has arrived on the scene called Summit Wireless, an audio integrated circuit, which is being embedded in televisions, speakers, audio/video receivers, gaming devices, Blu-ray players, and set-top boxes, enabling them to broadcast high-definition surround sound wirelessly. Summit was designed with the DTV application in mind and offers a standardized API that TV manufacturers can easily integrate into their Linux environment. What is remarkable about the Summit system is that it is self-contained; only a few commands are needed by the master embedded inside the TV to manage the audio network.  A USB 2.0 dongle option is also available to allow DTV manufacturers and other Linux based A/V equipment to claim Summit wireless compatibility now, without adding additional hardware costs to the TV platform.  The appeal for the mass market is the "fast set-up methodology" listed below:
Plug the speakers in, turn the system on and Summit does the rest:
Automatic discovery of speakers
Automatic channel assignment
Mapping of speaker location to within 1 inch
Automatic sweet spot configuration
Automatic scalability from 2.0 to 7.1 speakers
Instant volume and time alignment adjustment from a favorite listening position
Summit's patented SpeakerFinder  technology, identifies the number of speakers in the system, their location to within one inch, assigns the correct audio channel and establishes a default sweet spot in the center of the room. Amazingly this is all done on system power up in less than a few seconds.  With Summit's MyZone technology, the users' location is determined within 1 inch and can be displayed on the TV via a standard GUI application. The audio sweet spot is instantly moved to that location by adjusting each speaker's volume and delay with a simple press of the MyZone button on the remote control. The Summit Wireless solution uses a pure digital path from the source to the speaker that is uncompressed and up to 24-bit, 48k/96 kHz sample rates. Summit uses a dedicated bandwidth network away from the congested ISM band, allowing latency to be kept to a minimum or around 2.2ms and eliminating lip-sync issues. The digital filters in the Summit solution enable the speaker designer to fully compensate for amplifier and speaker characteristics, including time alignment from offset drivers, and the system can be programmed with different filter sets for different listening styles and speaker locations.
Summit scores high on ease of setup, taking only minutes to complete versus hours or days. Fidelity is every bit as good as a wired system and the fact that it can scale from a 2.0 stereo set up to 7.1 is unique.  With the amplification distributed to the speakers, there is little cost added to the DTV and it allows the consumer to match their speaker purchase from any brand with Summit inside. 
With this type of technology and price point, it is not hard to imagine every TV having Summit integrated inside or at a minimum supporting Summit through a USB dongle or connected wireless hub interface.
Audioholics would like to thank Summit Wireless for providing the following article on their technology and how it might affect future DTV production and development.
Confused about what AV Gear to buy or how to set it up? Join our Exclusive Audioholics E-Book Membership Program!