Toshiba and Canon set SED production to Q4 '07
Toshiba and Canon set SED production to Q4 '07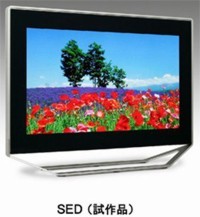 Last week Canon and Toshiba jointly announced plans to begin mass production of SED displays in July 2007. This puts a launch date into the fourth quarter of '07 for the new TV technology. In a press release the Toshiba / Canon alliance said they expect sales of the new display to be bolstered by overall growth of the flat panel television market. Their intention is to put the new SED TVs on the market in time for the Beijing Olympics - seeing the international event as a promotional opportunity.
SED stands for Surface-conduction Electron-emitter Display an upcoming flat panel display technology developed in a joint venture by Toshiba and Canon. SED promises to be even thinner, cheaper and more energy efficient than LCD. As a fixed pixel display it should offer high contrast that rivals both LCD and Plasma. A prototype of the new display was demonstrated to rave reviews in September 2004 at CEATEC, a Japanese consumer electronics trade show. But since that time we've only heard about delays in its release.
A spokeswoman for Toshiba said of the manufacturing delays: "Price falls in the flat TVs have been much steeper than we had anticipated… We would like to work further on rationalization of production and cost cuts before an actual launch."
Any new display technology is going to be challenged by what is almost commodity-level pricing in today's flat panel market.
Koichi Hariya an analyst from Mizuho Securities has doubts about the viability of a new display technology being thrust into such a competitive market in late 2007. Prices for an average 40" LCD or Plasma have already dropped 36% and 31% respectively and the decline is expected to continue into the future. Hariya says that by the time SED hits the market. "...flat TVs from such companies as Matsushita, Sony, Samsung and Sharp will have been on store shelves for quite a few years."
Toshiba and Canon plans to invest 200 billion yen (that's $1.70 billion US dollars) on the development of SED. In contrast Sharp alone plans to invest 200 billion yen on a new LCD plant. Matsushita, the company that manufactures Panasonic will invest about 180 billion yen to build the world's largest plasma factory in January. Both of these new plants will help further reduce the cost of new plasma and LCD displays.
Whether or not SED ever makes it to production in 2007, a new display faces tough competition from well developed TV technologies that have earned the trust of consumers.
Special Thanks to www.hometheaterfocus.com.
Confused about what AV Gear to buy or how to set it up? Join our Exclusive Audioholics E-Book Membership Program!