Goldmund's Million Dollar Wall of Sound
Goldmund's Million Dollar Wall of Sound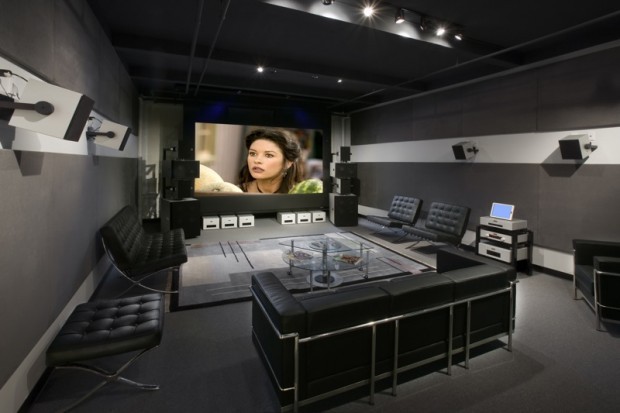 Goldmund theater design
Every once in a while we stumble upon a gem that, while not new, reminds us of why we're here - you know, pursuing the truth in audio & video. What we stumbled upon was an old YouTube video of Goldmund, a Swiss company who built a reported million dollar studio. Our favorite quote: "Most of you are familiar with 5.1 or 7.1 surround sound. With Goldman we are able to do up to 128 channels..."
128 channels??? Uh. OK. I guess standards aren't really their thing - at least with respect to recreating the experience of the mixing & mastering engineers (audio) or re-recording mixers (film).
Says Michel Reverchon, CEO/Founder of Goldmund: "We call it perfection in an imperfect world."
We have a suggestion for another catch phrase and it goes a little something like this: "Get as much money as you can out of your wealthy clients who don't know any better." Here is the brief video of the room:
As you can tell, the focus of the system is a mix of audio quality and, oddly enough, redundancy. From dual lamp projectors to automatic sensing and notification of malfunctioning amplifiers. To us the system is absolutely ridiculous in its design. But hey, it's endorsed by the Robb Report...and that's... something. 
Here is what Goldmund has to say about their new way to approach home theater:
Among the differences between the Goldmund Media Room and a traditional Home-Theater is the fact that many more speakers are used. Users may think that its chance of having a broken driver is higher, but in fact multiplying speakers is good for reliability. With more speakers, each of them is less solicited to reach a high sound level in the room. In addition, if you have a 5.1 or 7.1 system and one driver is faulty, you will immediately hear it, whereas if you have numerous drivers, any faulty unit would be perfectly unnoticeable, making the "perceived reliability" perfect. But our research team did not stop there. Each driver has its own amplifier, each of them using a DSP individually loaded by the Room modeling software with the exact parameters of the drivers it controls. This way, it is easy for each amplifier to monitor the signal it produces and to avoid pushing its driver to a danger area. In short, failure of drivers would be exceptional and, as we have seen, unnoticeable for the user. But in order to secure the proper maintenance of the room all the amplifiers are linked to the central Room Controller by LAN. These will notify the Room Controller of the driver's failure, allowing the Controller to send an alert message to the Service Center. This also applies to the failure of an amplifier. If the central Controller detects an amplifier which is not responding, it will try to restart the amplifier but if unsuccessful for an (adjustable) delay or a certain number of retries, it will notify the central Controller which will send a message the same way, all this without any disturbance to the user. As mentioned before, the Red Cross Kit includes a spare amplifier of each type used in a given Media Room project. So the service technicians only have to exchange the defective amplifier indicated by the central Controller, and to send the defective one to Goldmund for exchange. Their work is greatly facilitated by the fact that all cables used in the wiring are locked cables with professional plugs (even the AC connection) which need 5 second to be unplugged and re-plugged. As soon as reconnected, the amplifier is immediately recognized by the central Controller and reconfigured.
The take away I get from this is that "we put so many drivers in the room, if one fails you won't even know it." Which of course begs the question: why use so many? This Phil Spector approach to sound design isn't exactly what we'd call reference-inspired.
The complexity of the system is staggering, and we wonder how the end result can possibly exceed the result of being simply "different" rather than the more sought after (by true audioholics) "better". 
Who's to say whether or not this room sounds great. The point being that if you have the money to spend there's someone out there who will reinvent the wheel, charge you a fortune for it, and sell it to you. That titanium-plated, gold-weighted, triple-redundant run-flat wheel may sound no better than a standard good-quality wheel available off the shelf, but you're rich so who cares.
Under the guise of "100% fail-proof" we applaud Goldmund for its efforts. We only have one nagging question: What exactly happens when the power goes out?
MidnightSensi posts on May 14, 2010 18:26
To answer your last question:
I would hope, for that kind of money, it comes with a generator and transfer switch. Even I got that. :P

I wish I could make money doing crazy exotic home theaters too.
Seth=L posts on May 14, 2010 17:56
gene, post: 717501
Such an advanced HT system and they are using a Sencore SP295C to analyze its response
Agreed, they should use some exotic audio analyzer. Alternatively they could rebadge the Sencore SP295C, swap out the stock battery for a gold encased one, and mark it up to $125,000.
gene posts on May 14, 2010 07:24
Such an advanced HT system and they are using a Sencore SP295C to analyze its response
engtaz posts on May 14, 2010 05:31
I love your last comment.
Seth=L posts on May 13, 2010 23:02
kevon27, post: 717392
I would like to see Audioholics review at least one of their products.
How about one of their infamous DVD players.
Post Reply
Confused about what AV Gear to buy or how to set it up? Join our Exclusive Audioholics E-Book Membership Program!