Midnight Express Blu-ray Review
Midnight Express Blu-ray Review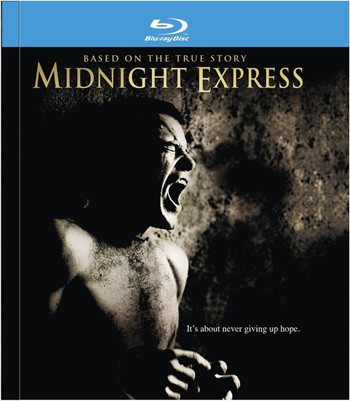 Midnight Express is one of those rare films that doesn't just get better but becomes more poignant and resonates louder with age. It's possible that relations between the west and Middle East haven't been more relevant since the time of King Richard the Lionhearted. Midnight Express tells the (true) story of an east/west clash of cultures that transpired in a time before "War on Terror" became social cachet.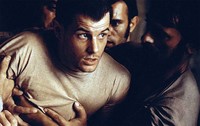 The film earned six Oscar nominations including Best Picture and won two: Best Music was won by Giorgio Moroder, who later won Oscars for the music behind Top Gun and Flashdance. Best Screenplay was won by Oliver Stone, he was only an unknown when he wrote the powerful screenplay for Midnight Express. 
We're soon introduced to colorful co-stars like Randy Quaid and John Hurt. The starring role is covered by then up-and-coming star Brad Davis as Billy Hayes. Davis's own life was one of drugs and terrible, terrible tragedy. 
Released in 1978, Midnight Express stands as a cinematic classic, so powerful is its story that the film was almost never made. The movie has lost none of its impact over time and might even speak louder today than it did in 1978. Fortunately this Sony Pictures Blu-ray release bound inside a special 32-page collector's book, gives Midnight Express the hi-def video and audio update this film deserves. 
Warning: Watching this movie will make the world travelers among you view foreign airport security in a whole different light.
Video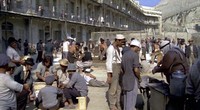 1080P
1.85:1
AVC/Mpeg4
50GB Blu-ray
Sony Pictures Home Entertainment spared no effort to give us a pristine visual representation of this film. It looks so good on Blu-ray that you'll have difficulty believing this movie was shot in 1978. 
That said, the material doesn't lend itself to great feats of saturated colors or high contrast images. A majority of the film takes place in a Turkish prison where the color palette is narrow and dominated by dull tones. But it's also shadowy and to the video-rework's credit, provided your display is up to the task with good black levels, the finer details won't descend into grain and murkiness as is common with older films transfer to digital high-def. 
Audio
English Dolby TrueHD 5.1
English Dolby Digital 1.0 Mono 
The original soundtrack was recorded in mono, if you can remember that far back, mono wasn't uncommon in those days. Although you can listen to the movie in its original mono soundtrack, most will want to opt for the superior Dolby TrueHD 5.1. The multi-channel audio is available in English, French, Spanish and Portuguese. 
The film provides no great work-out for your subwoofers nor jaw dropping acoustic directional effects. Surrounds are used sparingly which suits the material well. You won't get a lot of sub-woofer rumble or dynamic frequency response. The Dolby TrueHD soundtrack conservatively provides ambient details, just as it should in an older movie with a soundtrack that wasn't designed to be spread across 5.1 channels. 
Special Features: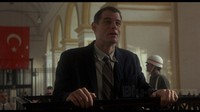 The Booklet: The standout Special feature is the booklet, written by the film's director AlanParker which provides his insights on this journey that was the making of this fine film. There are lots of full-color photographs of the cast and crew including the stars of the film Brad Davis and John Hurt. You'll even see a shot of the real Billy Hayes attending Cannes with Alan parker. 
The Making of Midnight Express: It's a bit deceptive because this feature interviews Billy Hayes and his father.  
Director's Commentary: It's the same commentary that appeared on the film's 30th anniversary DVD. 
The Producers: Gives face-time with Peter Guber, David Puttnam and Alan Marshal who produced the movie.   
The Production: Lovers of the movie will get to see how the film's locations and cast were selected. 
The Finished Film: Is about the marketing of the movie and its experience at the Cannes Film Fest. You'll see interviews with the real Billy Hayes as well as John Hurt, Alan parker and Oliver Stone. 
If that's not enough you also get BD-Live (Profile 2.0). 
Overall
Midnight Express is one of those legendary films that stands the test of time. Sony's latest Blu-ray release gives it the 1080P video and multi-channel audio treatment this film deserves. For the cost of taking a date to an overwrought summer blockbuster you can own the definitive version of this classic film.
The collector's booklet packaging makes this Blu-ray release perfect for leaving conveniently on your coffee table. Once its sharp, full-color cover is spotted by guests it'll inevitably start one of many Turkish prison conversations in your very own living room.
Confused about what AV Gear to buy or how to set it up? Join our Exclusive Audioholics E-Book Membership Program!
Recent Forum Posts:
Alex2507 posts on January 12, 2010 21:51
Netflixed based on the recommendation of a fellow Canadian and the fact that I have a Blu-ray player !!!
bradcapo2 posts on July 31, 2009 22:53
I am not so knowledgeable about this matter. So i have to learn it. Thanks for the post
Wayde Robson posts on July 27, 2009 13:39
Robof83, post: 601657
I'm in the same boat is LOTR. I love the movie, I just don't know how much better a blu-ray of such an old movie can look/sound.
I hear ya. If I owned the DVD I don't know if I'd feel the need to rush out and buy the BD. But I can say that the video quality top notch for an older movie. They did a great job at porting it to HD. Audio-wise, while great sounding, it's not exactly a real test of your audio system. Typically home theater audio loves a lot of sub and aggressive surround effects which you won't get here. Although - it sounds impressive for a tactful soundtrack that stays rather true to the source material.
Robof83 posts on July 26, 2009 03:13
I'm in the same boat is LOTR. I love the movie, I just don't know how much better a blu-ray of such an old movie can look/sound.
Lordoftherings posts on July 24, 2009 08:10
I love this movie.

But I'm not sure if I should get the Blu-ray or not. It's quite an old movie (1978), and I'm afraid that the picture and audio quality won't be up to it.
The movie itself (based on a true story) directed by Alan Parker, is great; but I already got it on the DVD version.
And my video store doesn't have it on Blu-ray, so I cannot judge the quality of the transfer from my own eyes and ears.
Post Reply