Microsoft Unveils Ultra-Mobile PC (UMPC)
Microsoft Unveils Ultra-Mobile PC (UMPC)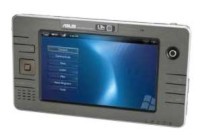 After months of spurious word-of-mouth hype and clever marketing about Microsoft's Project Origami, the company finally showed off some products today from Samsung and ASUS. The UMPC is an ultracompact computer running Windows XP Tablet PC Edition (described as a "full version of Windows XP" in their marketing materials) with a touchscreen and wireless connectivity.
It features the power of WindowsXP and full software functionality without the keyboard or bulk of a laptop PC. Using the touch screen, included stylus, or on-screen keyboard you can use the UMPC as an extension of your office computer while on the go. With it's 7-inch screen and small form factor this promises to be the first product to actually deliver on the ultra-portable concept.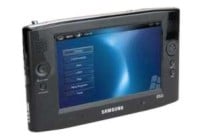 Samsung and ASUS have models which are expected to hit stores shelves by April, with additional models coming on board in June. Microsoft states both units will be about an inch thick and weigh less than 2 1/2 pounds - making them around the size (but not the weight) of a large paperback book.
The UMPCs will run a Tablet PC Edition of Windows XP plus Windows Touch Pack which enables users to interface with the unit through touch screen and stylus functions. Windows Vista, due out in the second half of this year, will be integrated into future models. UMPCs specs and features include:
Processor: Celeron M processor
Hard Disk: 60GB (estimated)
Display: 7" diagonal (max) running at 800x480 resolution
Touch Panel: Integarated into Windows XP with stylus and on-screen keyboard
Wireless: WiFi and Bluetooth-enabled
Software Support: Compatible with Microsoft Office, WMP 10, Chat, Streets & Trips, Movielink, OneNote, Sling Media, and more...
Weight: 2 lbs (approx.)
You will also be able to connect compatible cell phones to UMPCs via Bluetooth in order to extend the unit's Internet access beyond WiFi hotspots. Instant messaging, email and support for multimedia video and office applications are an integral part of the UMPC platform. Remote access was not discussed in any of the sources we were privy to, but we woudl assume this would be something that UMPCs may be targeted for as well.
The integrated touch pad keyboard is unique in that it is a split QUERTY keyboard arranged in a pie shape on each side of the screen, making text entry seemingly simply using your thumbs or stylus. Lithium-ion battery life is estimated to run about 2.5 to 3 hours and the unit is fully rechargeable.
There is definitely a marketing push to have this unit take on the mobile entertainment device in terms of its ability to play back video and audio. Ports were hard to observe on the photos we obtained, but appeared to include dual USB 2.0, audio in (some included mic), audio outputs (for speakers), DC power, CF/SD card slots, and possibly a PCMCIA card slot.
UMPC devices are expected to retail for between $600 and $1,000.
Confused about what AV Gear to buy or how to set it up? Join our Exclusive Audioholics E-Book Membership Program!